Like many other Pinays, I fuss about the state of my underarms a lot. I used to shave them, and I suffered from razor burns and the occasional nick. The shadow that the hair growth created also gave me the illusion of darker pits, which I did not like at all. But now that I get my underarms waxed semi-regularly, they have gotten a lot better.
There is, however, still room for improvement. When I heard about SkinPotions' latest offering, the Pit Potions set, which promises to brighten and smoothen out the underarms, I knew I had to try it out for myself. Keep on reading for my review:
Current underarm care routine
Since I'm always on the go, I tend to perspire a lot, which is why I use a deodorant powder, rather than sticks, roll-ons, or sprays. I find that the talc keeps my pits dry, plus it has no fragrance, which lessens the chance of irritation. I also have my underarms waxed every one to two months. Sometimes, I also use a razor to ~clean up~ and extend the time between waxes when I'm busy.
What is the SkinPotions Pit Potions set?
This two-piece set is composed of Wizard's Spell, a deo spray that will keep sweat and odor at bay, and Sorcery Cream, a gentle ointment that will even out your kilikili's skin tone and keep them soft.
Continue reading below ↓
Recommended Videos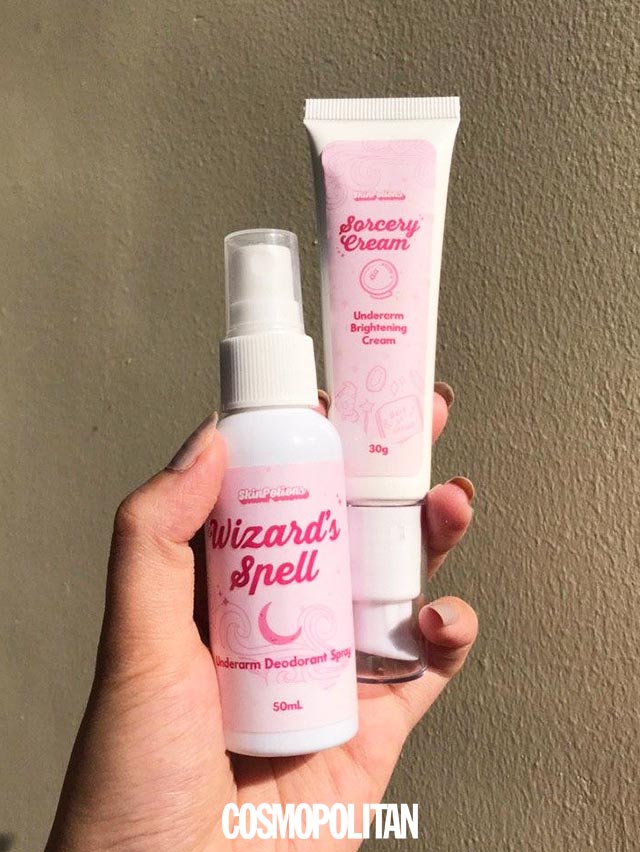 What are the ingredients in the SkinPotions Pit Potions?
The key ingredients in both products are niacinamide and tea tree oil to brighten and smoothen out the area, camellia seed oil to soothe inflammation, hyaluronic acid to hydrate, and bentonite to clarify impurities stuck beneath the pores.
How do you use the SkinPotions Pit Potions set?
Massage the Sorcery Cream all over your underarms until it's fully absorbed. Then, spray the Wizard's Spell five inches away from your armpits and let it dry. For maximum results, you must use both twice a day.
How much is the SkinPotions Pit Potions set?
The Wizard's Spell deo spray costs P159, while the Sorcery Cream is P199. You may also purchase them as a set for only P350.
Review
I've never really strayed away from the ~usual~ underarm care products, so using a skincare set specifically for my pits felt kind of daunting. I researched the two items online, and the positive reviews of their customers convinced me to give it a try.
I used the set every day for two whole weeks, and I decided to let go of my trusty deo powder for the duration of the experiment. Right off the bat, the first thing I noticed was their scent—it was very soothing and reminded me of something I would smell at a wellness spa. My underarms didn't experience any initial allergic reactions to both products, which I saw as a good sign.
After a few days, however, I noticed that my underarms were sweating a lot more than usual, which I attributed to the absence of my deo powder and my pits trying to adjust to the new products. I was uncomfortable with the sensation, so I decided to incorporate the powder into my routine again just to keep me dry. I sandwiched it between the Sorcery Cream and Wizard's Spell.
As the two weeks passed by, I noticed that my underarms started getting brighter, softer, and most importantly, smoother to the touch! It also got rid of my chicken skin, which was one of my biggest concerns due to all the years I shaved my pits. The positive results I got in such a short span of time really encouraged me. I will surely buy another set once I run out.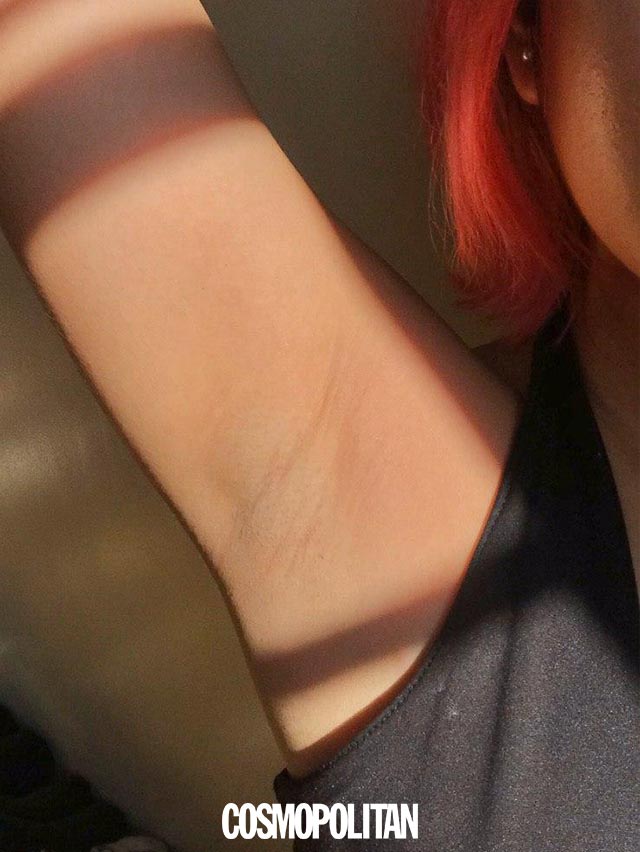 Follow Cheska on Instagram.
Follow Cosmo PH Beauty on Instagram.
We are officially on Viber! Be part of the Cosmo Viber Community by clicking here! You can also visit the Sticker Market and download the "Cosmo Girl Sticker Set" here to be automatically part of the group. The stickers will only be available until April 27, so don't miss out on the fun!