While a lot of people may veer from making resolutions to change themselves for the better, since they never get to keep them anyway, there's one resolution you can and must keep: to take better care of your skin and hair.

Great makeup starts with having great skin, so make it a priority to take care of the canvas (your face) before you even consider piling on makeup. After all, "bare and gorgeous looking skin is a key feature for Spring 2012 makeup," says makeup expert and president of beauty school Makeup Design Academy, Lanie Acedillo. The three beauty trends she highlights for this season are cat eyes, peach lips, and strong brows. "With beautiful skin as your canvas, it's easy to play with bold eyes, lips, or strong brows," Acedillo says.

To make the hottest looks of this season work for you, Lanie shares some great tips for maintaining a glowing and healthy overall look. These easy steps will help you look radiant in no time!

1. Sanitize your makeup application.

Whether you're a professional makeup artist or a makeup lover, ensure that each product you put directly on your face, lips, and eyes are clean, safe, and bacteria-free. All makeup products gather bacteria from the oil on our skin, our fingers (when we use them for application), and coughing or sneezing during makeup application. Some of these bacteria can lead to eye irritations and infections, skin irritations, and acne/breakouts.

To prevent this, use a brush cleaner like BeautySoClean Cosmetic Sanitizer Mist, Wipes, and Conditioning Brush Cleaner (P2,150 for a personal set, P3,750 for a professional set) to leave your makeup bacteria-free. It's guaranteed effective in just 10 seconds! It's available at www.beautysoclean.com.ph or call 416-1730/416-2513.

2. Exfoliate.

Exfoliating your skin is a must to achieve glowing skin. Use exfoliators that contain Alpha Hydroxy Acids such as Glycolic Acid. Try Silk Skin's Professional Facial Treatments (starts at P300). Visit www.silkskinbc.com.ph for more info.

3. Detoxify your body.

What's going on inside your body is reflected on the outside. Skin problems develop when skin can't do its job of eliminating toxins efficiently, which happens because the other organs responsible for this are overloaded, as well. Talk to a natural health care professional to find a detox program that works for you, or take a load off your system--and benefit your skin--by doing the following:


Drink warm lemon water each day to help flush toxins from the body.
Give your skin a break by cutting down on sugar and alcohol for at least five days.
Boost your intake of fresh fruits and vegetables for much-needed nutrients.
Avoid salty snacks, which can cause swelling and water retention.

4. Care for your hair.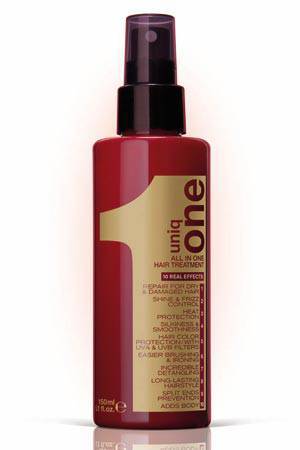 For the modern woman, a multi-purpose product is a daily essential. Signature Style, the exclusive distributor of Revlon Professional and Colomer Group in the Philippines, introduces Uniqone, a new concept in hair treatment, which will break the rules of hair care.

It is the first leave-in spray mask in the market that offers 10 main benefits your hair needs: 1) repair for dry and damaged hair, 2) shine and frizz control, 3) heat protection, 4) silkiness and smoothness, 5) hair color protection with UVA and UVB filters, 6) easier brushing and ironing, 7) incredible detangling, 8) long-lasting hair style, 9) split-ends prevention, and 10) added body. This is a new product line that captures the style, independence, and modernity of today's iconic woman.

Visit www.signaturestyleinc.com for more information or contact Annie Toribio at 0915-9276757.


To know more about the professional and personal makeup courses of Makeup Design Academy, visit www.make-up-design.com or call 416-1730/416-2513.


Photography: Rxandy Capinpin
Makeup: Ira Roncal for Makeup Design Academy
Hair: Glenn Singson
Model: Sirene Sutton
Continue reading below ↓
Recommended Videos