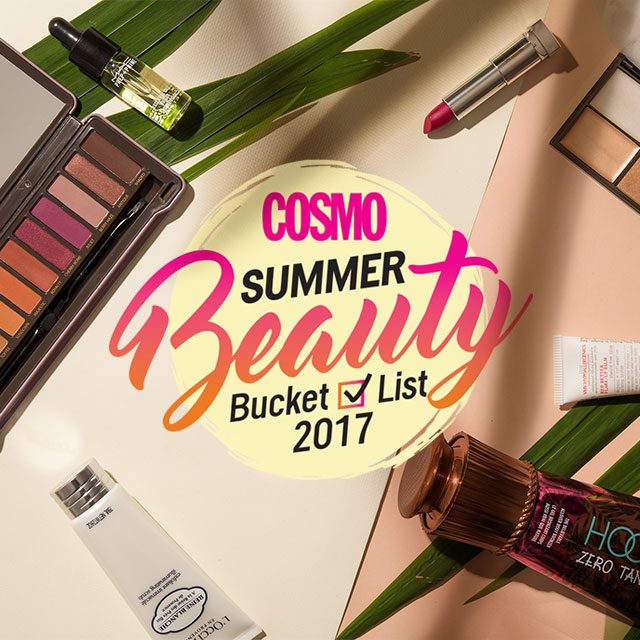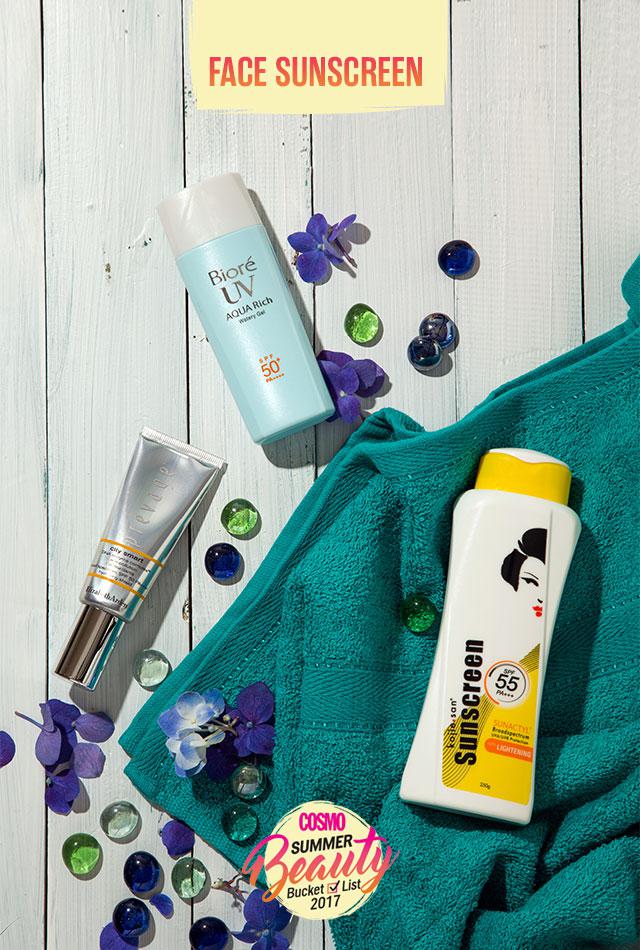 Elizabeth Arden Prevage City Smart Broad Spectrum SPF 50 PA++++ Hydrating Shield
Pollution is all too real when you live in the city. But that's really not a problem with this sunscreen: It contains polymers that form an invisible skin shield, effectively blocking dirt and grime, to keep you feeling fresh.
Continue reading below ↓
Recommended Videos
Biore UV Aqua Rich Watery Gel SPF 50/PA++++
Japanese brand Bioré is practically synonymous with sunscreen, and this is one of its hero products. We love the quick-drying formula and semi-matte finish—it's perfect for our tropical country and even works as a makeup primer!
Kojie San Sunsreen SPF 55 PA+++ Lightening
Protect your skin and keep it hydrated. This broad-spectrum sunscreen wards off both UVA and UVB rays, while the creamy consistency keeps skin moisturized and hydrated in the summer heat.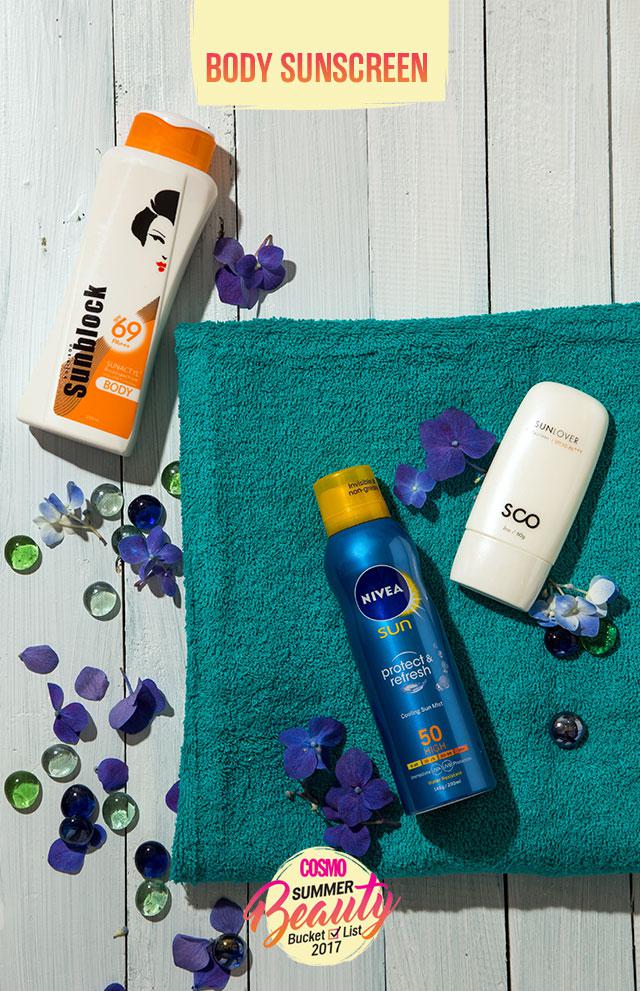 Kojie San Sunblock SPF 69 PA+++ Body
We're not going to lie: It can get super nakakatamad to apply lotion then sunscreen on a daily basis. The solution? A two-in-one product that gets both jobs done! Reach for this post-shower to seal in moisture and prep you for a day out in the sun.
Nivea Sun Protect & Refresh Cooling Sun Mist SPF 50
Spritz this sunscreen to ensure every inch of your body is protected from the sun! Bonus points for that cooling effect, which is pretty much heaven-sent on sweltering summer days.
SCO Bodyscreen SPF 50 PA+++
Finding products that agree with sensitive skin can sometimes be a pain. This one is hypoallergenic and formulated without parabens and para-aminobenzoic acid (a culprit in dermatitis rash), plus has been tested by dermatologists. Score!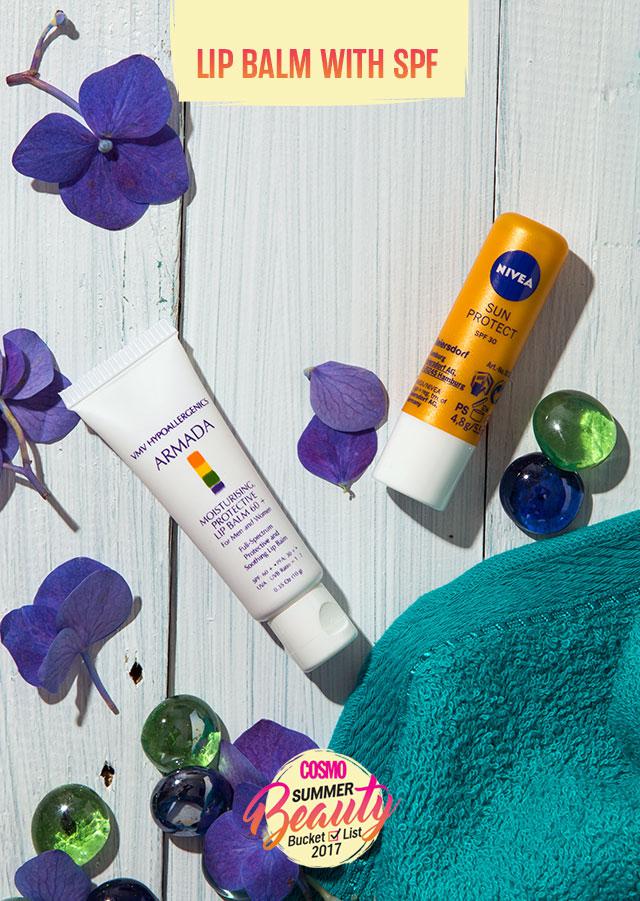 VMV Hypoallergenics Armada Moisturising, Protective Lip Balm 60+
We tend to overlook our lips, but they actually need as much sun protection as our entire body. This thick emollient comfortably clings to your pout, preventing chapped and dehydrated lips from occurring.
Nivea Sun Protect Caring Lip Balm SPF 30
This no-nonsense lip balm goes on clear, which means you'll have no trouble applying it even without a mirror. It's just as great for trips to the beach as it is for everyday use at the office.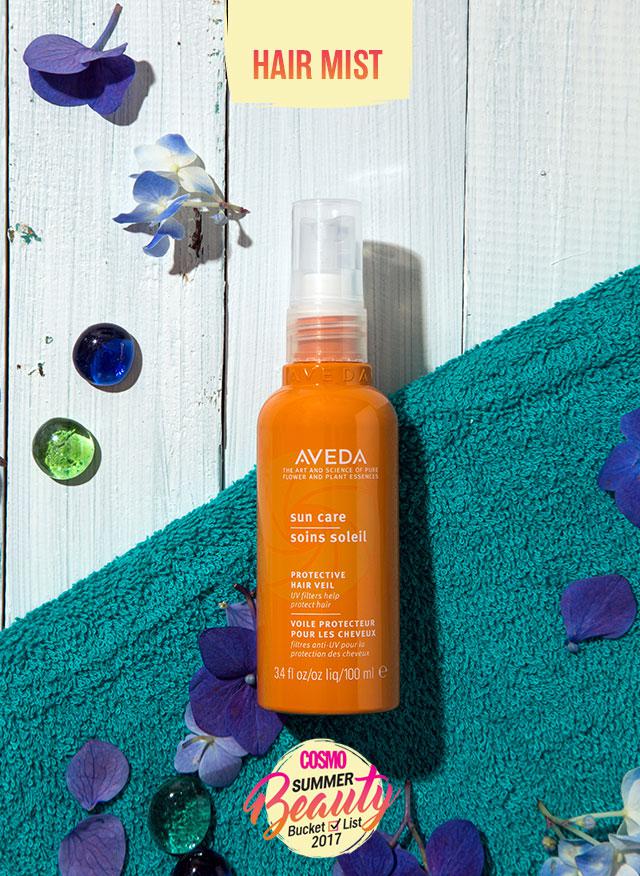 Aveda Sun Care Protective Hair Veil
Raise your hand if you never step out into the sun without a hat. Yeah, we figured. The alternative solution? This fine mist which creates a protective barrier that keeps UV rays from penetrating into your scalp and tresses. Dry, damaged hair is never a good look, CGs.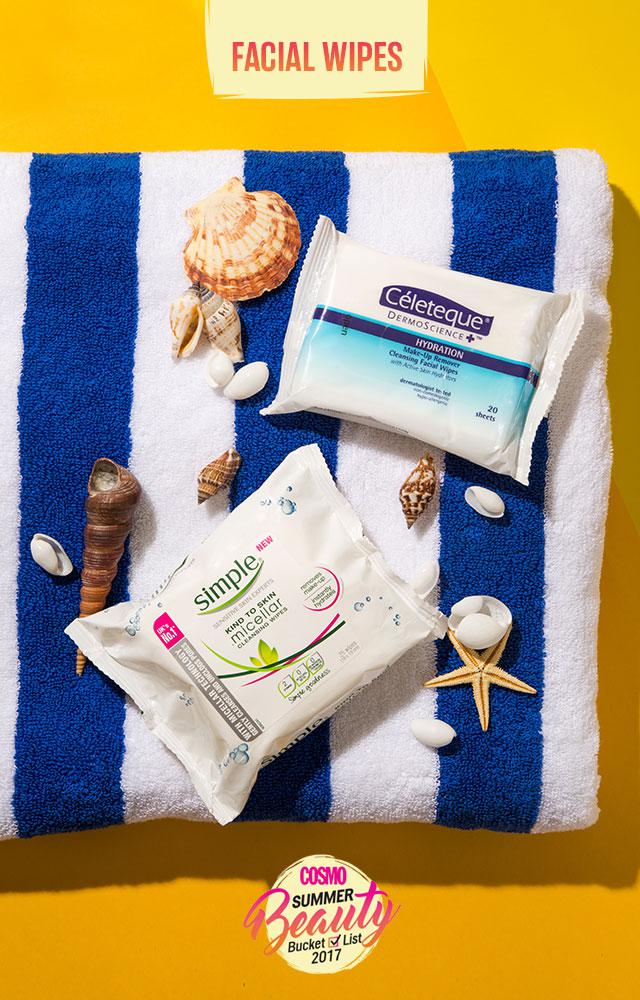 Simple Kind to Skin Micellar Cleansing Wipes
Traveling with just a carry-on or overnight bag? Packing heavy bottles might not be an option, which is where handy (and lightweight) cleansing wipes come in. These are soaked in Simple's bestselling Micellar Water, which means it's gentle enough even for the most sensitive of skin types.
Celeteque Hydration Make-Up Remover Cleansing Facial Wipes
If you think cleansing tissues tend to wreak havoc on your skin—they're either too rough or too drying—these ones are about to change your mind. They erase every trace of makeup while boosting your skin's moisture levels with hydrating ingredients.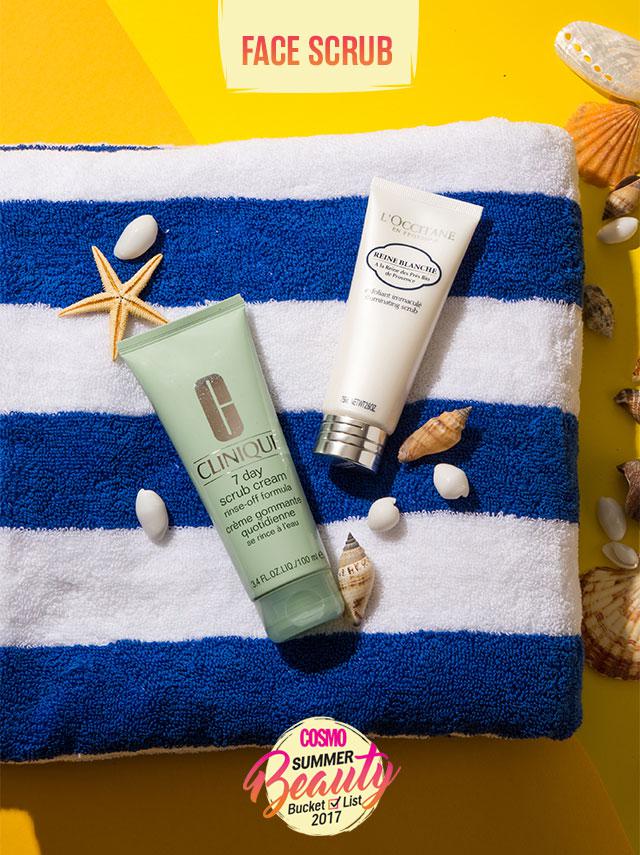 Clinique 7 Day Scrub Cream Rinse-Off Formula
Summer is really the best time to flaunt a no-makeup makeup look, which makes it even more important to look after your skin. This refining cream sloughs off dead skin cells that could leave your face rough and textured, and reveals the smooth skin beneath.
L'Occitane Reine Blanche Illuminating Scrub
Some girls tan effortlessly, while others have to deal with uneven skin tones. If you're the latter, introduce a gentle scrub into your skincare routine. This one contains salicylic acid, which not only illuminates features, but also goes deep into your skin to unclog pimple-causing dirt and grime.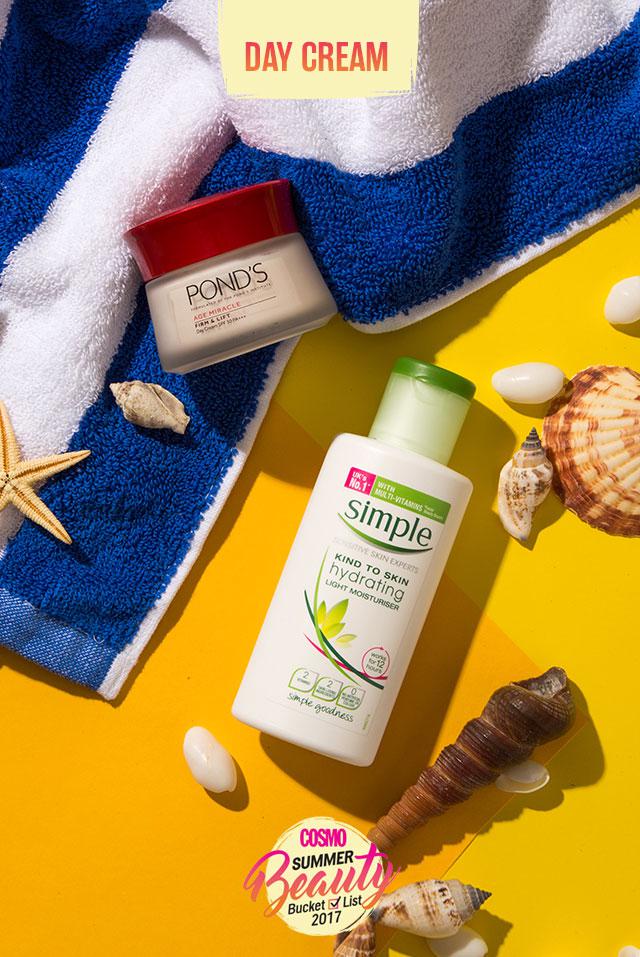 Pond's Age Miracle Firm & Lift Day Cream SPF 30 PA+++
Sun damage speeds up the skin's aging process, resulting in wrinkles and loss of elasticity. Your 20s is the perfect time to introduce anti-aging products into your routine—this one kills multiple birds with one stone by having built-in sun protection, too.
Simple Kind to Skin Hydrating Light Moisturiser
One of the most annoying things about having oily skin is looking like you plunked your face into a vat of lard at the end of your skincare routine. In a perfect world, we could just step out of the house with zero products on our face; but in the meantime, we love this non-greasy formula for giving us all the moisture and none of the shine.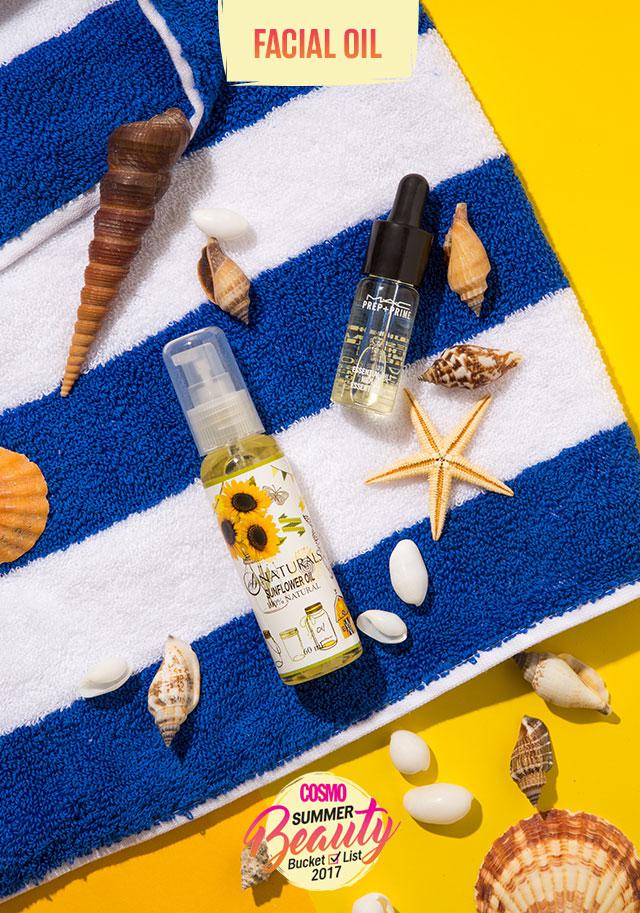 Ever Bilena 100% Natural Sunflower Oil
A multi-tasker if ever there was one! Use this on your face to hydrate and smoothen skin; on your legs for that irresistible sheen when wearing short hemlines; and on the ends of your hair to nourish them. And yes, you can even oil cleanse your armpits with it. ;)
MAC Prep + Prime Essential Oil
Here's a pro tip we learned from MAC's makeup director: Mix a bit of this oil with your foundation to sheer it out for natural coverage, and to give your features a lovely glow. If someone like me with oily skin can get away with it, you can, too!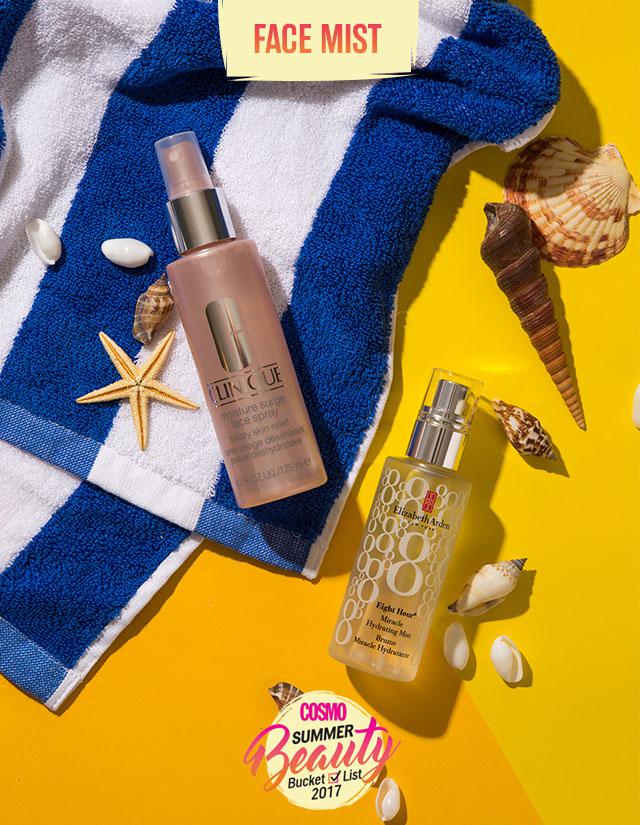 Clinique Moisture Surge Face Spray
You quench your thirst by drinking water; now, do the same for your skin by rehydrating with a mist. This won't mess with your makeup, so you can totally keep refreshing throughout the day.
Elizabeth Arden Eight Hour Miracle Hydrating Mist
A skin saver during long-haul plane rides! No thanks to low humidity, airplanes are notorious for sucking out all the moisture from our skin, leaving it parched and beat-up once you hit your destination. Prevent sandpaper skin with this antioxidant-rich invigorating spray.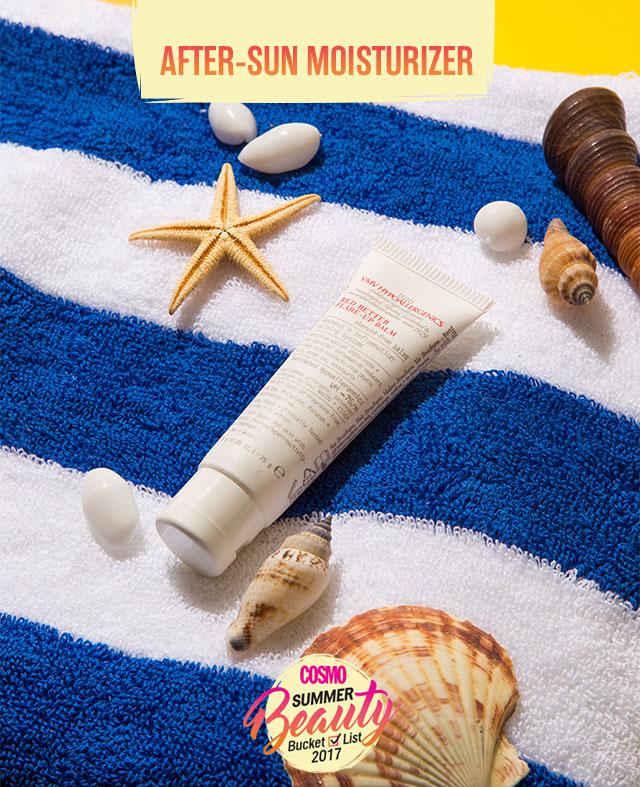 VMV Hypoallergenics Red Better Flare-Up Balm
Don't let irritations and inflammations ruin your trip to the beach. Soothe and calm sun-stressed skin, bites from seaside insects, sunburn, rashes, and more with this gentle yet effective salve.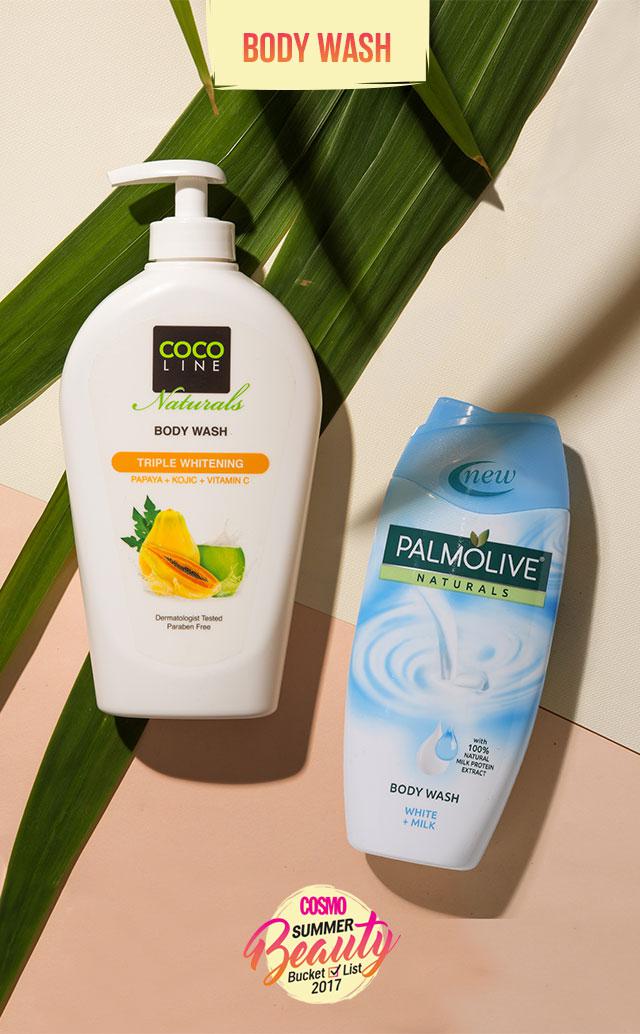 Coco Line Naturals Triple Whitening Body Wash
Hitting the gym regularly isn't the only thing you should be doing to make your body beach-ready. A few times a week, dispense some of this wash onto a loofah and scrub away! Don't forget to target your singit and butt. ;)
Palmolive White + Milk Body Wash
Milk baths might have seemed decadent during Cleopatra's reign; nowadays, not so much. We love products infused with milk to deliver baby-soft skin that's ultra-important during body-baring season.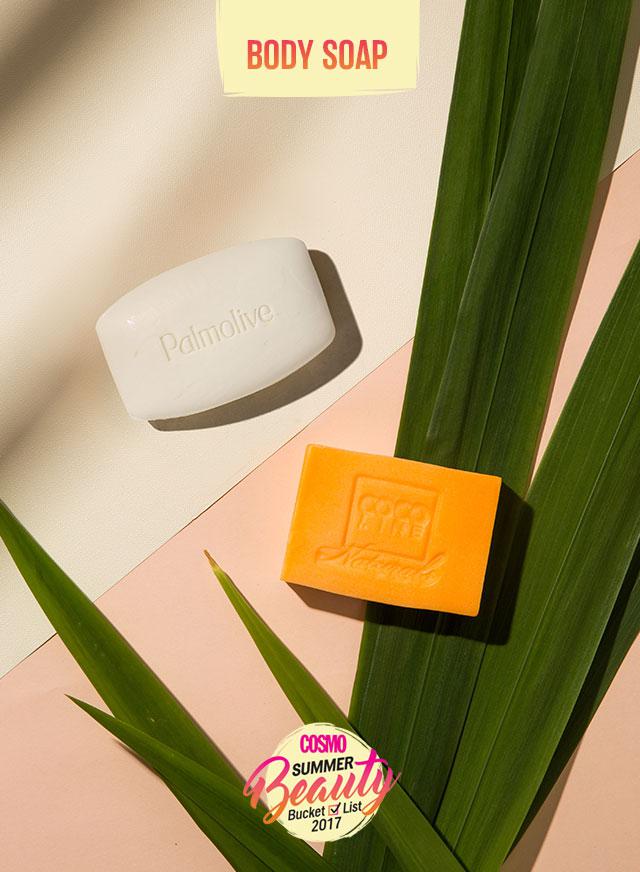 Palmolive White + Milk Soap
A skin-soothing milk bath in solid form. Soaps come in handy when you're traveling and can't bring liquids with you—like if you scrimped on that plane ticket by foregoing check-in luggage so you have more money for food (LOL).
Coco Line Naturals Triple Whitening Beauty Bar
Don't let this unassuming bar of soap fool you. It's loaded with papaya enzyme, kojic acid, and vitamin C, hard-working ingredients that help lighten the skin with every wash.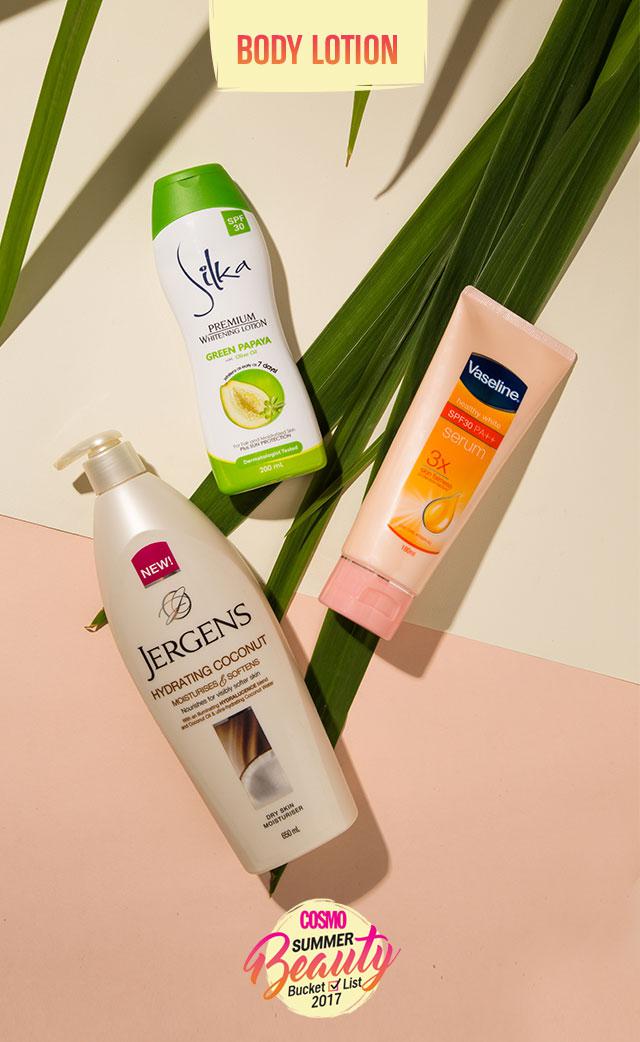 Jergens Hydrating Coconut Dry Skin Moisturizer
Transport yourself to the land of palm trees and sea breezes with this lotion. It contains coconut oil and coconut water to deeply hydrate the skin, and has fine shimmery particles that make skin glow.
Silka Premium Whitening Lotion Green Papaya With Olive Oil SPF 30
Boost the effects your brightening body wash gives you with a body lotion that has the same function. This one's formulated with olive oil and green papaya to lighten, nourish, and moisturize.
Vaseline Healthy White SPF 30 PA++ Serum
Serums are already a staple in our skincare routine, but never did we think that we needed them for our body, too. Until now, that is—and it's all thanks to this non-greasy, quick-absorbing option that lightens skin and protects it from the sun.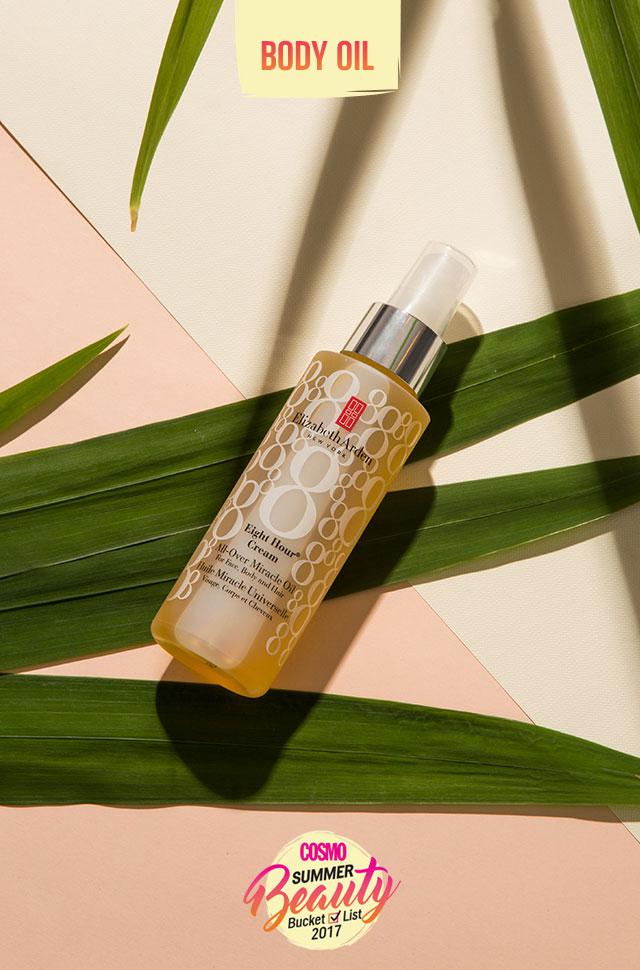 Elizabeth Arden Eight Hour Cream All-Over Miracle Oil
A luxurious oil that also works for your face and hair, heat this up between your palms and gently spread all over your body for intense moisture and a stunning radiance. Best part? It never feels heavy or stifling.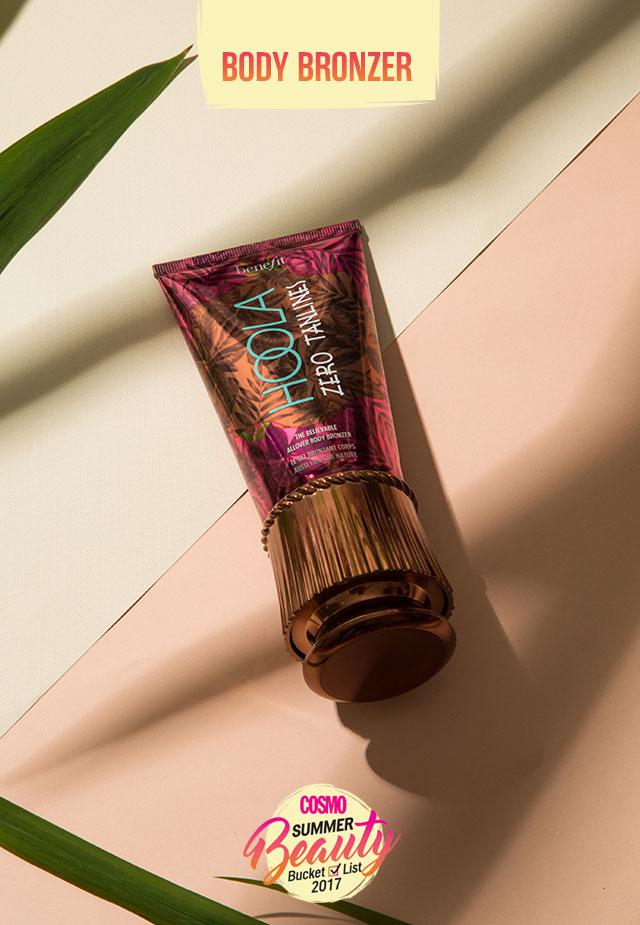 Benefit Hoola Zero Tanlines For Body
Stuck at the office instead of relaxing in some island? We got you. This body bronzer delivers the most believable tint—and makes it so simple to get it. Simply unscrew the cap to reveal a sponge for easy application! And if you did hit the beach, it's a great way to enhance and prolong a hard-earned tan.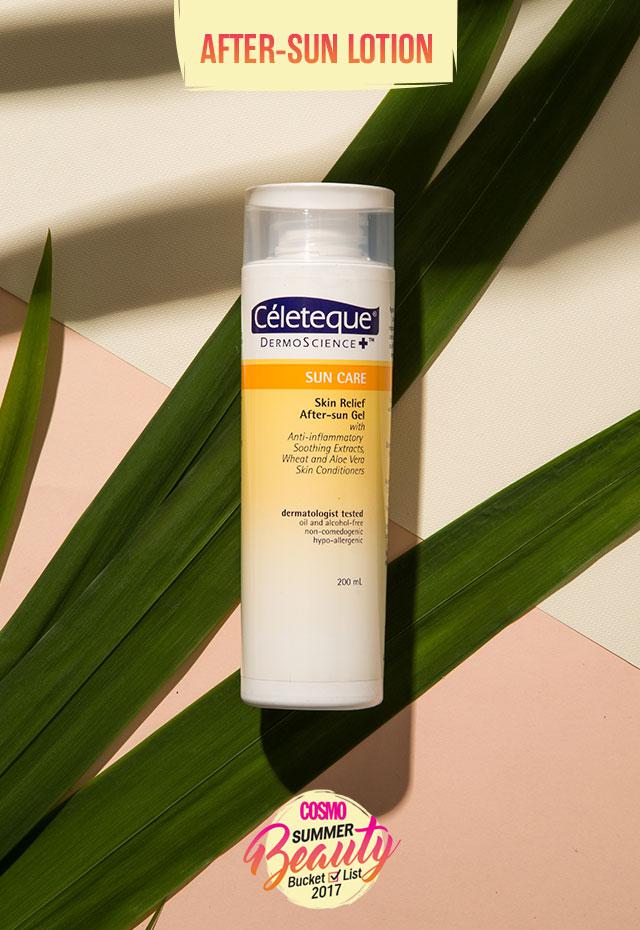 Celeteque Sun Care Skin Relief After-Sun Gel
Once you're out in the sun and enjoying the beach, it can be hard to head back in. If you end up with inflamed skin from too much sun exposure, we recommend cooling down with this gel. It also combats peeling and flaking with hydrating aloe vera.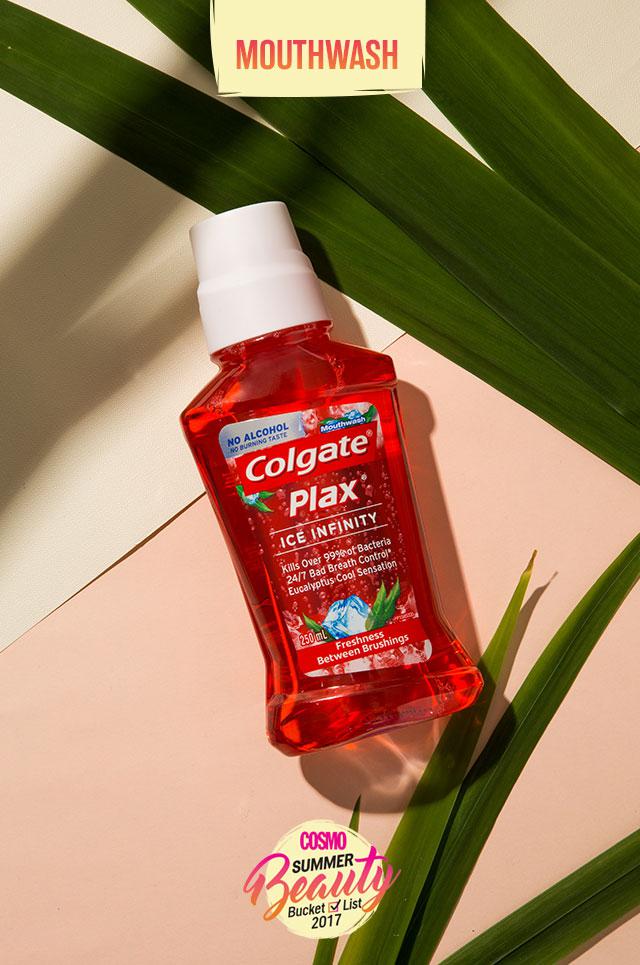 Colgate Plax Ice Infinity Mouthwash
Mouthwash has this clever way of making us feel instantly fresh and clean—even if we'd been rolling in the sand the entire day. In between brushes, gargle with this to keep bad breath at bay.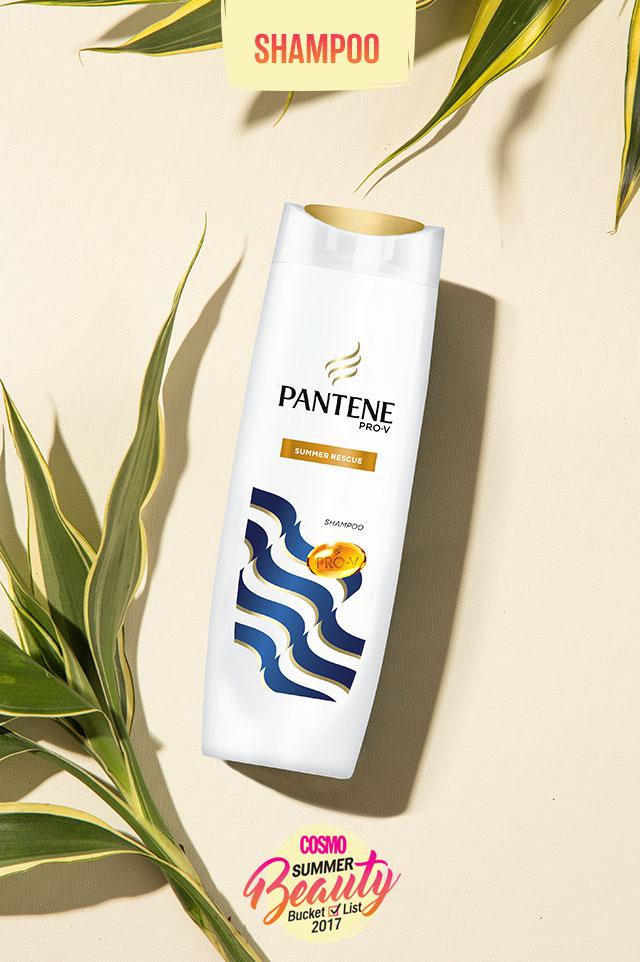 Pantene Pro-V Summer Rescue Shampoo
Toss out your old shampoos in favor of this one, CGs! As if the word "summer" in the name isn't reason enough, it works by forming a protective shield that keeps strands healthy and nourished amid the sweltering summer heat.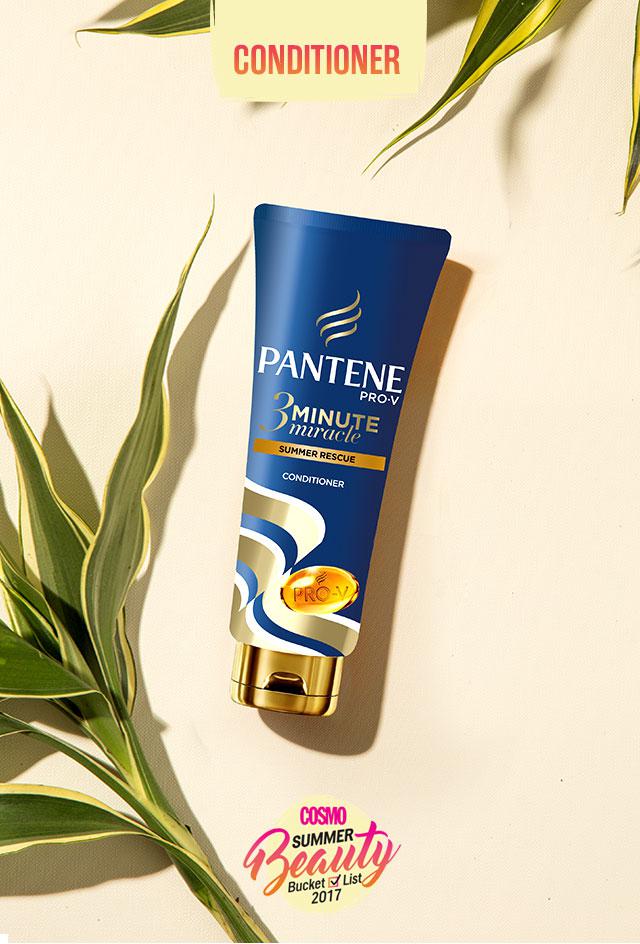 Pantene Pro-V 3 Minute Miracle Summer Rescue Conditioner
Pantene's bestselling conditioner gets an update for the summer! This one penetrates deep into the hair's inner structure to tackle the root cause of damage, and prevent strands from getting dry and brittle. It works for every hair type—especially color-treated hair!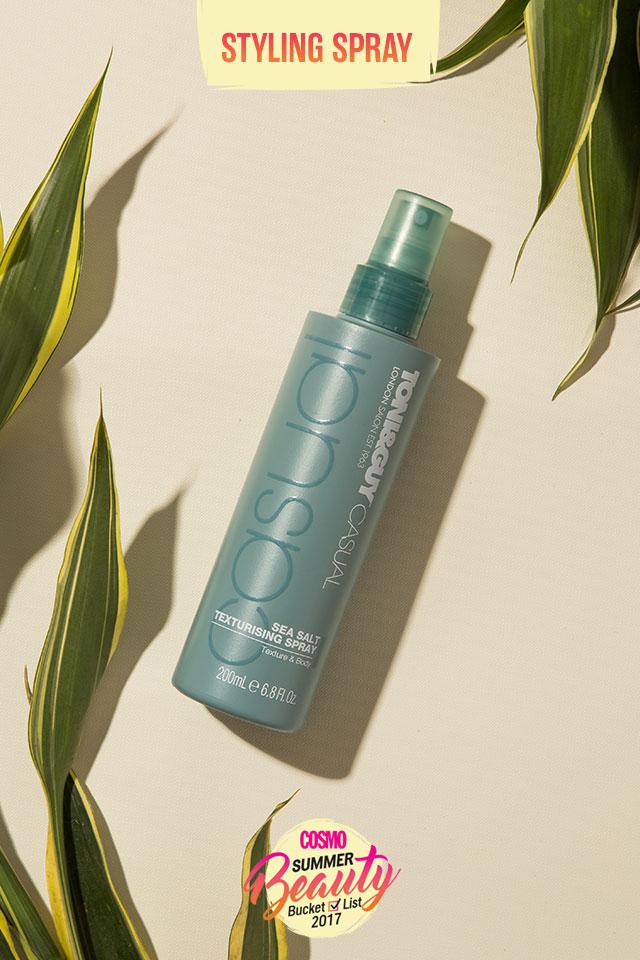 Toni & Guy Casual Sea Salt Texturising Spray
Make that cool-girl bob even cooler with beach waves! Add texture to stick-straight locks by spraying evenly from root to tip and scrunching sections of hair between your fingers. Tbh, summer hair looks better when it's a bit messy and rumpled.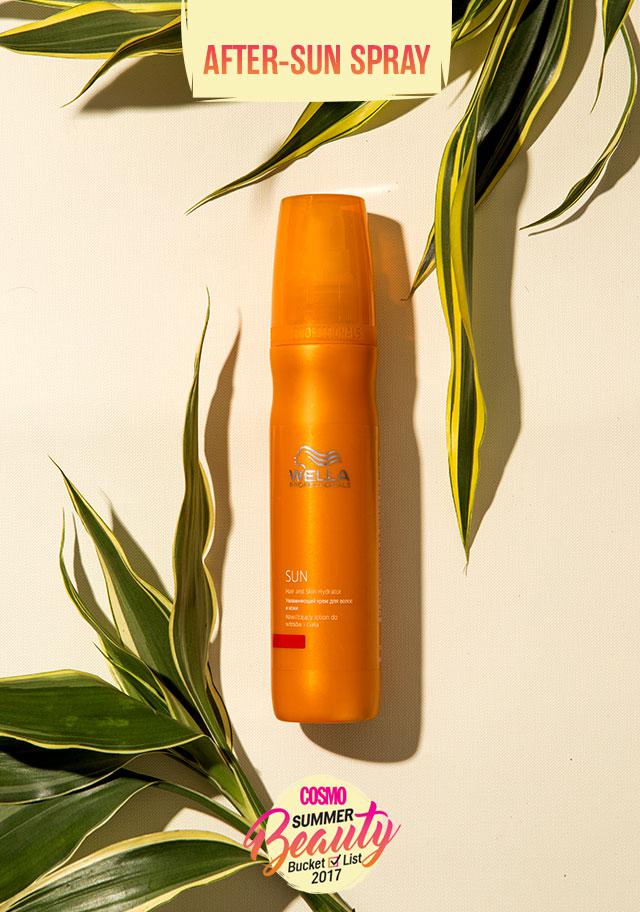 Wella Sun Hair and Skin Hydrator
After a dip in the ocean, spray this to hair to bring back moisture and keep tresses healthy between washes.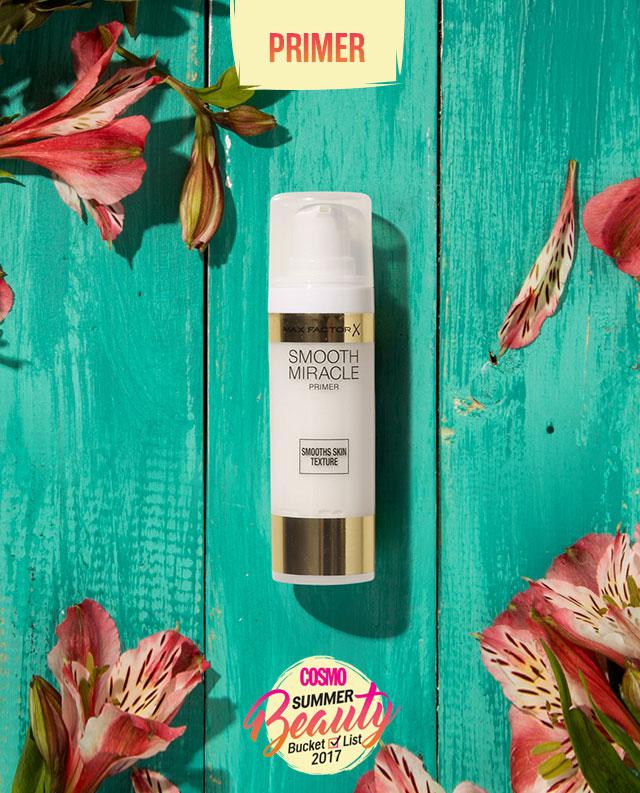 Max Factor Smooth Miracle Primer
A flawless base has a huge impact on your overall look. This primer preps your skin for the rest of your makeup by diminishing the appearance of pores and smoothening out your skin's texture. It also helps makeup stay put, so you won't have to worry about a sweating off your makeup midday.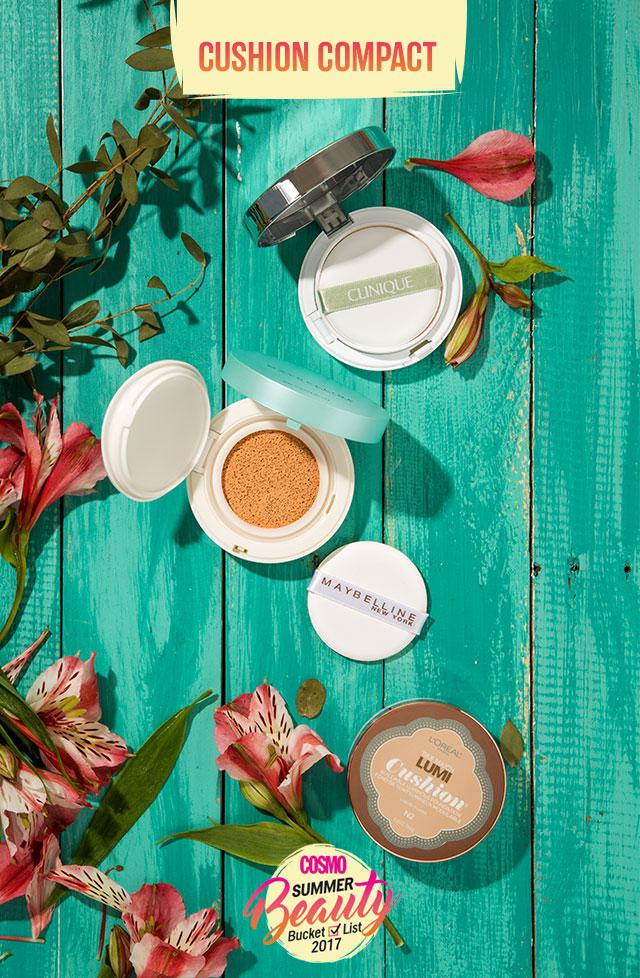 Clinique Super City Block BB Cushion Compact SPF 50/PA++++
Most people balk at the thought of using cushion compacts, because they think they'll make their skin look oily. We're pleased to report that this one strikes the perfect balance between glowing and matte, and stays put for hours.
Maybelline Super BB Cushion Fresh Matte SPF 25/PA+
Your concealer might just find itself out of rotation while you're using this cushion compact. It gives medium to full coverage, perfect for hiding pimples, scars, dark spots, and other blemishes. We're all about that feather-light matte finish, too—oily skinned gals, rejoice!
L'Oreal True Match Lumi Cushion Buildable Luminous Foundation
Streamline your makeup kit with this super versatile cushion. The key word here, of course, is "buildable": You can start with sheer, natural coverage during the day, before adding a layer or two for night.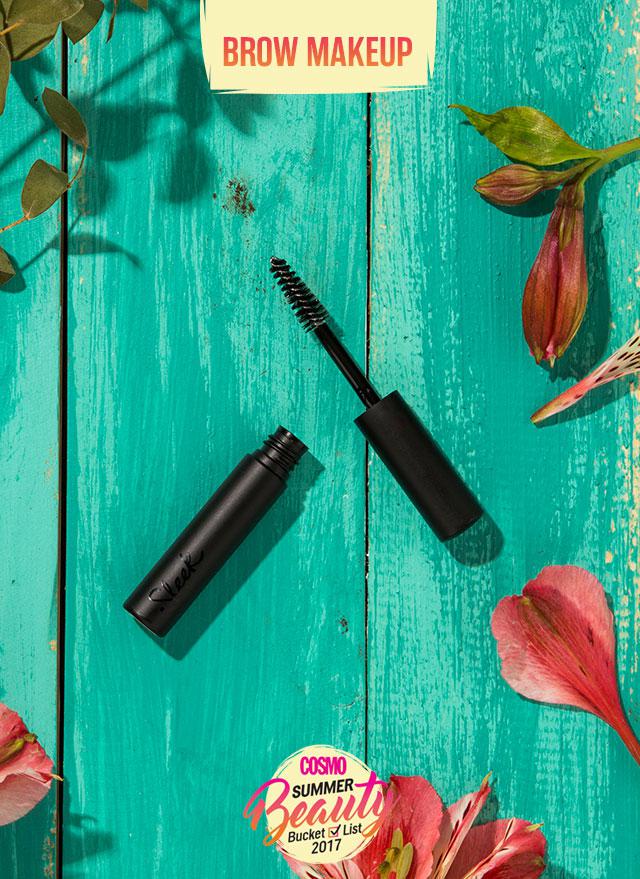 Sleek Brow Perfector in Clear
This summer, favor a low-key, barely there approach to makeup. Start with neat, groomed brows. Instead of meticulously drawing them on, use a clear brow gel to brush your brow hairs into place. It looks more natural this way!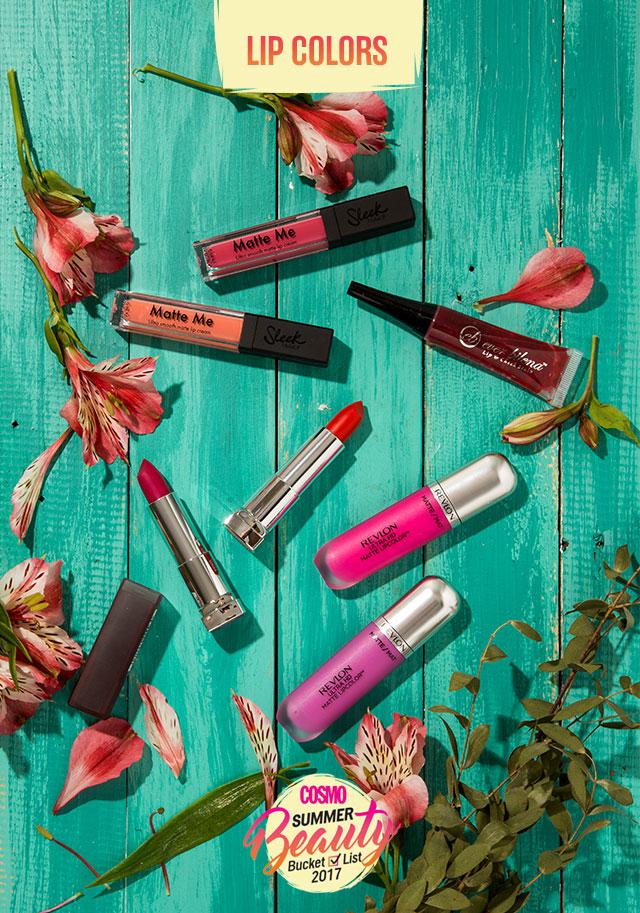 Sleek MakeUp Matte Me Ultra Smooth Matte Lip Cream
If it's matte pigmented lips you want, it's matte pigmented lips you're getting. Just one swipe delivers intense color! For a Kylie Jenner-esque pout, try the shade Birthday Suit.
Ever Bilena Lip & Cheek Stain
For the most natural flush and just-bitten lips, this tint remains a firm favorite. Dot it on your cheeks and press it down on your pout, and you're good to go!
Maybelline Color Sensational Lipstick
A creamy lipstick with incredible color payoff, this product will always have a room in our makeup bags. It promises to keep lips plump and moisturized, thanks to rich honey nectar.
Revlon Ultra HD Matte Lipcolor
Direct all attention to your pout with this velvety matte liquid lippie. It's not drying, so you won't have to deal with flaking patches of skin crumbling beneath it. In fact, it's super lightweight! Our favorite shades have to be the universally flattering Seduction and the flirty Kisses.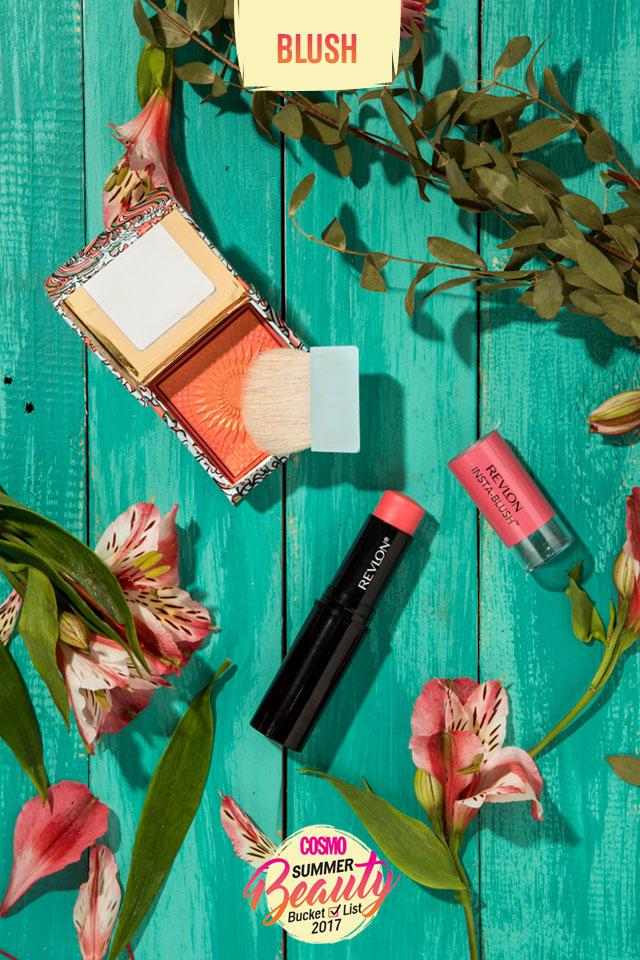 Benefit Galifornia Pink Blush
Rose gold isn't just for accessories! This shimmery coral blush beautifully warms up one's face—we can imagine it would look killer with a tan.
Revlon Insta-Blush
A cream blush that dries down as a powder—what more could we tropical girls ask for? Trust us when we say that it's so easy to blend and creates the most natural flush every single time.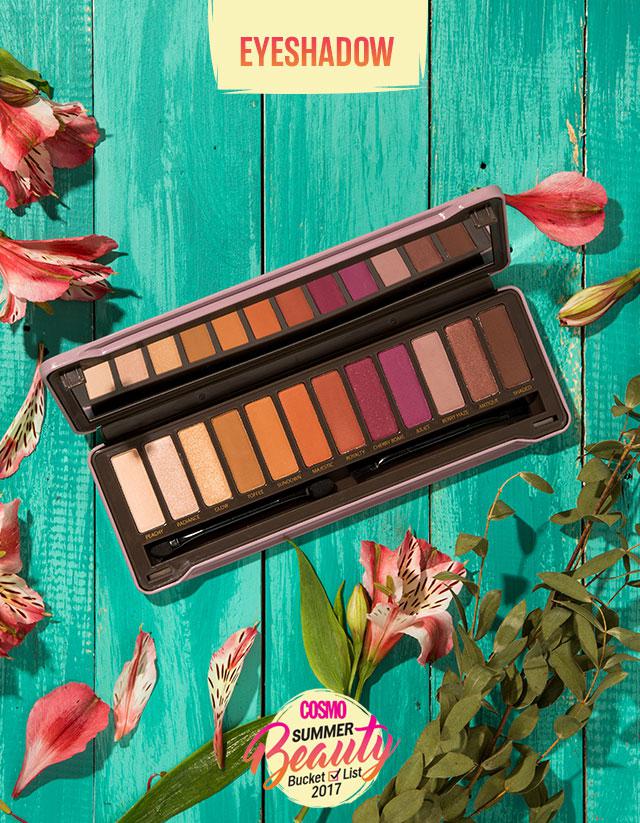 BYS Berries Eyeshadow Palette
Eyeshadow palettes are seriously a traveler's best makeup option—you can play with so many colors and use them beyond your eyes! Tip: Mix eyeshadow with a bit of lip balm, then dab the mixture on your cheeks or lips. You can also use neutral shades to contour and fill in brows!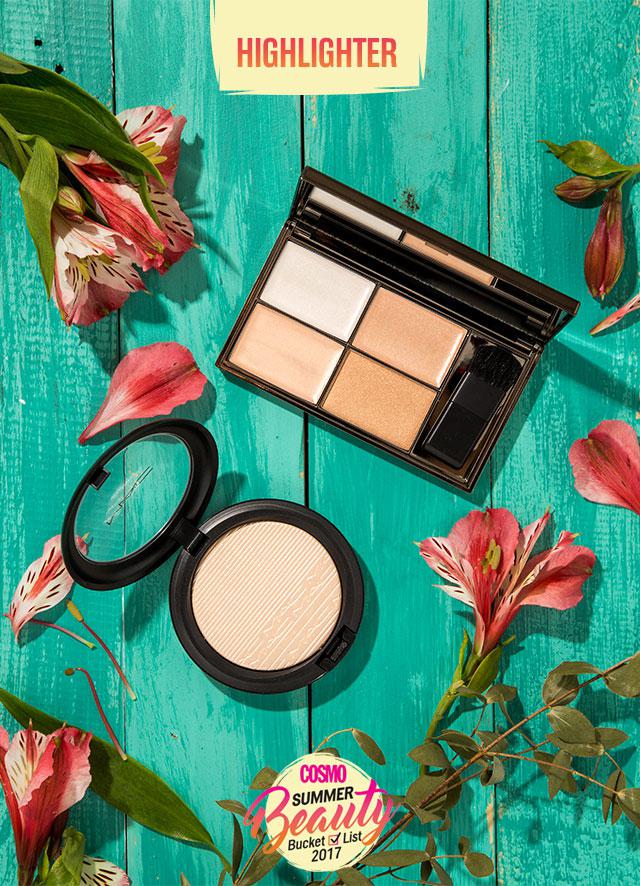 Sleek MakeUP Precious Metals Highlighting Palette in Solstice
Offering different shades of highlighter to work with different skin tones, this palette ensures you'll have something to use even after you tan! Worth noting are the two kinds of consistencies available, too: a creamy formula and a baked powder finish.
MAC Extra Dimension Skin Finish in Double Gleam
Dial up the sex appeal with this luxurious liquid-like highlighter. Aside from the high points of your face, we recommend dusting it on your collarbones and décolletage.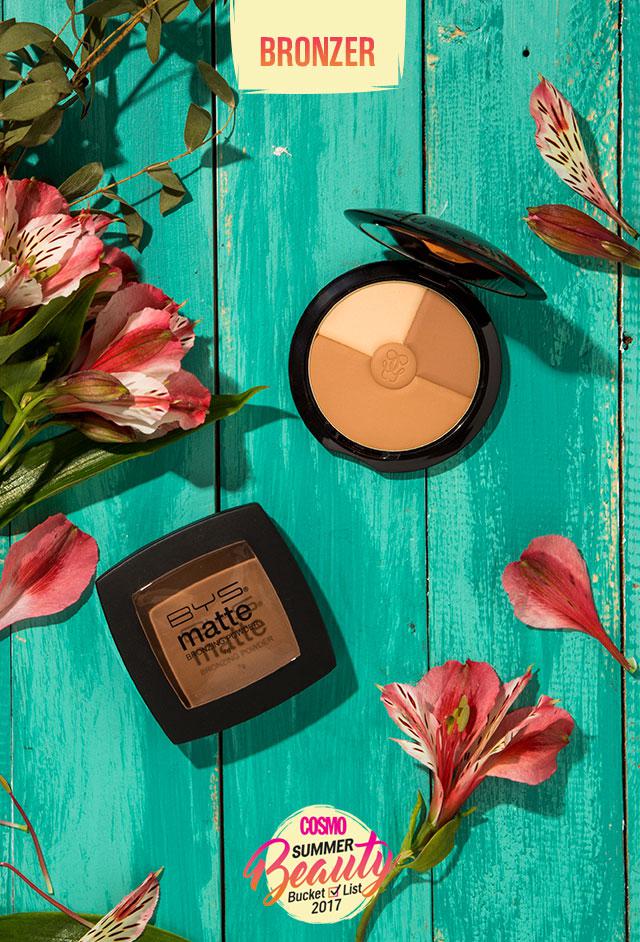 Guerlain Terracotta Sun Trio Bronzing Contouring Palette
An all-in-one contouring palette for those special summer parties where you want all eyes on you. Use each shade separately or swirl them together to define your features.
BYS Matte Bronzing Powder
As we move into the warmer months, adjust your makeup to suit the sultry days of summer. No lying under the sun required!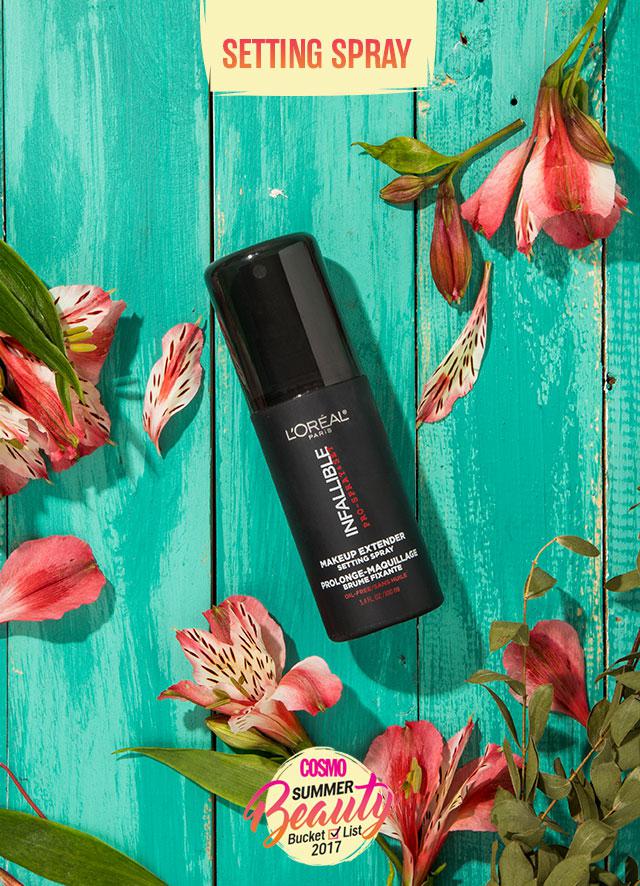 L'Oreal Infallible Pro Spray & Set Makeup Extender Setting Spray
Scorching hot days are practically a year-round occurrence in the Philippines—which means we're also never too far from a makeup meltdown. The solution? This setting spray, which budge-proofs makeup and leaves it flawless for hours on end. 
PRODUCT STYLING: Kay Isabedra
Follow Patricia on Instagram.