With Shiseido recently launching its newest skincare line in the Philippines, Ibuki (which means "new breath" in Japanese), I figured I'd put together a throwback post on my Japan beauty field trip in July this year together with friends from the media. 
When Shiseido Philippines' Brand Manager Jen Jimenez said that the best way to introduce the new product line was to bring us to the headquarters so we'll be immersed in the culture first-hand, I thought, "Oh, cool, we'll see the main store and try the products before anyone else." But when I got there, I realized why a visit to Japan was essential: It was the only way for us to appreciate the brand's rich history (it started in 1872, can you believe it?), and the "main store" turned out to be a three-floor beauty haven, a five-star restaurant, and a museum (Yes, Shiseido has its own museum!).
ADVERTISMENT - CONTINUE READING BELOW ↓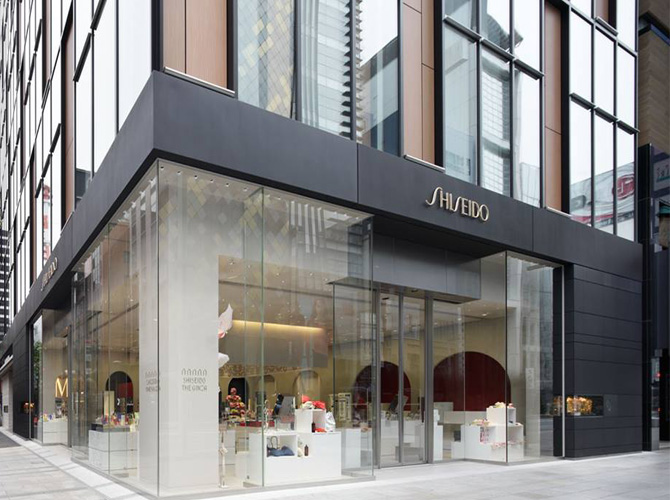 "Shiseido The Ginza" is the brand's main store located in Tokyo's high-end fashion district.
 Here are highlights of our memorable 3-day field trip:
1. Dinner at the Shiseido Parlour
We stayed at the Royal Park Hotel in Ginza, Tokyo's high-end Fashion District that reminded me of New York's Fifth Avenue. We arrived in the late afternoon, so Day 1 was all about settling down and getting our rest in time for dinner with Shiseido's Senior Manager for its Asia Pacific Sales Department, Isao Shirasuka.
This is where we ate: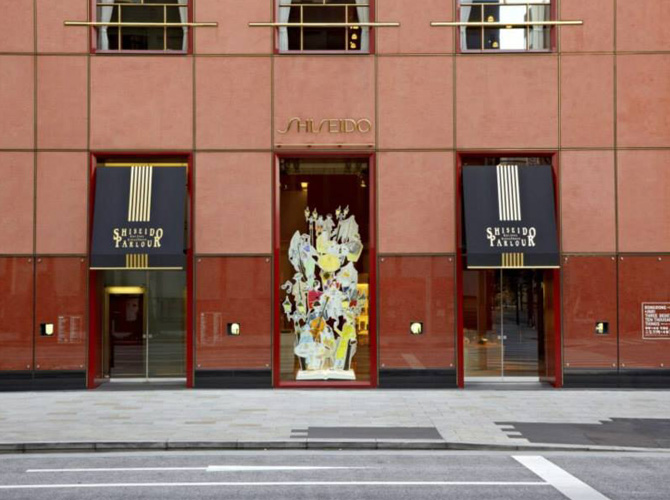 Shiseido Parlour
You'd think a cosmetics brand wouldn't branch out into the restaurant business, but when I asked Mr. Shirasuka, he said it all started in 1872, when Shiseido's founder, Arinobu Fukuhara, then 23 years old, put up Japan's first Western-Style pharmacy in Ginza because he was displeased with the inferior herbal medicines in the market. He later installed a soda fountain in 1902 after he saw drug stores in Europe and the US selling soda water and ice cream. This business was developed into the Shiseido Ice Cream Parlour in 1928, which is now the Shiseido Parlour!
ADVERTISMENT - CONTINUE READING BELOW ↓
Dinner ended early, so a handful of us went out to look for sake in the Ginza district. Surprisingly, the restaurants were already starting to close (it was just 10p.m.!), but we managed to find a place that served our drink of choice. Sake success!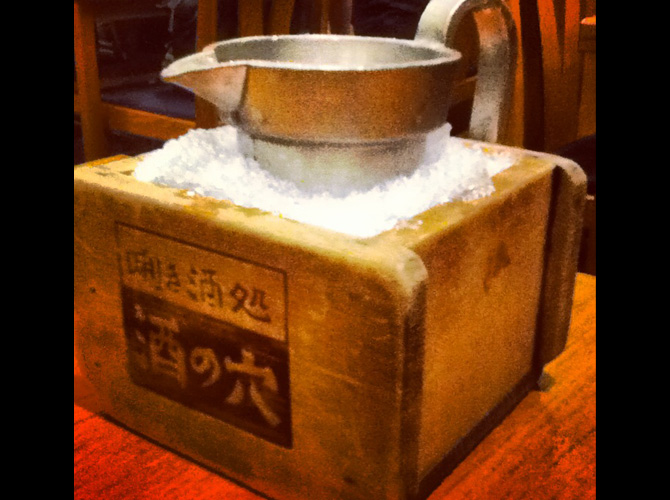 Sake
2. The Ibuki launch
We started early on Day 2 and met up with the Shiseido Japan Team for their presentation of the Ibuki skincare line.
ADVERTISMENT - CONTINUE READING BELOW ↓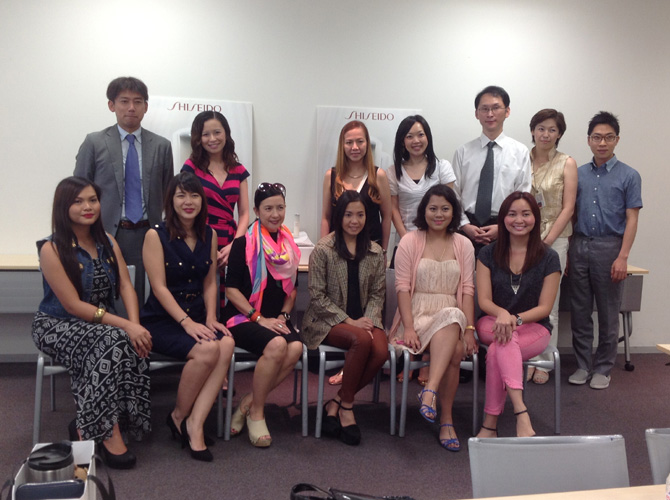 Group pic! (Back row, from left) I'm standing between Shiseido's Senior Manager for its Asia Pacific Sales Department, Isao Shirasuka, and Shiseido Philippines Brand Manager Jen Jimenez. 
I was quite happy with the brand's foray into skincare for the younger set (perfect for Cosmo girls!) and its scientific yet simplified approach to solving our skin troubles. Here's how they explained it: The daily aggressors we encounter (lack of sleep, exposure to heat and cold, unhealthy eating habits, and work stress) lower our skin's resistance and make our skin cells shrink (like a deflated balloon). When cells shrink, our skin becomes prone to breakouts, large pores, and roughness. That's where Ibuki comes in: It builds the skin's inner resistance by "super-hydrating" the skin, and bringing back the deflated cells to their original shape. And with cells in tip-top shape, our skin is ready for anything—yes, even that big date night we're stressing about! 
ADVERTISMENT - CONTINUE READING BELOW ↓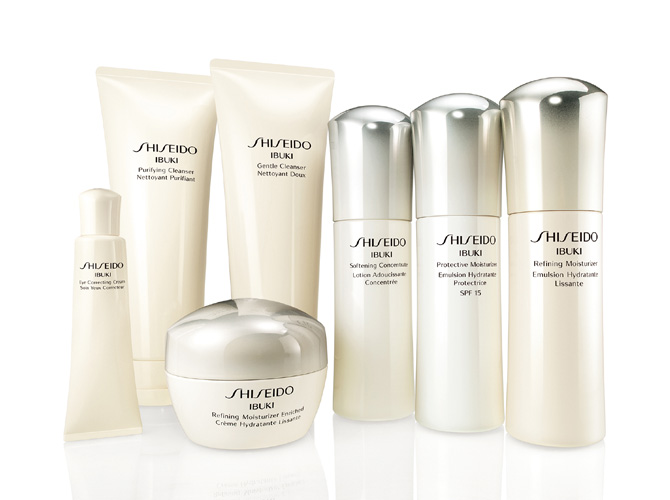 The Ibuki line has two kinds of cleansers, a softener that preps the skin for the next step, three types of moisturizers, and an eye cream. For more on Ibuki, click on this link!
We were each given beauty loot so we could try the products for ourselves, and my favorite is the Ibuki Gentle Cleanser (P1,495), because it goes incredibly well with my Clarisonic Mia for a foamy, super-clean wash (the scent is so relaxing, too!). My skin doesn't feel dry or stripped of its natural oils afterwards, but I still feel like all traces of makeup are removed—my number one priority at the end of the day.
ADVERTISMENT - CONTINUE READING BELOW ↓
Also a must-try: the Refining Moisturizer (1,950). I recommend using this at night before sleeping. It's lightweight and easily absorbed, and like the cleanser, it has a refreshing, relaxing scent perfect for bedtime. 
3. The Shiseido Museum!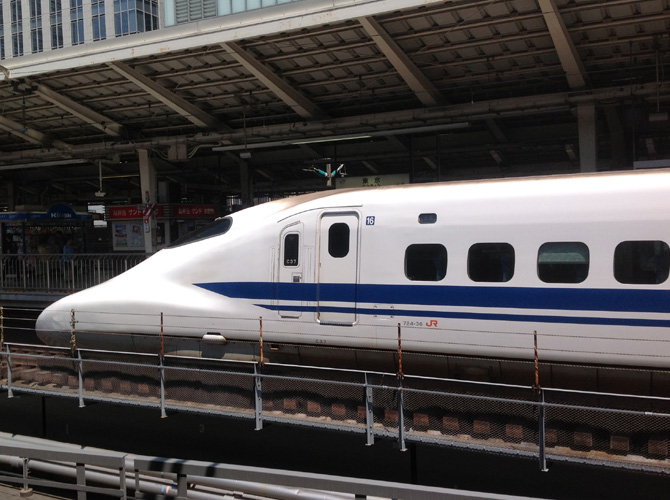 The bullet train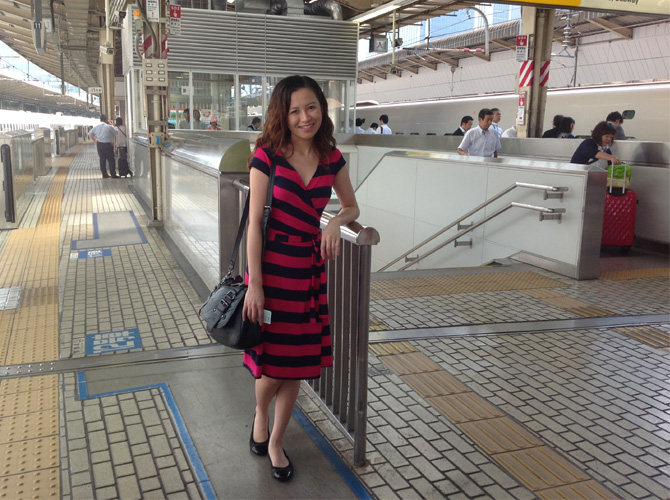 At the train station
ADVERTISMENT - CONTINUE READING BELOW ↓
We took the Bullet Train to Kakegawa to visit the Shiseido Corporate Museum, a two-floor modern structure housing the brand's product lines through the years, including its very first cosmetic product in 1897 (they let us see the actual product itself, containing the original formula!), the hydrating lotion Eudermine.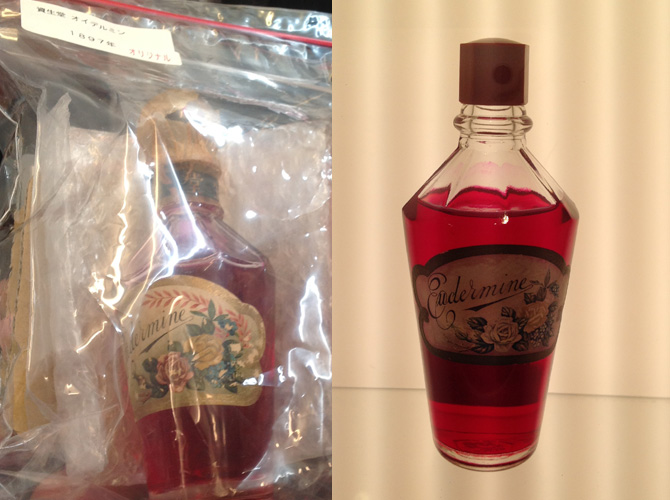 Eudermine's original packaging and formula found in the museum's vaults! 
ADVERTISMENT - CONTINUE READING BELOW ↓
My favorite part was viewing Shiseido's print ad display, which essentially mirrored the culture of its target market through the years. We weren't allowed to take photos of the exhibit itself, but we got exclusive access to the poster vault! P.S. See that "Beauty Cake" ad below? It's one of the brand's first photos featuring sun-kissed, tanned skin!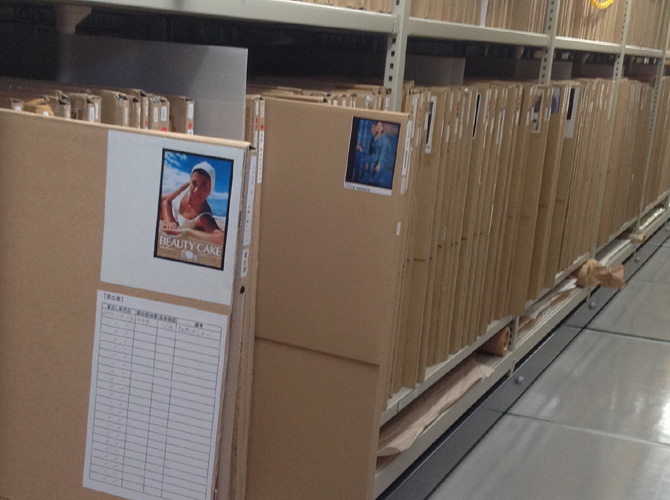 The museum has a copy of every Shiseido print ad!
ADVERTISMENT - CONTINUE READING BELOW ↓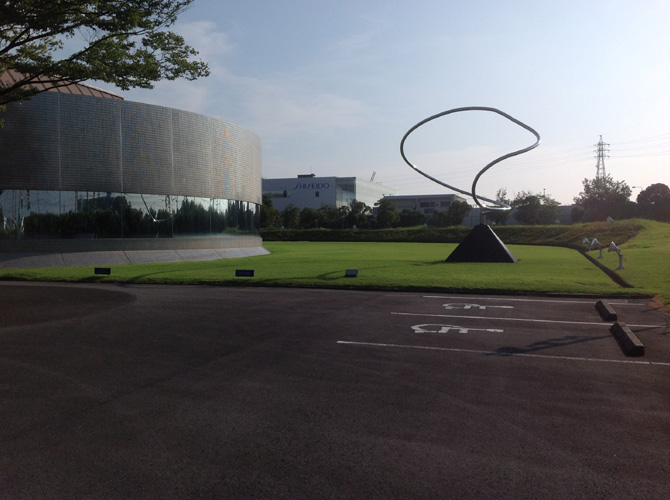 A short walk from the corporate museum is the Art House, where we were also given a tour of the featured contemporary artwork by local artists.
Our tour guide told us that a few streets away (See that "Shiseido" building in the photo?) are the product factories, and there's supposedly one building dedicated to each makeup item (All the liquid foundations, for instance!). 
ADVERTISMENT - CONTINUE READING BELOW ↓
Our visit to Kakegawa showed us another side of Shiseido—we saw its rich history, its immersion in the Japanese culture, and how the brand grew through the years. Suddenly, my Shiseido products in the press kit weren't just skincare products anymore. Come to think of it, I never quite looked at my Ibuki products the same way again after that!
4. Off to Shibuya!
On Day 3, we had the time to go around and see the city, particularly one of Tokyo's shopping districts, Shibuya. My favorite snapshots from that day: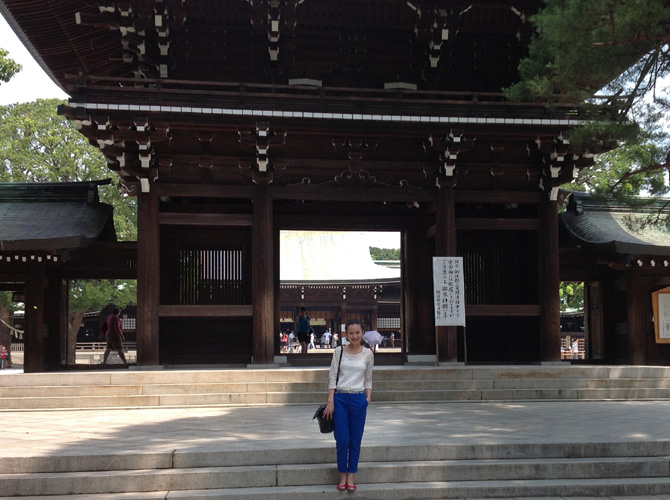 Our visit to the Meiji-Jingu Shinto Shrine dedicated to Emperor Meiji and Empress Shoken.
ADVERTISMENT - CONTINUE READING BELOW ↓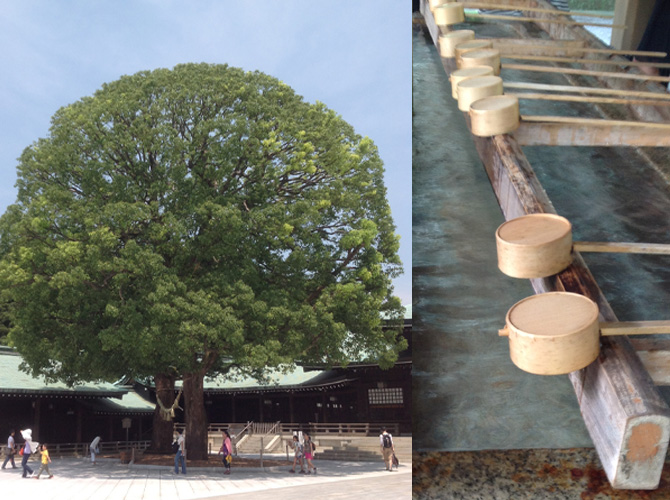 Left: Our tour guide told us that this tree is special because it looks like one whole tree, but it's actually two (look at the trunks!). It represents a couple's long life together. Right: Before entering the shrine, we had to cleanse our mouth and hands using the water fountain located outside.  
ADVERTISMENT - CONTINUE READING BELOW ↓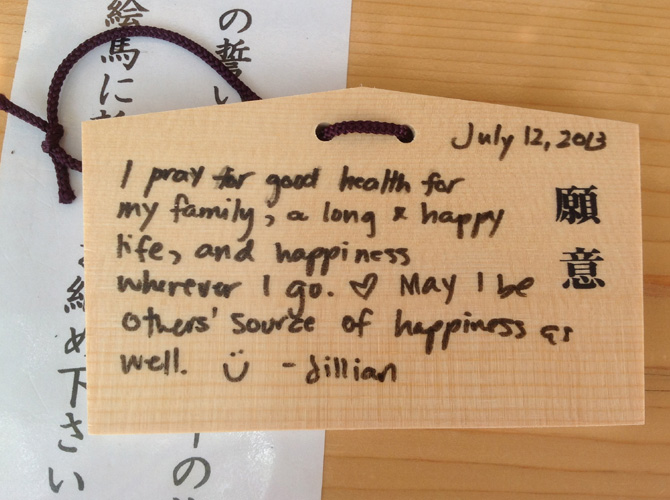 We wrote down our wishes and hung them right by the temple.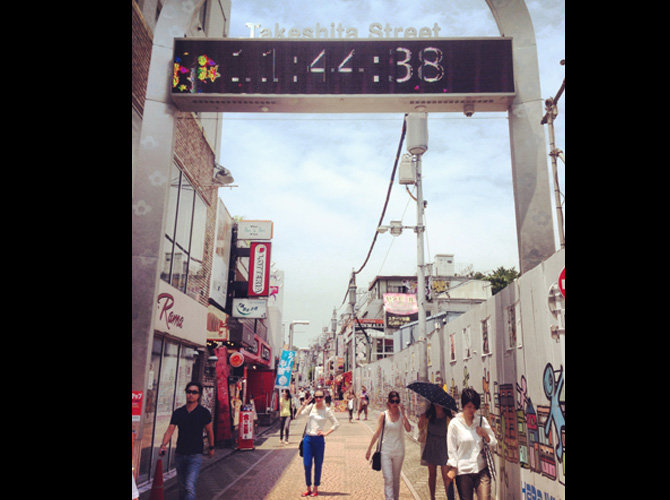 Shibuya ain't complete without a trip to Harajuku, filled with fashion options for every kawaii girl and gothic Lolita.
ADVERTISMENT - CONTINUE READING BELOW ↓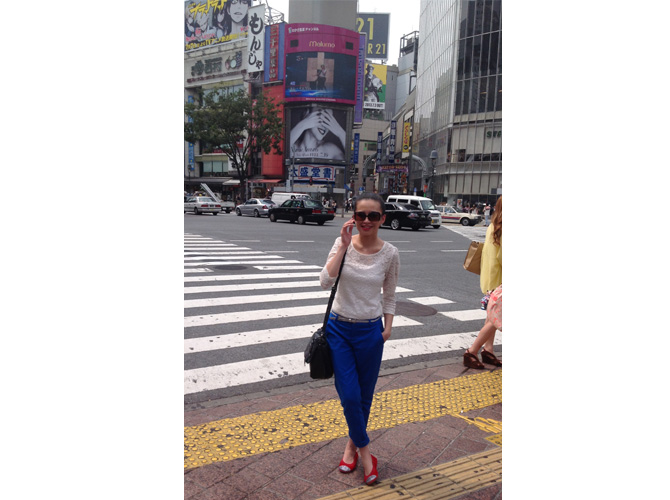 At Shibuya Crossing. It's super similar to NYC's Times Square!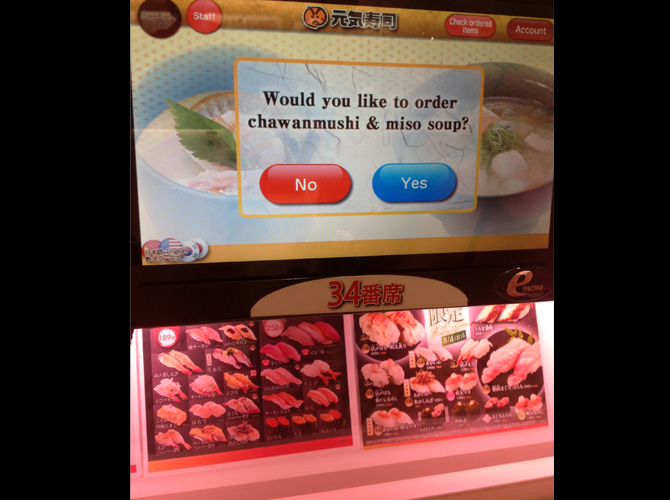 We ate lunch at a sushi place near Shibuya Crossing. Super cool detail: We ordered on digital tablets propped near our table, and the food arrived via a conveyer belt just minutes after placing an order!  
ADVERTISMENT - CONTINUE READING BELOW ↓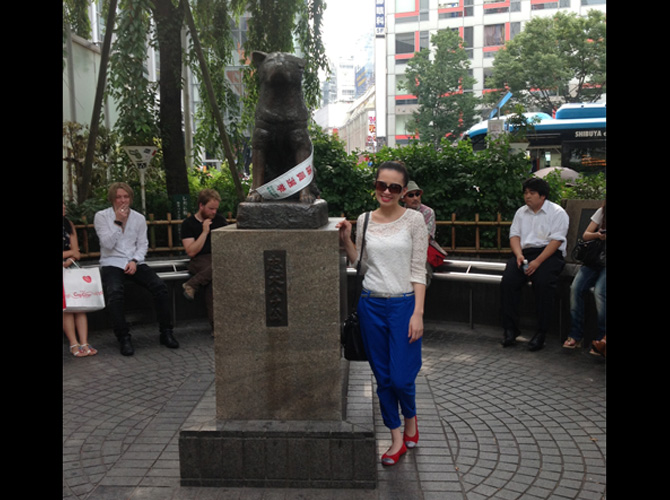 I saw the statue of Hachiko! I watched the Hollywood adaptation starring Richard Gere a long time ago, and I had always wanted to see the loyal Akita's bronze statue in front of Shibuya station. Another item checked off in my bucket list!
It's pretty amazing how much we covered in those three days. What a great first visit to Japan!
ADVERTISMENT - CONTINUE READING BELOW ↓