It's 2019, and if you aren't curating your ear, WTF are you doing? Kidding, kidding—but really, ear piercings have become the coolest beauty trend of the year (you can thank your Instagram feed for that), and I'm fully on board with it. So if you are like me and have officially run out of space on your lobe, allow me to introduce you to the next step in the curated ear: the tragus piercing, an intentionally subtle option that looks ridiculously cool with any number of earrings. And I broke down everything you need to know before you book your appointment, including the cost, healing time, and most important, the pain factor (which, spoiler alert, isn't as bad as you'd imagine).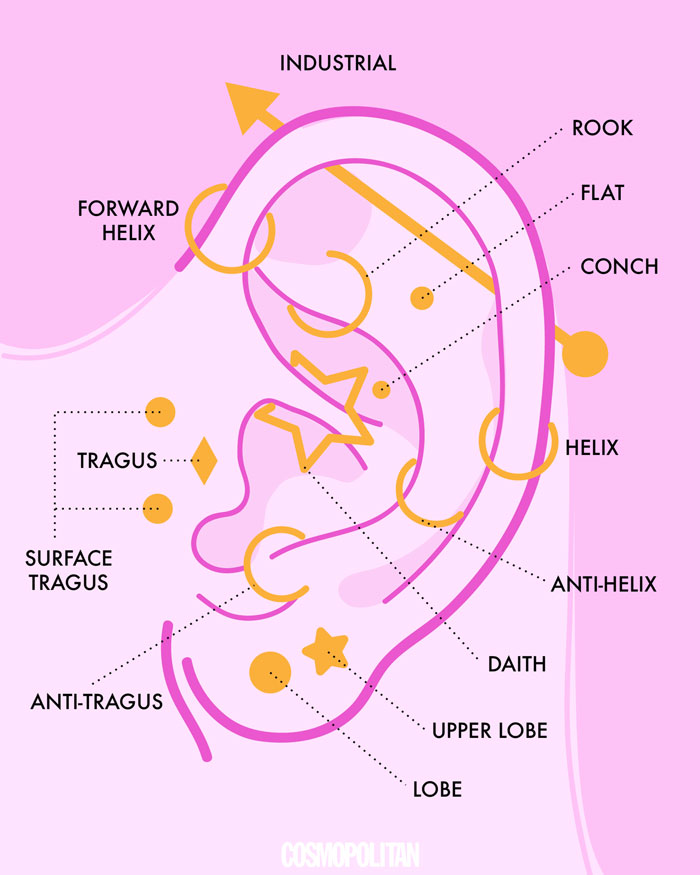 Continue reading below ↓
Recommended Videos
What is a tragus piercing?
The tragus is a small piece of cartilage on the inner corner of your ear (it's what you touch when you plug your ears). Although it definitely isn't as popular as your classic earlobe piercing, tragus piercings are definitely on the rise, mainly because they make a sweet little addition to any curated ear. Whether you keep it low-key with a tiny stud or go bold with an itty-bitty hoop earring (after it's healed!), it's super easy to customize a tragus piercing.
Are tragus piercings painful?
Welp, that depends on your pain tolerance—so even if your roommate teared up during her tragus piercing, it might be a total breeze for you. Keep in mind that your tragus is all cartilage, which means more pressure is required for the needle to pierce your skin. That said, it definitely isn't considered one of the most painful piercings (see: nipple or daith piercings), so if you're relatively chill with needles, you should be fine.
In the weeks (and in some cases, months) following your piercing, you'll notice some redness and swelling. Don't worry—this is totally normal and nothing to worry about, as long as you're taking care of it properly. Speaking of which...
How do you care for a tragus piercing?
As with any piercing, your tragus is prone to infection if you don't care for it properly. You should plan to clean your piercing at least two to three times a day while it's healing. Piercers recommend gently washing your piercing with a mild soap (that means absolutely no alcohol or fragrance) or saline solution (aka salt water, which comes in super-convenient spray bottles for awkwardly placed piercings like your tragus).
As a general rule of thumb, you'll want to avoid touching or tugging your piercing at all costs, since the tiniest bit of bacteria can cause an infection and even the slightest tug can hurt or irritate your ear. Remember: A piercing is an open wound, and your body's natural reaction is to fight and reject it. But if you consistently clean and care for it (i.e., no skipping your sprays—even if you're coming home from a late night), you shouldn't have any issues. Of course, if you notice any extreme redness, swelling, or tenderness around your piercing, have your doctor check it out ASAP.
How long do tragus piercings take to heal?
The typical range for healing a tragus piercing is anywhere between three to six months, although some people experience swelling and redness for as long as 10 months. Until your piercing is 100 percent healed, you'll want to stay super consistent with your cleaning schedule (repeat after me: two to three times a day). The good news though? As soon as your piercing is completely healed—you can run it by a professional piercer if you aren't totally sure—you'll have a shit-ton of pretty jewelry to look forward to. Check out some cute options here.
How much does a tragus piercing cost?
Obviously, pricing completely depends on your piercer and the jewelry. In Metro Manila, tragus piercings can cost P250 to P1,000+. Always, always, always research your salon and piercer before getting pierced—you want to make sure you're going to someone who knows what they're doing, 'cause no discount is worth an infection.
Final Thoughts
All in all, a tragus piecing is a fairly mild option if you're ready to graduate from your earlobe. It adds a touch of cool to any ear curation, especially if you pair it with a thin hoop or a cute stud earring after it's healed. Just remember that piercings are a commitment and require lots of TLC during the healing process, so make sure you think it through before you book your appointment.
And in the meantime, you can join me in sifting through the prettiest damn ear-piercing inspo on Instagram right now.
***
This article originally appeared on Cosmopolitan.com. Minor edits have been made by the Cosmo.ph editors.