Dear Agoo,
Is there a safe and effective way to lighten dark underarms? I don't want to go through expensive laser surgery, so are there products like deodorants I can use to help whiten my armpits?
Sally, 29
---
Hi, Sally!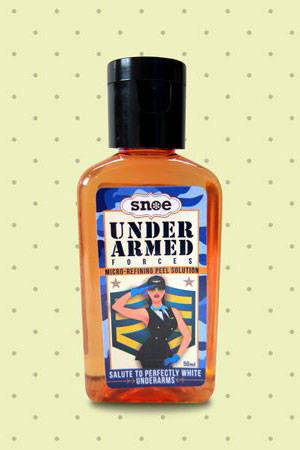 The best way to improve unsightly discolorations on your armpit area would be to simply leave the area alone. Scrubbing or rubbing the area excessively with all sorts of exfoliants and creams can actually do more harm than good in the long run.

You might also want to have a look at the ingredients of your antiperspirant. If it contains Aluminum Chlorohydrate as an active ingredient, your antiperspirant might very well be the culprit. Studies have shown that Aluminum Chlorohydrate can clog pores and cause skin darkening.

I've tried Snoe's Under Armed Forces, and it worked wonders for me. It doesn't contain any Aluminum Chlorohydrate but still managed to keep me dry and feeling fresh.

Love, A

You can now get advice straight from our Beauty Director, Agoo Bengzon. For your beauty inquiry, send your name, age, and question to Agoo with the subject "Beauty 101." Email  her at cosmophilippines@gmail.com. She'll answer one question every week!
ADVERTISMENT - CONTINUE READING BELOW ↓