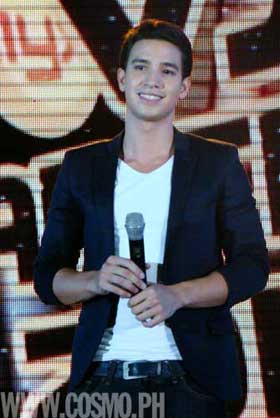 Among the 11 Pilipinas Got Talent finalists, Markki Stroem probably has the most star quality. Aside from being multi-talented, the 22-year-old musician also happens to have the good looks and charm that can attract a good number of followers.

Although Markki was not able to get the top spot on the local franchise of this British reality-based talent search show, he was given a chance to be part of the compilation album Pinoy You Got It, from Star Records and Sony Music Philippines. Three songs in this nine-track album were recorded by Markki, while the remaining six were performed by his fellow PGT finalists Sherwin Baguion and Ezra Band.

Markki said that while he didn't emerge the winner in the competition, that didn't stop him from continuing his passion for music.

"I'm in a relationship with my music," says the newbie celebrity, describing how serious he is in pursuing his music career.

Markki also mentions that he had to tone down his music so it could appeal to the masa, who are more likely to support his first album with other PGT finalists.

This young music artist does not only sing, but he can also play the saxophone and the piano. And to top all these, Markki writes his own songs.

"Unfortunately, hindi ko naipakita sa Pilipinas Got Talent because it wasn't really the right venue to showcase them (his own songs). The problem with my songs is hindi sila pang-masa," he says.

Markki, of course, wishes that someday his work will be compiled into one music album.

"Probably in the future," he says. "Pero ngayon, they said that the song I gave them wasn't really for the masa market. I gave them one song, it's the most [pang-masa] song that I could write—'Changing Blankets'—but they said that I should wait for a solo album."

The PGT finalist says that whatever happens, he will continue to create music.

"It's what I want to do and it's what I want to cultivate because I know that I'm not the best singer. I'm not the best. I wanna get to that certain level in which I can fully showcase my talent. I won't give up. I won't," he says with conviction.

Want to see more of this up-and-coming cutie crooner? Click on the button below to view the gallery.
Continue reading below ↓
Recommended Videos
765