1. The Notebook
Who did the smooching: Ryan Gosling (Noah) and Rachel McAdams (Allie)
What makes it swoon-worthy: Teenage sweethearts Noah and Allie hadn't seen each other for years, and when they finally do, she is already engaged to another man. Clearly not pleased with this turn of events, Noah grabs Allie for a fiery kiss that carries all his pent-up frustration as the rain slashes down on them in angry spears. And that, folks, is what you call ~MOVIE MAGIC~.
2. Spider-man
Who did the smooching: Tobey Maguire (Peter /Spider-Man) and Kirsten Dunst (Mary Jane)
What makes it swoon-worthy: After he saves her from a bunch of creeps, Mary Jane says thank you to an upside-down Spidey with a kiss, but stops herself from completely removing his mask and revealing his true identity. Romantic AND respectful. We like.
3. Dear John
Who did the smooching: Channing Tatum (John) and Amanda Seyfried (Savannah)
What makes it swoon-worthy: John and Savannah's kiss in the rain comes after he tells her, in all tenderness, "Well, you scare me." This brave, hulking Special Forces soldier, scared of this wide-eyed college girl's effect on him? *ovaries explode*
4. A Cinderella Story 
Who did the smooching: Chad Michael Murray (Austin) and Hilary Duff (Sam)
What makes it swoon-worthy:After being called out for his cowardice by simple gal Sam, campus jock Austin finally gathers the courage to be true to himself. He proves it by kissing herin front of an entire stadium, in the middle of a football game he had just walked out on, as rain begins to fall. Such timing.
5. Enchanted
Continue reading below ↓
Recommended Videos
Who did the smooching: Patrick Dempsey (Robert) and Amy Adams (Giselle)
What makes it swoon-worthy: In an awesome twist to traditional fairy tales, our girl Giselle saves her one true love, Robert, from the scary monster-slash-evil queen. And it all happens at the top of New York's Woolworth Building! While it rains like cray! Dammit if a kiss isn't happening!
6. Breakfast at Tiffany's
Who did the smooching: George Peppard (Paul) and Audrey Hepburn (Holly)
What makes it swoon-worthy: After confronting Holly about her behavior, Paul walks out on her to look for her cat (called "Cat," natch), which she had pushed out of their cab and into the rain. Realizing her messed up ways, Holly runs out into the rain as well, and is reunited with Cat and Paul, who loves her despite herself. Cue rain-soaked kiss with Cat squashed between them.

7. Step Up 2: The Streets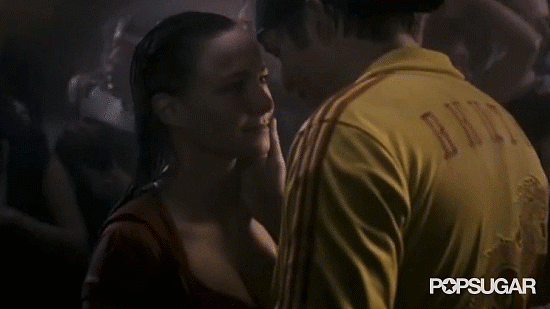 Who did the smooching: Robert Hoffman (Chase) and Briana Evigan (Andie)
What makes it swoon-worthy: Performing arts school dance students Andie and Chase, along with their crew, finally prove their legit skillz in the streets, blowing their audience away with an elaborate routine performed entirely in the rain.What better way to celebrate the victory than with a rain-drenched first kiss?
8. Sweet Home Alabama
Who did the smooching: Josh Lucas (Jake) and Reese Witherspoon (Melanie)
What makes it swoon-worthy: On the day of her wedding to another man, Melanie finally realizes that she still loves her ex and childhood romance Jake, and she goes looking for him to spill her feels, even in the pouring rain. Go get it, girl.
9. Garden State

Who did the smooching: Zach Braff (Andrew) and Natalie Portman (Sam)
What makes it swoon-worthy: Two damaged individuals, pill-popping Andrew and pathological liar Sam, climb on top of a crane andscream into a huge quarry in a burst of release. Buoyed by their cathartic experience, they turn to each other and kiss. With Andrew's friend watching. A little awkward, but still sweet.
10. Daredevil
Who did the smooching: Ben Affleck (Matt) and Jennifer Garner (Elektra)
What makes it swoon-worthy: It was a train wreck of asuperhero movie, but if there's one reason to sit through Daredevil again, it's Ben and Jen. We know they're not together anymore, which is why the kiss in the rain they shared as Matt and Elektra—which eventually led to them dating and getting hitched and popping out beautiful babies—will fill you with sadness that Bennifer is a thing no more. :(
Follow Cheekie on Twitter.