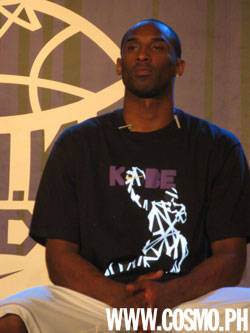 Most NBA players are tall and dark and boast of chiseled bodies. That's why women swoon over them, and that's also something you ladies already love about 31-year-old Kobe Bryant. But there's more to love about Kobe than his body—really. This one-of-a-kind, once-in-a-lifetime talent is not only tall, dark, fit, and quite handsome (just ask his beautiful wife—yes ladies, he's hitched, in case you didn't know), he also has a lot of admirable talents outside the basketball court.
Here are ten things you should know about Kobe Bryant.
1. Kobe spent the latter part of his childhood in Italy.
At 6, Kobe's family moved to Italy, and only moved back to the States after eight years. Kobe visited the States during summer, and played in various summer leagues.
2. Kobe is multilingual.
During his time in Italy, Kobe learned how to speak Italian and Spanish fluently. During games, he sometimes speaks to Pau Gasol in Spanish so the opponents wouldn't understand what they're trying to do.
3. Kobe's prom date is a celebrity.
Kobe's date to his senior prom in 1996 was R&B singer Brandy Norwood. It was evident early on that Kobe was a charmer; not every teenage basketball player gets to date a teen-queen-slash-sitcom-star-slash-singing-sensation.
4. Kobe once recorded an album.
In 2000, Kobe collaborated with Tyra Banks for the song "K.O.B.E." There's no word confirming that Kobe and Tyra ever dated. After that he also released a single called "Thug Poet." He planned to release an album entitled "Visions," but it never came to fruition.
[nextpage]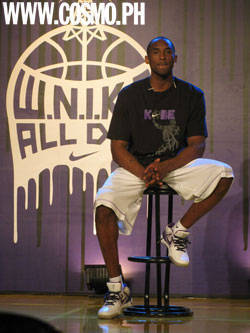 5. Kobe Bryant scored 1,080 on his SATs.
The scholastic aptitude test and scholastic assessment test are required for admission into US colleges. His score of 1,080 more than guaranteed him a scholarship into top-tier colleges. He skipped college, however, and went straight to the NBA.
6. Kobe was the son of a former NBA player.
Kobe's dad, Joe "Jellybean" Bryant, played for several NBA teams before bolting for the Italian league where he finished his professional career. Kobe's skills today far exceed what his dad ever accomplished.
7. Kobe is the youngest starter to play in an All-Star game.
Kobe's second season in the NBA (1997-1998) saw his scoring average double. Along with his electric play, the fans voted him in as a starter. He was just 19 then.
8. Kobe's nickname is the "Black Mamba."
The black mamba is one of the most feared snakes in Africa for its aggressiveness. Like the snake, Kobe is hard to stop once he's in attack mode.
9. Kobe is one of the highest-paid athletes in the world.
With a total earning of $45 million, Kobe figured at second place in Forbes' list of the highest-paid athletes in the world in 2009. He was tied with Michael Jordan, and second only to Tiger Woods.
10. Kobe Bryant: "These young guys are playing checkers. I'm out there playing chess."
Kobe plays at a different level every game. He's your kind of man if you want someone who wants everything done in the most perfect way. Too bad for the ladies, he's married.
93
Continue reading below ↓
Recommended Videos