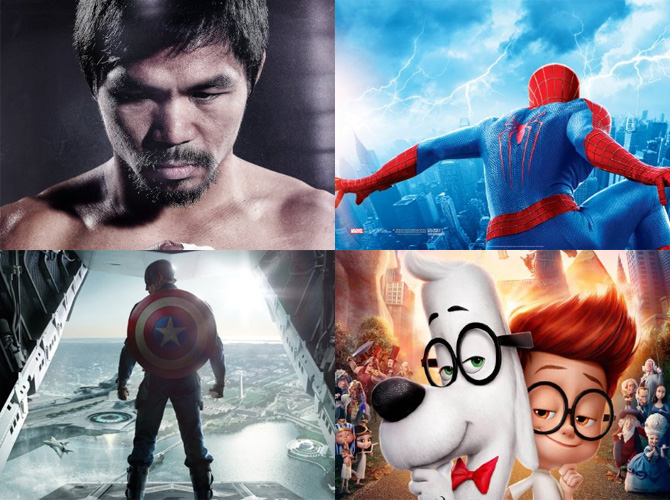 12 Years A Slave
Release date: March 5
Best Picture, Best Supporting Actress, and Best Adapted Screenplay at the 2014 Oscars? Definitely a must-watch! 
Mr. Peabody and Sherman
Release date: March 6
Need a break from heavy dramas? Go for this light, feel-good movie.

300: Rise Of An Empire
Release date: March 6
300 men with abs. 

Manny (Documentary)
Release date: March 12
Any documentary about Pinoy boxing world champ Manny Pacquiao is worth seeing. P.S. Liam Neeson narrates this flick!
Need For Speed
Release date: March 14
We're hoping this movie doesn't end up being just a rip-off of the Fast & Furious franchise. We're banking on lead actor Aaron Paul to pull it off!

Divergent
Release date: March 19
Based on the young adult novel of the same name, Shailene Woodley plays a badass Divergent (one who doesn't fit a "personality" category) who bravely fights the system (the government).

Empire State
Release date: March 19
It has Liam Hemsworth in it, so yup, count us in!

Muppets Most Wanted
Release date: March 21
You'll hear a lot of familiar voices in this one! Some of Hollywood's finest like Tom Hiddleston, Salma Hayek, Stanley Tucci, Tina Fey, Lady Gaga, and Ty Burrell lend their voices to the world's most popular puppets.

Captain America: The Winter Soldier
Release date: March 26
Chris Evans is back in his Captain America suit. Yes!

Noah
Release date: April 2
A film adaptation of the famous biblical narrative, "Noah's Ark," starring Russell Crowe, Jennifer Connelly, Emma Watson, Anthony Hopkins, and Logan Lerman.

Rio 2
Release date: April 2
Ah, just what we need this summer.

Son Of God
Release date: April 2
Is it weird that we find Jesus extremely attractive?
Heaven Is For Real
Release date: April 19
We got goosebumps just watching the trailer. We suggest you read the novel too before watching the movie.

The Amazing Spider-Man 2
Release date: April 30
Amazing, indeed. Looks like this can possibly top the first movie!
Recommended Videos