You've seen him on the pages of Cosmopolitan Philippines, you've glanced at his billboards along the roads, and you saw him strut down the stage along with some of our popular and up-and-coming celebrities at this year's Bachelor Bash. This gorgeous young man from Las Vegas, Nevada is steadily becoming more than your average model.

Who is he? Bryann Foronda.

One of Summer 2010's Steamy Studs, Bryann caught your eye in our April issue and it looks like he never let go! You liked him so much, you snagged him a spot among our 10 Celebrity Centerfolds by voting him online and through ballots! Now that he's on the pages of Cosmo once more, get to know this handsome hunk a little better, as he tells you what drives him wild--in his own handwriting: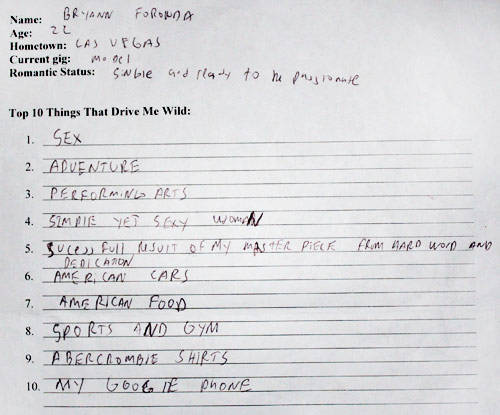 Click through to the Gallery below to see our exclusive behind-the-scenes photos of Bryann's 2010 Cosmo Centerfold shoot! And watch for behind-the-scenes footage of his shoot on CosmoTV.


Grab the September issue of Cosmopolitan Magazine to see all Centerfolds! Andi Eigenmann is on the cover, while Sam Milby graces the cover of the Cosmo Men supplement--in stands now!


DISCLAIMER: No animals were harmed during the production of the Cosmo Men supplement. The handling of animals during the shoots was done with the supervision of trainers and animal experts from the Avilon Wildlife Conservation Foundation.
Continue reading below ↓
Recommended Videos
704