Given his boyish, earnest demeanor and his clean cut good looks, at first glance, it's easy to peg 21-year-old theater actor Marco Manalac as the stereotypical boy-next-door. Truth be told, it's a role that suits him.

He's that cute guy you crushed on all throughout high school and college. He's admittedly a little geeky (professing an undying love for all things Spiderman), and that only adds to his charm. He's smart, he's polite, he's well-spoken, and your mom would probably be really glad if you were dating him because he's just so nice.

But this up-and-coming talent has a wild side, and surprisingly, he lets it loose for the world to see—on stage. Marco bared it all under the theater lights for the local run of the controversial play Equus, playing the same daring role as Harry Potter actor Daniel Radcliffe. It's probably the wildest thing he's done, but he says that getting naked was actually one of the easier parts of portraying the role of Alan Strang in Equus.

He took his all-out attitude to his wild Cosmopolitan Philippines shoot at Ark Avilon Zoo in Tiendesitas, and dared to bare yet again as a 2010 Cosmo Centerfold. Since he's a sweetheart by nature, we asked him: What are the 10 things you've done (or are willing to do) for love? Here are his answers: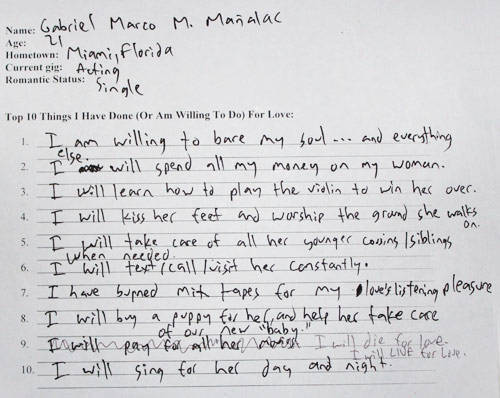 Boyfriend material? Definitely.

Click through to the Gallery below to see our exclusive behind-the-scenes photos of Marco's steamy Centerfold shoot! And watch behind-the-scenes footage of his shoot when you click on this link.


Grab the September issue of Cosmopolitan Magazine to see all Centerfolds! Andi Eigenmann is on the cover, while Sam Milby graces the cover of the Cosmo Men supplement--in stands now!


DISCLAIMER: No animals were harmed during the production of the Cosmo Men supplement. The handling of animals during the shoots was done with the supervision of trainers and animal experts from the Avilon Wildlife Conservation Foundation.
Continue reading below ↓
Recommended Videos
703