Cosmo Centerfold and 2010 Cosmo Men cover hunk Sam Milby looks like (and actually is) one of the sweetest guys out there, but at his shoot for this year's sizzling, savage cover, he proved to everybody that he's completely fearless and totally up for anything.

Sam had a real live tarantula crawling all over his shoulder and chest for one of his shots, and after the shoot, he borrowed the big Burmese python from the attendant at Ark Avilon Zoo in Tiendesitas, showing the gorgeous yellow snake off around his shoulders for a TV interview.

He's obviously not afraid to live a little on the wild side, so we asked Sam what wild things he still wanted to do, and here's what he had to say: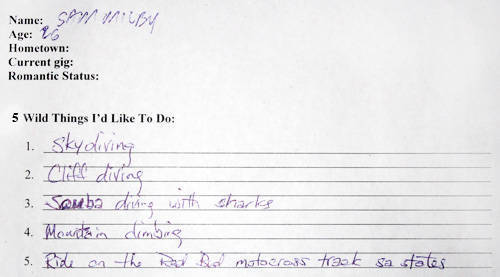 It looks like snakes and spiders aren't nearly dangerous enough for this handsome hunk! Hot.

Click through to the Gallery below to check out our behind-the-scenes coverage of Sam Milby's Cosmo Men 2010 cover shoot! Expect his behind-the-scenes video to be posted later today, where you can also watch our exclusive interview with our cover hunk!


Grab the September issue of Cosmopolitan Magazine to see more of these Bachelors! Andi Eigenmann is on the cover, while Sam Milby graces the cover of the Cosmo Men supplement--in stands now!


DISCLAIMER: No animals were harmed during the production of the Cosmo Men supplement. The handling of animals during the shoots was done with the supervision of trainers and animal experts from the Avilon Wildlife Conservation Foundation and Zoobic Safari.
673
Recommended Videos