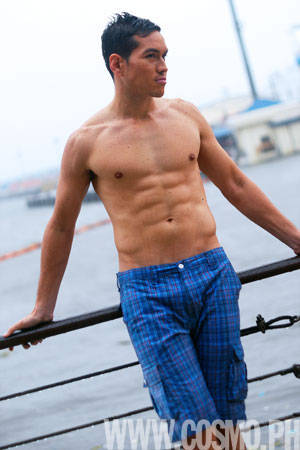 Aly Borromeo, born Alexander Charles Luis Borromeo, showed up for his Centerfold shoot at Manila Hotel one stormy morning, and showed us what a true fighter he is. The Cosmo crew had to gear up in raincoats and boots and wrap equipment in plastic to shoot him out in the open, by Manila Bay. Meanwhile, Aly, although soaked to the bone, put his game face on and made it easy for us to take stunning shots of him for the Cosmo Men supplement.

Professionalism certainly goes with the territory of being the Azkals team captain. Aly started playing football when he was just 6, and while he got into other sports like basketball, tennis, and golf growing up, football remained his first love. The rest, as you know, is history.

The Filipino-American-Spanish hottie is reportedly one of the most aggressive players on the national team--and we love how that translated into fierce photos. But, Aly says he's very approachable off the field.

He told Azkals Magazine that he loves chocolate and going to the gym during his free time. And, while we enjoy swooning over his hot bod, all we can really do is look, as Aly is already off the market. He's been with his girlfriend for eight years--and counting!

We got to sit down with Aly for a short chat about being a Centerfold, the Azkals, and even where he'd really like to take his girl on vacay. Read on for excerpts, and launch the gallery to see behind-the-scenes photos of his Cosmo shoot.

How do you feel about being a Cosmo Centerfold?

It feels great, it came by surprise. I guess it helps also with the Azkal's popularity these days. I'm very honored to be in the magazine.

What do you love about being an Azkal?

Being an Azkal is really great because we get to travel the world, go to different countries, and at the same time enjoy playing football.

What's it like to be team captain?

That's a lot of weight on my shoulders, actually... [I usually handle] communication between the locals and foreigners because I'm one of the few who can speak both English and Tagalog fluently. So that's a difficult job, aside from my main job, which is being the coach of the pitch.

What else are you into, besides football?

I like to play other sports like basketball, tennis, golf, wakeboarding, surfing. Aside from that, when we get the chance, I like to go to the beach and chill.

Where would you like to take your girl on a sexy getaway?

I'd probably take her back to the Maldives. We went there and it's quite sad because we were a bunch of boys and it's [one] of the honeymoon destinations. I want to take her there someday.


Launch the gallery to see behind-the-scenes photos of Aly's shoot, and watch the video here!
1521
Continue reading below ↓
Recommended Videos