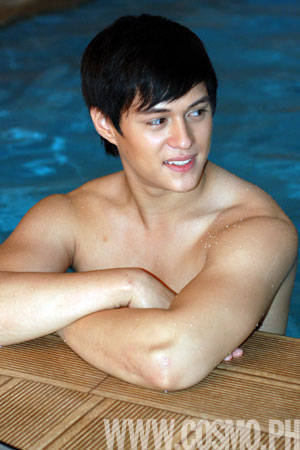 The youngest Centerfold on this year's lineup is 19-year-old actor-dancer-host Enrique Gil, who wowed us not just at the 2011 Cosmo Bachelor Bash, but at his HOT photo shoot as well! The former Candy Cutie (of our teen sister mag) proved he's got more than just great boy-next-door looks and charm; he's got a sexy side, too, which he's now eager to show us, Cosmo chicks!

Enrique entered showbiz when he was 16, and has starred on several ABS-CBN shows, including the recent remake of Mula Sa Puso, and the film Way Back Home with Kathryn Bernardo and Julia Montes. Currently, you can watch Enrique play Troy Cabrera in the show Good Vibes.

Read on for excerpts from our interview with Enrique, where he talks about what he finds sexy in a woman, among other steamy facts. Then, launch the gallery to see him get wet on the set of his Cosmo Centerfold shoot! 

Are you excited about your Cosmo Centerfold stint?

I'm super excited and super nervous at the same time. It's my first time...

Did you ever think you would do something like this?

Not in a million years, no. But it's kind of sinking in already.

Why did you decide to go sexy?

Because I think I'm not getting any younger, and the Cosmo peeps around here think I should go sexy! So yeah, I just had to try it out.

Is dancing the only way you maintain that bod?

Not really just dancing, of course you have to work out in the gym, too. But since I don't have much time, the only workout I do right now is mostly dancing.

How else do you keep fit?

A good diet. I usually eat fish and vegetables, mostly protein, and I play basketball sometimes.

What do you think makes you sexy?

I guess my sense of humor. And, sometimes dancing. Dancing is a good way to feel sexy. And, my butt--a lot of people say I have a big big butt. I think that's a plus.

What would make you say a girl's a 10?

She's pretty, cute, simple, malambing, and fun.

What outfit do you find sexy on a woman?

Maybe just short shorts with a loose polo on top. That looks kind of sexy.

What's an outfit you don't really like seeing on girls?

Something that's too frizzy, like a polo with so many flowers. [It] kind of distracts me.

How would you approach a girl you like?

Sometimes I try to be funny. Well, more of casual.  I'm really like the crazy type, I just chill and keep casual, and be funny...

How would you flirt with her?

I don't know, it depends. Maybe through the look, when you look at her. Through the smile.

What are your biggest turn-ons?

Turn-ons would have to be... She knows another language, accent, or she can speak in another language. Bisaya--it's kind of different and sophisticated.

What could a girl do to drive you crazy?

Siguro, the way she looks at me. There's a certain look, I guess.

What makeup do you like seeing on girls?

Any kind. It depends on the girl which looks better. I like natural, not too much crazy things going on.

What's your ultimate sex fantasy?

Maybe by the beach, because I love the beach.

If you could go on a sexy getaway with a girl, where would you take her and what would you do?

I would take her to a private island, where we can hang and chill the whole day, go swimming together, and go scuba diving. Then we could eat after, have a massage by the shore. Come night, maybe a nice candlelit dinner by the beach and then a little bonfire.

Launch the gallery to see what went on behind the scenes at Enrique's Centerfold shoot! Watch the video when you click on this link.

1547
Continue reading below ↓
Recommended Videos
EXPLORE COSMO