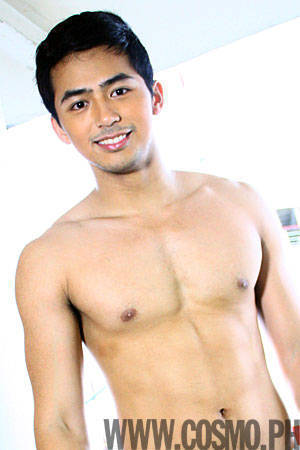 It was a stormy morning, but Enzo Pineda arrived bright and early--like a ray of sunshine--at the Manila Hotel for his Cosmo Centerfold shoot. Enzo and the Cosmo team braved the the whipping winds and heavy downpour--equipped with raincoats, boots, lots of towels, and umbrellas--to shoot his Cosmo Men feature.

The 21-year-old dancer-actor has come a long way since becoming a finalist of the talent search Starstruck 5 back in 2009. You've seen this hot Kapuso recently in the network's dance series Time Of My Life (with Mark Herras and Kris Bernal). "Being in showbiz is one of my dreams. Pangarap ko talagang maging performer. Every time I'm on stage, in front of the camera, I feel at home, So definitely, I'm living my dream," he says.

Enzo did show us that love for the camera when he smoldered through his Centerfold shoot--the cold, wet weather notwithstanding. After drying off and warming up in the holding room, he sat with us for a short chat, where he told us that this Cosmo shoot is in fact his favorite moment since he entered showbiz.

Read the interview below to learn what else Enzo spilled during our chat. Then, launch the gallery to see snapshots of his rainy (but sizzling) shoot.

How do you feel about being a Cosmo Centerfold?

I guess matagal ko nang gustong ipakita ang different side of me. Last year I was a Candy Cutie (Ed's note: In 2010, he was voted the number one Candy Cutie of our teen sister mag); now I want to show everybody that I have the guts to be a Cosmo Centerfold. Definitely, I'm happy to be a part of this.

What made you want to go sexy?

I guess I just want to show everyone that I can be a Candy Cutie and also a Centerfold for Cosmo. So,  hindi lang ako pa-cute, kaya ko ring magpa-macho.

What for you is the sexiest part of your body?

I guess my chest. I get a lot of compliments for my chest. And, in terms of personality, I'm just being myself. What you see is what you get. I'm a transparent person.

Aside from dancing, how else do you maintain your physique?

I play computer games... Just kidding!  I just watch what I eat. I believe in the saying "You are what you eat." So, if you eat healthy, you'll look healthy and you'll look good.

How would you catch a girl's attention at the beach or at a party?

Just talk to her. If you really want someone, just go and talk to her and be yourself. That's the first thing you should do rather than magpapansin ka sa kanya. Definitely you're the guy, kaya dapat ikaw mismo mag-i-introduce sa sarili mo.

Do you have any flirting tips for girls?

I guess you just have to be sweet. For me, weakness ko talaga ang sweetness.

Are you single?

Yes.

Are you looking to get into a relationship?

Definitely. I'm  just waiting for the right time to come.

Are you dating?

Actually, I'm courting Louise delos Reyes.

What do you like most about her?

Magaan siyang kasama. She's very sweet, very caring at the same time. I just love being with her. And, I guess her smile and her eyes.

Describe your idea of a really great date.

I want a fun and adventurous date. The typical date of having dinner is okay for me, but I prefer the adventurous [kind]--going skydiving together or doing activities like going to the gym, for me that's better.

What have you always wanted a girl to do for you in bed?

Make breakfast. That's sweet... And, I'm a pretty romantic guy.

What's your idea of a perfect getaway with your dream girl?

[My idea of] the perfect trip with my dream girl is going to a secluded beach, so we can spend time with nobody bugging us.


You've seen Enzo and the rest of the 2011 Cosmo Centerfolds heat things up at the Bachelor Bash! Now, watch him make the Cosmo team swoon at his Centerfold shoot. You can also view the behind-the-scenes video here.
1508
Continue reading below ↓
Recommended Videos