The Met Gala is less than a month away (side note: Anyone else feel like last year's gala JUST happened?!), and that means you'll be seeing all your fave celebrities in wild, OTT getups together very soon. And most likely, Rihanna will shut down the red carpet—remember her iconic papal look from 2018?!
Scroll on to find out everything you need to know about this year's party, including who's cochairing (great news for One Direction fans and Little Monsters, FYI) and what kind of looks to expect (spoiler: It's probably a LOT of Gucci). 
WHEN WILL IT TAKE PLACE?
The Met Gala always takes place on the first Monday in May—in 2019, that date is May 6.
WHAT'S THE THEME?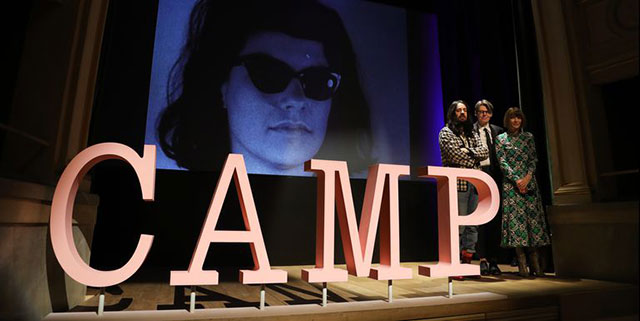 Continue reading below ↓
Recommended Videos
"Camp: Notes on Fashion" is the theme but, um, what exactly is "camp"? Good question. It's based on writer Susan Sontag's 1964 essay titled "Notes on 'Camp.'" "The essence of Camp is its love of the unnatural: of artifice and exaggeration," she wrote. Andrew Bolton, curator of The Costume Institute (aka the person who basically runs the Met Gala alongside Anna Wintour) explained it a little further in an interview with The New York Times:
We are going through an extreme camp moment, and it felt very relevant to the cultural conversation to look at what is often dismissed as empty frivolity but can be actually a very sophisticated and powerful political tool, especially for marginalized cultures.
Whether it's pop camp, queer camp, high camp, or political camp—Trump is a very camp figure—I think it's very timely.
WHO ARE THE COCHAIRS?
Gucci's creative director Alessandro Michele, Harry Styles (yes, who starred in the brand's September 2018 campaign featuring cute baby farm animals), Lady Gaga (who's fresh off her Oscar win), Serena Williams, and, like every other year, Vogue's own Anna Wintour are cochairing the event.
THE HOST COMMITTEE INCLUDES BRADLEY COOPER, JENNIFER LOPEZ AND ALEX RODRIGUEZ, LUPITA NYONG'O, AND MORE.
So what is the "host committee?" While it's not exactly the entire guest list, it does give us a glimpse of who's coming. Apparently, there's a whopping total of 183 people in this group, according to The Hollywood Reporter. Power couples like Ryan Reynolds and Blake Lively and Nick Jonas and Priyanka Chopra are included, so you'll definitely see them on the gala's red carpet. Beyond the celebs though, designers like Tom Ford, Donatella Versace, and Clare Waight Keller will make an appearance. Also on the list? Carolina Panthers' quarterback Cam Newton and tennis superstar Venus Williams. (So yes, sister duo Venus and Serena will be both be there!)
SO, WHAT WILL GUESTS WEAR?
The camp theme seems to embody loud, over-the-top fashion that makes a sartorial statement about art, pop culture, or even politics, and since Michele, mentioned above, is a cochair, it's likely that many guests might wear his designs.
This coat from Gucci's latest runway show was cited as an example of camp by Vogue, FYI.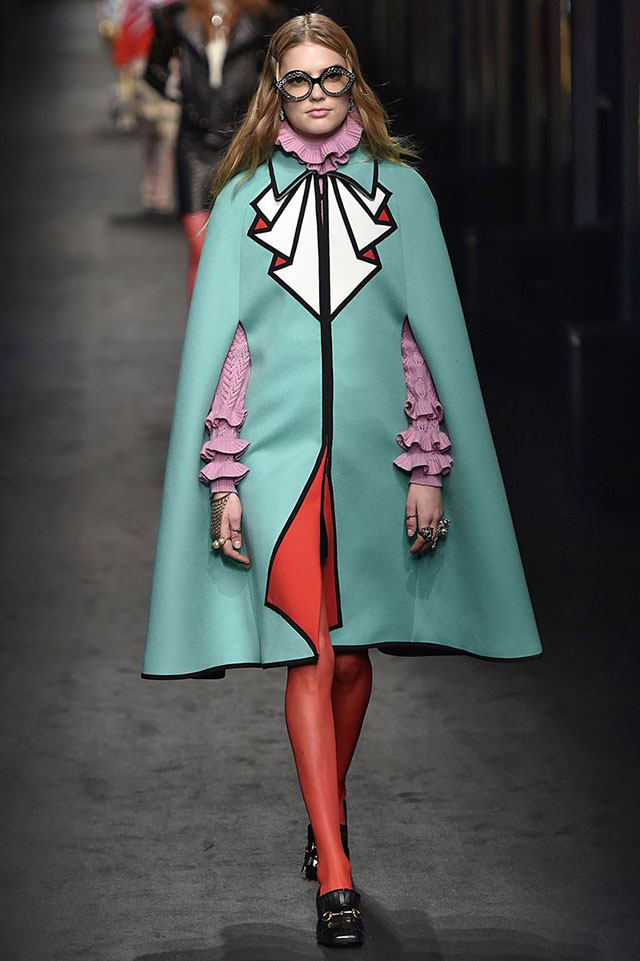 Also, judging from this behind-the-scenes look on the Met's Insta, those viral Viktor and Rolf haute couture dresses—which channeled so many relatable moods—will be making an appearance, and I'm high-key hoping someone wears this incredible dress.
WHAT WILL BE INCLUDED IN THE EXHIBIT? 
According to Vogue, there will be 200 pieces in the show (for context, last year's Heavenly Bodies exhibit had about 150 ensembles, according to the museum's website), which will include men's and women's clothing, sculptures, paintings, and drawings—some dating back to the 17th century. Also included in the mix? Bjork's infamous swan dress she wore to the 2001 Academy Awards.
Off-White and Moschino were two designers mentioned in the Met's announcement post; other possible designers that will be represented include—you guessed it—Gucci, as well as Balenciaga, Comme des Garçons, Yves Saint Laurent, and Marc Jacobs.
CAN YOU BUY A TICKET?
According to THR, tickets to this year's gala are selling for $35,000 (P1.8M!), and tables are priced at $200,000 (P10M!) and $300,000 (P15.6M!). So theoretically, yes, you CAN snag a ticket, but financially, that depends on your bank account—and how much you're willing to drop to spend the night with all your fave celebs in one room. But, of course, all the proceeds from ticket sales goes to the Costume Institute.
"Obviously it helps that well-known names draw attention to not only the gala but also to the exhibition and to the museum," Anna Wintour told the publication. "For all the starriness of the names on that one night, we never lose sight of the fact that the aim of the gala is to raise funds for the Costume Institute, so we can support its place in the cultural life of New York City and beyond."
***
This article originally appeared on Cosmopolitan.com. Minor edits have been made by the Cosmo.ph editors.