Not only is Lana Del Ray gorgeous, her soulful voice can put anyone in a trance. We've had her new album "Ultraviolence" on loop all day, and believe us, this girl is the real deal. Listen to it below and check out our exclusive Q&A.
Here are five reasons why you should listen to this playlist + follow Cosmo.ph on Spotify!

1. It's super relatable

On what inspired the album: "Well, like I was talking about it with my friends before, I think [my experiences have] just been somewhat tumultuous, like every time something really sweet has happened, there's also been something a little bit bitter coming out of the sidelines, something unexpected, just lots of ebbs and flows, ups and downs, but overall the amazing thing is having the record and loving that."

2. It's pure and real

On finding herself: "At the end of the day, I think, when you come from a, sort of do-it-yourself background, when you're writing, you don't censor yourself as much. So when I'm writing I just try to make songs that I would like to listen to, like when I'm driving or when I'm at home. I mean, I love older music with rich textures, and maybe not really structured song-writing composition."

3. It's perfect for a road trip

On what to expect from the album: "My word for the record was fire. It's like a slow burn. I think the theme is more musical, more sonic, rather than lyrical, because it's more mood heavy. It sounds more like driving music, almost atmospheric. I felt less inclined to say what was on my mind, but [rather] reflect back on things I had been through that were really happy for me or not as happy. So my word for the record was fire, blue fire, and I love jazz and this kind of freedom, inspired by '70s west coast rock, like Neil Young, Joni Mithcell, and The Eagles, and The Beach Boys."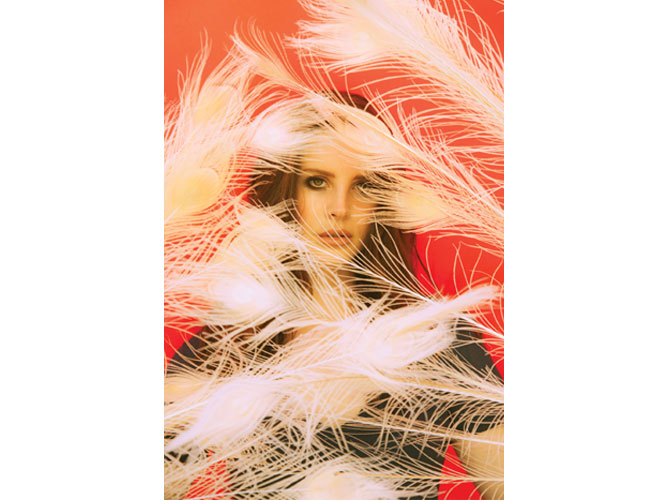 4. It tackles insecurity

On what gives her solace: "Right now I think the thing that gives me comfort is having something tangible to hold on to. Something that's sure in my world, which is very unsure. So that's why, the record, actually having it physically, is so important to me. But yeah, things have been heavy, on top of feeling not so secure, just in terms of what people thought of me. [Then there's] your own mortality, loving all your experiences but not being sure if the memories of them will translate after you're gone, whether [they will be remembered]. It's just a kind of all-encompassing world that obviously influences what I end up writing and the melodies I choose."

5. The album name is cool

On why she picked the name "Ultraviolence": "I love high impact words, so Ultraviolence, just the sound of it, kind of spoke to me; the same way that the word tropicoast spoke to me when I was doing my little short film, even though it didn't have a real exotic translation in English. And I felt like, the juxtaposition of the words ultra and violence kind of fit what I've been going through—lots of ebbs and flows."

Want to listen to more playlists? Follow Cosmopolitan Philippines on Spotify!
For more on Lana Del Ray's album, visit MCA Universal's Facebook, Twitter, and Instagram.