Yes Cosmo girls, we're halfway through the year and that in itself is something to celebrate. We're also excited for our favorite streaming app Spinnr which provides Pinoy music fans with fresh hits and the ultimate live concert experience.
Concert you say? We're talking Jessie J, Disclosure, Bombay Bicycle Club, and more!
A local music streaming app available for all Smart, Sun, and Talk and Text subscribers, Spinnr is already known for giving its subscribers the #SpinnrExperience in huge music events such as the 7107 International Music Festival, The Chainsmokers Selfie Tour, Taylor Swift Red Tour and more. This month, go full force on the #SpinnrExperience by adding the following songs to your playlist!
1. We Are One (Ole Ola) by Pitbull, Jennifer Lopez and Claudia Leitte
Whether you're a sporty Cosmo girl, or you just like watching sporty guys heating up the football field, we bet you'll enjoy sporty songs on Spinnr. One song you should definitely check out is this year's official FIFA World Cup anthem We Are One (Ole Ola). This would make you dance and sing your heart out as if you just went out of a football stadium. Enjoy it on Spinnr and you may even bring home World Cup merchandise, such as the Adidas Brazuca Official Match Ball. This promo is open until July 19.
Continue reading below ↓
Recommended Videos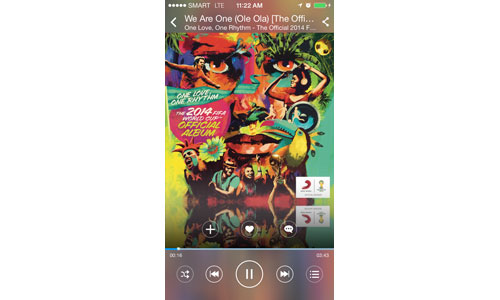 Check out One Love, One Rhythm - The Official 2014 FIFA World Cup Album here.
2. Thunder by Jessie J
You can never put a price tag on good music, which is why we're very much looking forward to seeing Jessie J live the Smart Araneta Coliseum this July 14! Among her dance-worthy songs on Spinnr is Thunder. We're sure that with that song, any party would liven up with it on the background. To sweeten the deal, Spinnr is actually giving away VIP Patron tickets to her show AND a chance to meet Jessie J herself!! Register on Spinnr.ph now because the promo is only until July 9!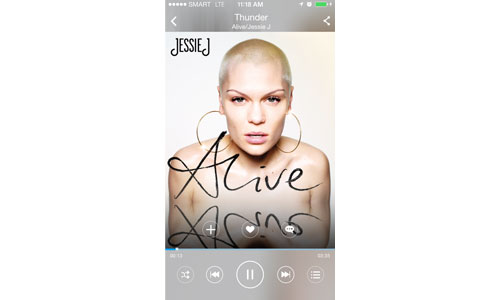 Check out Jessie J's discography on Spinnr here.
3. Shuffle by Bombay Bicycle Club
If you're looking for something different to add to your Must-Get-Out-Of-Bed playlist, we highly recommend adding Shuffle by English indie band Bombay Bicycle Club. The track is on the digital release of their third album, A Different Kind of Fix and is available on Spinnr! They're also coming to Manila on July 23 and will perform at the World Trade Center. Want free tickets to the show and a chance to meet the band? Get your Spinnr app ready! This promo is open until July 18.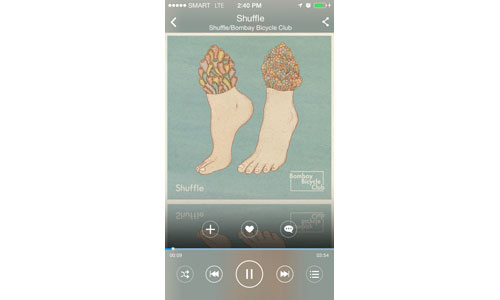 Enjoy a musical journey with Bombay Bicycle Club here.
4. Any song from PhilPop 2014
Are you a fan of OPM? Good for you that Spinnr also has fresh OPM sounds from the PhilPop Music Festival! A great way to show your appreciation and support to your favorite local artist is to download songs on Spinnr! The most downloaded song will earn the Spinnr's People Choice Award during the finals night on July 26!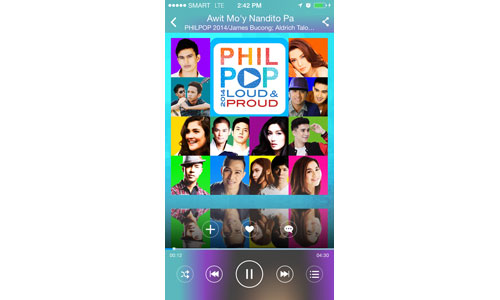 Support your favorite Philpop entry here and you may win special invites to the finals night.
5. Unconditionally by Katy Perry
Because she's our global Cosmo girl for the month of July, we also have Katy Perry's most recent album on our playlist! We're glad to report that she's looking flawless as ever in her Prismatic World Tour and that we all have a chance to see her live in Los Angeles! Yup, Spinnr is actually sending Katy Perry fans on an all-expense paid trip to Los Angeles to watch her live on September 19th. Check out how to join the contest by joining Facebook.com/SpinnrPhilippines and clicking the Katy Perry Fly Out Promo tab. This promo is open to Smart Postpaid subscribers only.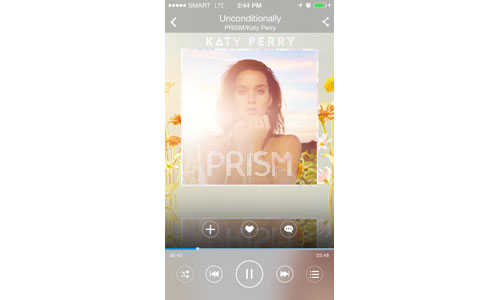 Hear Katy Perry's musical evolution here.
6. Soldier by Eminem
If there's one song on all of Eminem' albums that we would say is 'fearless', it's probably this song which appeared in his fourth album The Eminem Show. It's too bad we haven't seen Eminem live here in the Philippines but Spinnr is about to make a way for Pinoy Eminem fans to see him live with Rihanna for the Monster Tour in Los Angeles this August 7th! Keep following their official social media accounts for details on how to join!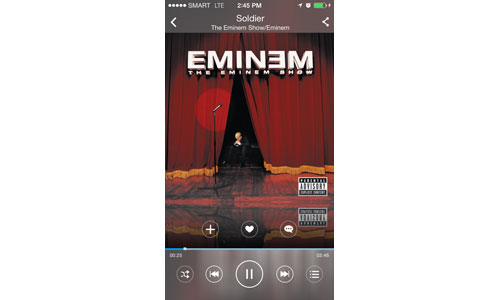 Want Eminem's latest releases? The Marshall Mathers 2 can be streamed here.
7. Latch by Disclosure
Lastly, if you're not much into rap but are into electropop, you have got to listen to Disclosure, which is slowly making their way up the global hit charts with a collaboration song they did with Sam Smith, Latch. And before you go gaga over this song, you should probably also know that the British duo are on their way to Manila for their world tour happening on July 24th at the World Trade Center! Of course, Spinnr is giving some lucky fans access to this unforgettable night.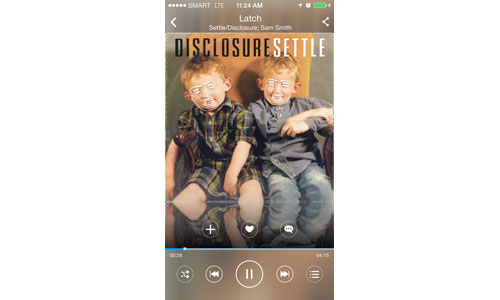 Have a blast with more of Disclosure's music here.
---
If you, like us, are looking forward to catch these amazing artists, make sure to follow Spinnr on Twitter and Instagram (@SpinnrPH) and Facebook (Facebook.com/SpinnrPhilippines) to find out how you can score free tickets to the show PLUS meet and greet sessions! You may also log in to spinnr.ph and click on the "Promos" tab.
Register your Smart, Talk 'N Text or Sun Cellular on Spinnr.ph and download the Android or iOS app to start your July music party. Get unlimited music streaming for as low as P2.50 for one whole day, payable through your load or bill – no need for credit cards! Enjoy your #SpinnrExperience!