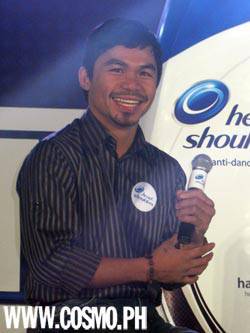 Who doesn't love the Pacman? Manny Pacquaio is already a legend—and he's still at the prime of his health! He has brought pride and honor to these islands in a way that few other Filipino men have, and that alone is reason enough for both boxing-crazy men and even sports-loathing women to admire him—or at the very least care enough to watch his match, including the one where
he won over Puerto Rican pro-boxer Miguel Cotto by TKO yesterday, November 15
.
(Read the story in PEP.ph.)
Now, he holds the
unprecedented distinction of holding seven world titles in different weight classes
. As if THAT isn't enough, Cosmo names SEVEN reasons he's a man worthy of your hurrah, in spite of his questionable forays into singing, acting, and politics…
you know?
1. His willingness to fight is unmatched.
Not a lot of men can stand up to an uppercut from a professional boxer with rocket arms, and then come surging back, guns ablaze. As you've seen in many of his fights, when Manny gets hit hard, he shakes it off quickly, smashes his gloves together, as if asking his opponent, "Is that the best you've got?" and continues the fight. Men who know how to get back up and face adversity head on are admirable, indeed.
2. He values hard work.
A part of Manny's success may be attributed to God-given talent. But a larger part of that is his willingness to take care of business and put in hours of dirty, dirty hard work. Lately, he's been doing a lot of other stuff that aren't exactly beneficial to his boxing career (ahem, politics and showbiz), but when he starts his training routine for an upcoming fight, he's an animal with the blinders on. He's a man who keeps his eyes on the prize, and will do everything to reach that goal.
3. He's one tough yet humble cookie.
Being one of the biggest sports figures that has ever come from our country, Manny could have just as easily let all of that go into his head, transforming himself into a douchebag (see Mayweather, Floyd Jr.) in the process. But he didn't. His endearing, humble personality and little "quirks" remain to this day. He has swagger (and lately, a sense of fashion), but he's never one we can consider arrogant.
4. He has a lot of recognitions under his belt.
We're not even going to talk about his boxing achievements here, because if we did, we'd fill up this page immediately, with no room left for the other things (and admit it—you gals are not really into that stuff, are you?). So what other things? Well for one, Manny was named by Time Magazine as
one of the most influential individuals of 2009
. A men's website,
Askmen.com
, seconded the motion, giving Pacman the 24th spot in their
49 Most Influential Men list
.
5. He gives back to the community.
Not only is he an inspiration to the country, he has a charitable heart, too. Ever since the millions started coming in, Manny hasn't been one to avoid charity events. More recently, he also took a break from training as he lent a hand to those hit by Typhoon Ondoy. These prove that his love for the flag isn't all just confetti and bright lights; Manny loves the Philippines, and his actions show it.
6. He's filthy rich.
Well, here's the clincher. He was recognized as the world's
6th highest-paid athlete by Forbes in 2009
. How much exactly did he earn? Oh, just a little…just a little around 40 million dollars. With that amount of money,
Jinkee
can afford all the facials she wants… and then some. Manny was also listed among the
100 most powerful celebrities of 2009
by the same publication, joining the likes of Angelina Jolie, Oprah, and Tom Cruise. The list takes into account not just finances, but also Google hits, press clips, and magazine covers.
7. He loves his mom.
Sure, you're grinning now, but damn if you tell us that Manny doesn't love his mom. Manny's no momma's boy, but he isn't shy to show his
Oedipus complex
affection for mommy dearest. But this is a good sign: a man who knows how to take care of his mother would also know how to take care of his girlfriend or wife. And when looking for a mate, this is a Pacman quality you should seriously take into consideration.
Click on the view gallery button below to see scenes from the launch of Head & Shoulders For Men Hair Retain Shampoo, which Manny endorses. For more on Pacman, (including
that little stint on American late-night talk show Jimmy Kimmel Live
), check out
this article on FHM.com.ph
!
Additional reporting by Cheekie Albay
187
Continue reading below ↓
Recommended Videos