Every October, I wrap myself up in a large throw blanket, place some freshly popped popcorn and chocolate chip cookies—give me salty and sweet or nothing—within arm's reach, and settle in for a binge-watchathon. OK, so it doesn't sound too different from what I do every other month, but this time of year, I know exactly what I'm looking for: My movie of choice will be Halloween-themed. It'll involve witches. And there's a strong possibility that it'll have been made in the '90s.
Witch movies were at their peak then. They made me want to recite "spells" and make "potions" out of the Bath & Body Works products I brought with me to swim camp. They inspired me to stretch my imagination, to believe in magic.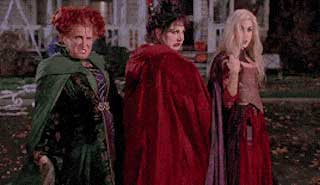 Continue reading below ↓
Recommended Videos
I can't be the only one who wished my grandma had a secret to share after watching Halloweentown (was her Brooklyn apartment just a cover?) and there has to be more people who desperately wished they were a twin, or at least felt curious about mirrors thanks to Double, Double, Toil and Trouble. A large part of me still hopes that, one day, I'll turn a certain age and realize I have powers like Sabrina the Teenage Witch, or at the very least meet a chatty black cat who turns out to be Thackery Binx from Hocus Pocus. 
Maybe it was the fact that, for the most part, these characters weren't considered the "cool kids." They didn't fit in and were slightly awkward, and that ended up being what made them so special. As a kid, it was something I could relate to, and even when the witches were "the bad guys" in movies, they had quirky, goofy, and redeemable qualities so that I was still able to identify with (and hell, even fangirl over) them.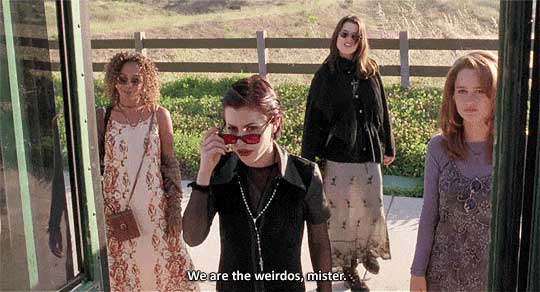 The '90s witch films that were "too mature" for me at the time ended up becoming favorites as I got older, too. There was The Craft (oh, hey there, vintage Skeet Ulrich), which taught me too much of a good thing isn't actually a good thing. Or Practical Magic, which now seems more relevant than ever 20 years later (hell yes to women supporting women and fighting back against abusive men!).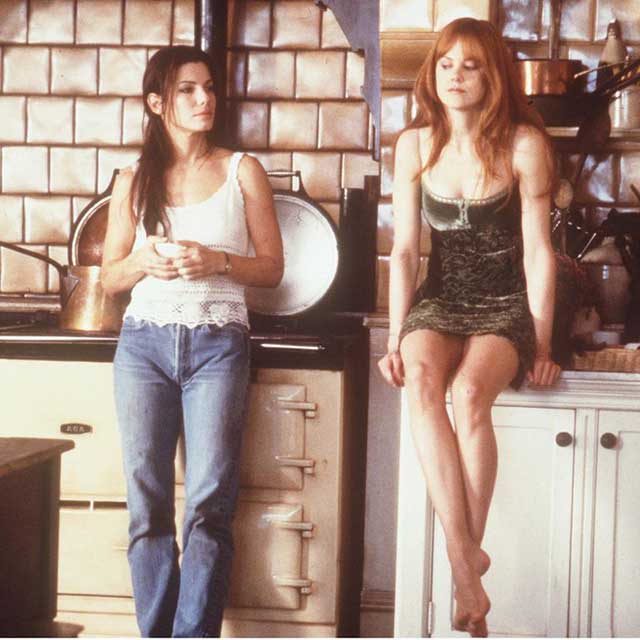 There were deeper lessons to be learned—about staying true to yourself, about confidence, about overcoming adversity—but there was still a good amount of, well, fun magic stuff mixed in. Plus, a happy ending.
Years later, these movies still bring people so much joy, especially in October. Girls' nights-in debates, tweets, Facebook, Instagram posts about them happen so frequently, and are filled with such enthusiasm, you'd think they were released only yesterday. They have yet to feel overplayed or too outdated; they're festive, without being cheesy, and have a level of spooky that won't keep you up at night.
In short: they just don't make witch movies like they used to. Aside from maaaaybe Harry Potter (and that's kind of a stretch), it's hard to think of post-'90s stuff that falls under the same "fun witch" category.
It's not just the nostalgia factor I'm missing, either; it's the hope, the belief that anything is possible—even when nothing seems to be going my way—that those seasonal, non-scary stories delivered.
I promise, I've tried giving more recent witch films a chance, but they just don't inspire me the same way. It turns out indie darling The Witch is pretty terrifying and has a surprise ending that will haunt you, while the witches in 2013's Beautiful Creatures don't even want to be called witches (and that one is more of a coming-of-age story, anyway). I'd heard some great things about Stardust, but—surprise, surprise — that story is mostly about a star.
Oh, and don't even get me started on the witches in Suspiria, which opens in theaters later this month and stars Dakota Johnson and Tilda Swinton. (Let's just say if a bunch of witches invite you to a workshop at their modern dance company and one of those witches is Tilda Swinton, stay home.)
All in all, these witches aren't ones I'd want to be; they're too serious, and didn't even use their magic for plain old fun, which is probably the best part about having powers. And at least one of them signed her name in Satan's book. Satan's book!
But the lower stakes, aspirational type of magic of the sorts of fictional witches I grew up with is making a comeback. I mean, who doesn't know at least one person carrying around crystals? You've probably saged your apartment at least once. Even Lana del Rey hexed Donald Trump. And the on-screen genre is being reborn, too—this time on TV. 
So far, we've got the Charmed reboot, which has the winning combination of a tight-knit family, magic spells, and good old fashioned demon fighting. And there's The Chilling Adventures of Sabrina, which despite being significantly darker than the movie and Melissa Joan Hart running around with Britney Spears, is still a story about an outcast who ends up being a badass. On, and let's not forget the new, spooky storyline happening on Riverdale.
Will these shows end up giving us '90s kids the same excited, fascinated feeling we got from all those old school favorites? Only time will tell—but maybe I'll take a trip to Bath & Body Works, just in case.
***
This article originally appeared on Cosmopolitan.com. Minor edits have been made by the Cosmo.ph editors.