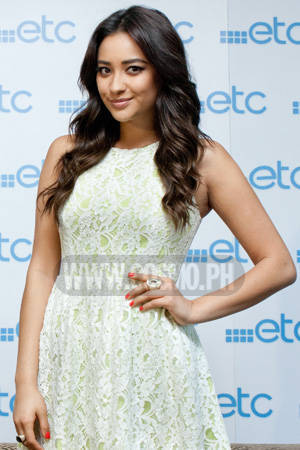 Shay Mitchell was refreshingly candid and ridiculously down-to-earth as she met her fans and some members of the press at the Makati Shangri-La Hotel last November. The half-Filipina, half-Scottish/Irish actress who's known for playing Emily Fields in the hit teen series, Pretty Little Liars, entered the room and greeted everyone with an energetic, "Mabuhay! Kamusta kayo?"
This was Shay's first time to visit the Philippines to promote the third season of her show, but admitted she managed to squeeze in some shopping, too! She also flew to Palawan to treat her mom (she's Filipina!) to a relaxing island vacation.
While she plays an athletic character in the series, the 25-year-old admits that she's really more of a girly girl in real life. Cosmo sat down with the star as she dished out her top fashion and beauty secrets—and what she plans to do more of this year!
What's one beauty product you can't live without?
"Oh, [just] one? I have to say CoverGirl Mascara. I can't live without it. I love lashes!"

Are you wearing falsies now?
"I'm wearing a couple individual falsies, but not that many. Thank goodness I actually have long lashes!"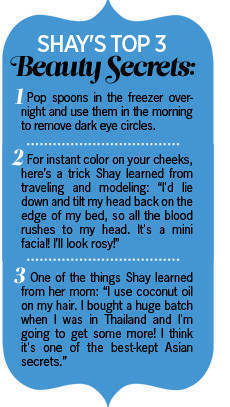 Continue reading below ↓
Recommended Videos
Do you have any fashion or beauty staples you think every girl should have?
Black pumps. "My favorite is Christian Louboutin! Yes, it is expensive, but I think just getting a solid pair of pumps is good. It doesn't have to be that brand, but just buy pumps that you like, that you're comfortable in, and can wear throughout the night."
A good blazer. "Well here [in the Philippines], I don't know. I'd do a black bikini or something. If I could be naked every day, I would, because it's so hot! Yeah, but I'd say a blazer—whether a floral print or just one with a good cut because you can dress it up and take it from day to night."
A nice purse. "The one I have now is from H&M. You can mix high-end and low-key pieces."
Accessories. "You can turn a simple black dress into something that's absolutely amazing with a statement necklace or a pair of earrings."
Bright colored lipstick. "Sometimes in LA, I'll be in meetings all day, but then I'll get a call and there's a red carpet [event] in an hour. I don't have time to get my makeup done. So what do I do? I just put on a bright red lip, and instantly I'm red-carpet ready" 
Do you have a bucket list for 2013?
"Yeah, to bungee jump! I also want to be involved in some sort of marathon. That's something I've always wanted to do, so now I'm going to get really healthy and start running a lot. And I think just traveling more and going to more places. I want to go to Morocco, and then maybe Turkey or Croatia. My list is massive! I love seeing different cultures. It adds a lot to myself which has enabled me to play better characters for any kind of role because I'm more aware of what's going on. I feel like that's very beneficial to any artist."

What's the most fun and fearless thing you've ever done?
"Probably throw myself out of a plane! I did skydiving  in Vancouver with my best friend, and I've always had a fear of heights. I never thought that I could do that! I landed on the ground—still alive, and not broken. I was very happy! It reminded me that I can do anything that I want to do, and I don't have to be scared of anything."
Can't get enough of Shay? Pretty Little Liars Season 3 premieres with all new episodes this January 12, Saturday at 8pm on ETC.