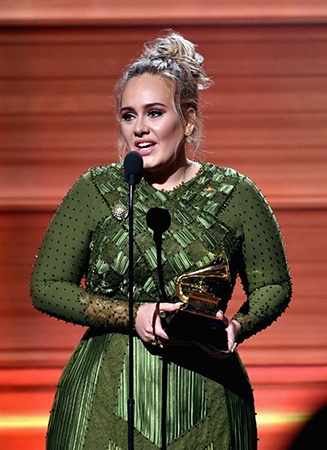 In one of the bigger upsets of this year's Grammy Awards, Adele's 25 was named Album of the Year on Sunday, which means a lot of Beyhive members are upset that Beyoncé's Lemonade lost.
Great performances, #Adele was perfect, her speeches were ???? but #Beyoncé got robbed for album of year ????#lemonade gives me life!

— Kristie Terlikosky (@KTerlikosky) February 13, 2017
lemonade was a masterpiece. lyrically, musically, visually. i am not overreacting when i say beyoncé was robbed.

— ket (@kohmodo) February 13, 2017
After giving a speech for winning Record of the Year for "Hello" (which beat "Formation"), Adele returned to the stage to accept her final Grammy of the evening. In her speech, she revealed that she became pregnant with her son Angelo after her big Grammys night five years ago.
"[Motherhood] is really hard... Tonight, winning this kind of feels full circle and like a bit of me has come back to myself.

But I can't possibly accept this award and I'm very humble and very grateful and gracious, but the artist of my life is Beyonce and this album to me, the Lemonade album is so monumental, Beyoncé. So monumental. And so well thought out, and so beautiful and soul baring. And we all got another side to you that you don't always let us see and we appreciate that… all us artists here [expletive] adore you. You are our light. And the way that you make me and my friends feel, the way you make my black friends feel is empowering, and you make them stand up for themselves. And I love you, I always have, I always will. Grammys I appreciate it. The academy, I love, you, my manager, my husband, and my son. You're the only reason I do it. Thank you so much, thank you very much to everybody."
Adele's comments made Beyoncé emotional and of course the camera operator closest to the Queen was able to capture her reaction/yours:
Continue reading below ↓
Recommended Videos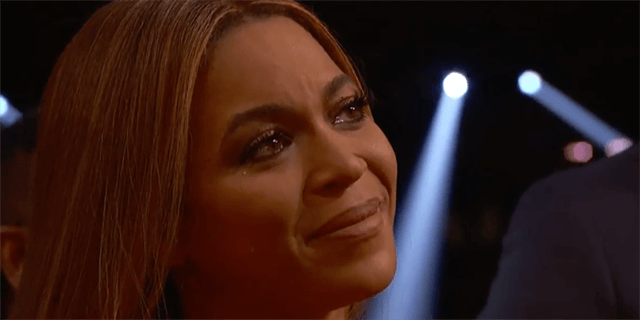 For a brief moment, it was unclear whether or not Adele was going to give her Grammy to Beyoncé. It was all too much for anyone to handle.
i thought for a second adele was about to snap that grammy in half and give it to beyoncé like Kady Heron did in mean girls

— Emily Slayden (@emmslay) February 13, 2017
ADELE IF YOU LIKED BEYONCÉ SO MUCH THEN GIVE HER THE GRAMMY

— third cuck removed (@HlGHKILL) February 13, 2017
Unfortunately, as The Hollywood Reporter and other outlets have concluded, Adele's speech was more of a "dedication" so maybe hug a Beyoncé fan tomorrow.
Adele wins Album of the Year, dedicates it to Beyonce: "I can't possibly accept this award." #GRAMMYs pic.twitter.com/9Msjhz9Cj6

— Hollywood Reporter (@THR) February 13, 2017
Follow Peggy on Twitter.

***
This article originally appeared on Cosmopolitan.com. Minor edits have been made by the Cosmo.ph editors.