Yesterday, April 2, Alexa Ilacad shared on her Instagram stories that some people were sending her "rude" DMs for suspecting she got a nose job. She had posted a selfie that showed a scar on her nose, which led some to believe that the actress went under the knife.
In her stories, Alexa cleared things up by saying, "Some of you are soooo funny!! Sending me rude DMs 'coz you think I had a nose job 'coz of this 'scar' on my nose.... You guys have to chill out!! 1st of all, my cat just scratched my nose hahahaha and 2nd, there is nothing wrong with getting plastic surgery if a person wanted to, periodtttt."
Alexa's other caption on the same story reads, "I look pissed here 'coz I was. I just wanted some love but my cat said NOPE."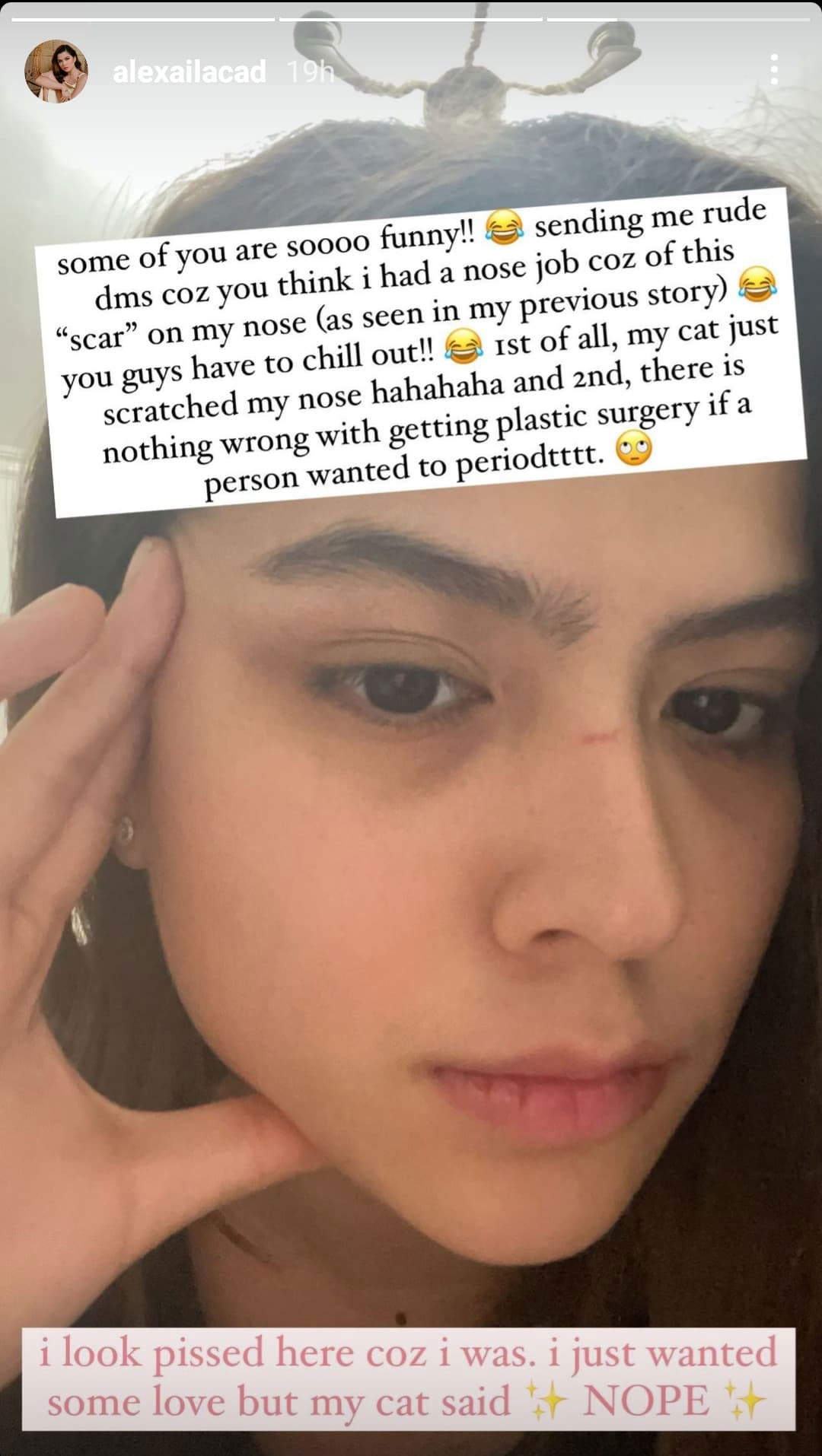 ADVERTISMENT - CONTINUE READING BELOW ↓
Alexa is a mom to two pets: a six-year-old Maltese named Blush and a 1-year-old Persian cat named Chill—the identified culprit behind the nose scar.
Alexa is incredibly affectionate with her pets, and any cat-mom would know that that's a dangerous game. Exhibit A:
ADVERTISMENT - CONTINUE READING BELOW ↓
Local actresses are often hounded by questions on whether they'd gotten a nose job. Apart from Alexa, Nadine Lustre, as well as Jessy Mendiola, has also been badgered about it. In February 2021, Nadine exasperatedly asked, "Why is there such a stigma when it comes to plastic surgery? I don't understand why people see it as a bad thing. And people use it against people who actually do it. You can't really hate on a person who wants to improve how they look and wants to look good."
ADVERTISMENT - CONTINUE READING BELOW ↓