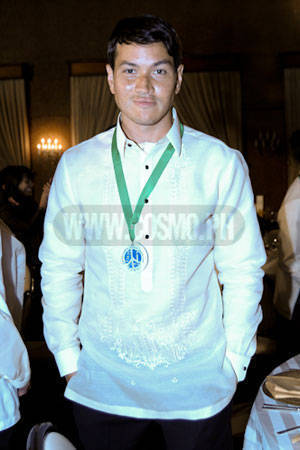 It's always a treat for us Cosmo gals whenever we attend events with plenty of eye candy, and we were more than happy to spot Cosmo Centerfold hall of famer, Aly Borromeo, at the press launch of the I Am For Peace campaign in Malacanang.
Here's a little Q & A with the football captain and Bench Body endorser that we're pretty sure you'll enjoy:

How does it feel that the Azkals have been chosen to be ambassadors for peace?

On behalf of the Azkals, we're really honored. This is exactly what football promotes. It promotes peace, it's a game that unifies everyone, all countries in the world. When countries play against each other, they stop wars to cheer their countries on! So we're really proud that we advocate peace.

How would you describe your personal style?

Actually, lately, we've been suiting up a lot, but other than that, just a white V-neck tee with whatever else is around. Shorts or jeans.

Clothes shopping. Hate it or love it?

I shop a lot when I go to the States. If I find something nice, I'm very picky about the tela, the texture, the fit. I don't care about the brands. So if I find the right fit, I buy like 10 shirts, so it's good for a few years. Usually it's just plain white v-necks. That's how I shop. It's not about the brand.

How about your grooming regimen?

It takes me two minutes! I just go to the banyo, do like this (does an award-winning speed shower demonstration), then I'm done. I don't really put a lot of products or anything. I'm in, then I'm out!

During formal events, what would make you notice a girl?

[I notice] the ones who don't really stand out. The ones who dress too much are trying too hard to get your attention. I like simpler, girl-next-door types.