Once upon a time in Hollywood, Bradley Cooper was all "Tell me something, girl/Are you happy in this modern world?" And Lady Gaga was like, BRADLEY, STFU, I HAVE MOVED ON. JESUS.
Which brings us up to speed. News just broke that Gaga is so freakin' far from the shallow, mostly because she's too busy getting into a new relationship with audio engineer Dan Horton. Gaga and Dan were recently spotted kissing in photos exclusively obtained by People, so you're probably already high-key curious about who this gent really is. If your own Google investigation has yielded essentially nothing, that's because Dan is a mere mortal like the rest of us—as in, this dude isn't famous. So save yourself the embarrassing search history and come hither because we're diving deeper than Bradley's well of emotions.
Dan is Gaga's audio engineer.
Kay, so according to—LOL—LinkedIn, Dan is a "monitor engineer" for Gaga and has been since November 2018. He also owns a company called Audio Engineering Group and has worked with celebs like Camila Cabello, Ariana Grande, Bruno Mars, and Justin Timberlake. There honestly aren't that many pictures of him, so enjoy this:
Their timeline is...wild.
Dan's LinkedIn (again, lol) tells us he's been working with Gaga for about nine months. And the annals of pop-culture history tell us she and Christian Carino broke up almost six months ago. Which means she was dating Christian for at least three months while she got to know Dan. Not saying that means anything, but not not saying that either.
Continue reading below ↓
Recommended Videos
Anyway, here's proof they were hanging out back in March!
Oh, and Dan recently got divorced.
Dan married actress Autumn Guzzardi in 2013 (she's starring off-Broadway in Rock of Ages) and they divorced in 2018. Here they are in happier times with Dolly Parton, a person who never asked to be part of this narrative, in 2016:
His wife is throwing shade.
Check out the caption on this post and just TRY to tell me it's not a reference to those pics of Gaga and Dan kissing.
That's what I thought.
He's on Instagram, so smash that Follow.
JK, he's private—but feel free to smash it anyway in the hopes that he accepts your request. Obviously, if your IG handle is @BradleyAndGaga4EVA, I wouldn't hold your breath. And if he doesn't Follow back and you're desperate for more pics, there's this: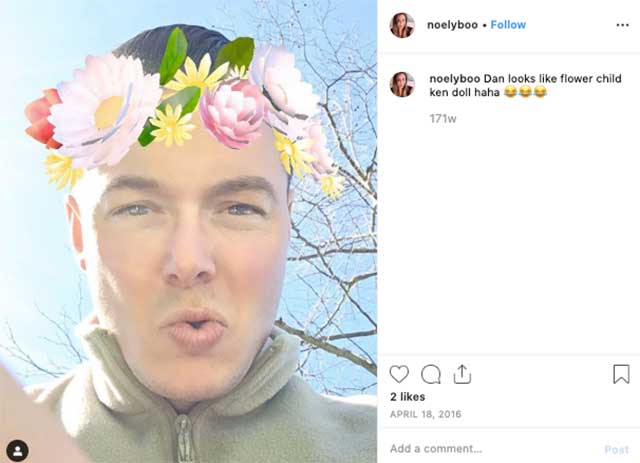 He allegedly lives in Nashville.
Which is not where Lady Gaga lives, so I think it's safe to assume we have a long-distance relationship on our hands. That said, right now, he's in Los Angeles.
Dan is helping Gaga make new music
In fact, that's how they initially started spending so much time together. "Gaga has real chemistry with Dan," a source tells ET. "They have been seeing each other for weeks and have been working with each other for a while. They have been working on new music, have spent hours of work time together, and became really close. They're working very closely together at a home studio in Hollywood, and sparks just started flying. People noticed the chemistry early on, and now that she has taken some time to herself, she finally feels free to date. They seem like a pretty good match." 
Dang, Bradley whomst?
***
This article originally appeared on Cosmopolitan.com. Minor edits have been made by the Cosmo.ph editors.