It was at exactly 5:27 a.m. on a Saturday morning in Baler when Andi Eigenmann texted us that she needed to be taken to the hospital. She'd been in and out of sleep the night before because of serious back pains, and said it might've been caused by her kidneys.
Our call time for the whole day shoot was at 6 a.m.
By 6:30 a.m., our team was with her as she was being treated at the Premiere General Hospital in Baler. "I've been here for two years and I've never been to the hospital. Now I have!" she laughingly said while visibly still in pain.
Andi was released after being diagnosed with UTI. After trading some jokes with the doctor (mostly about her having to steer clear of her favorite salty foods), she reassured our team she was still up for the shoot.  
At 9 a.m., we met up again, but this time, the Andi that greeted us was all smiles and wearing her best beach dress. She even put on some highlighter on her cheeks and wore mascara with the full knowledge that the first layout of our shoot was of her surfing. 
As we made our way along the Sabang Beach strip, Andi would exchange friendly greetings with people she knew and pointed out places she'd frequent. It was then we realized that this place was her home and she was proud to show it to us.
In Baler, she was just Andi, a girl who loved to surf and eat with her bare hands. This is her story.
ON BALER AND SURFING
Describe your first Baler experience.
It was my ex-boyfriend who first took me to Baler. I went here with Emilio [Arambulo], who's still my good friend. It was because he'd been surfing for a while. When we started hanging out, one of the things I said to him—while I was soul searching, trying to find myself—was, "I want to do the things I've wanted to do ever since I was a kid, but never had time to." And surfing was that *one* thing. It was at the top of my list.
So he was like, "Okay, I'll take you to Baler."
Other than him recommending Baler, I [also] knew I wanted to come here because of all of the stories I've heard. My brother, Sid Lucero, shot a movie here. It's also the birthplace of Philippine surfing, so, why not? Why not go to Baler?
When I came here for the first time, I fell in love right away, especially because this is also where I learned how to surf. The people who taught me how to surf remain to be two of my closest friends. 
Would you consider yourself a "newbie" surfer?
I definitely say that I'm a "newbie" surfer, but of course, people who know me won't allow me to say that. I'm an intermediate surfer.
How did the local surfing community react to your big move to Baler?
They were very welcoming! But, of course, in the beginning, when I was still a tourist here,  I'd check in at the famous resorts. They were nice to me, but the connection wasn't there right away. Maybe because they knew who I was.
It was after I kept coming back to Baler that most of these people actually became my friends. It was [later on] that I really felt their genuine intention of wanting to help me out when I'm [out] in the water. When my friends [were] teaching other people [how to surf], they watched out for me, too. One of the main reasons why I fell in love with this place, other than it's so beautiful and so scenic, is the people.
Everybody is welcome. You don't have to be really good [at surfing]. We all start from nothing, 'di ba? And we practice, that's how we get better. Everybody is so encouraging. It keeps me more motivated to be good at this sport because I really, really love this sport.

ON FAMILY
How and when did you tell your family about your intention to move to Baler?
This dream of mine—of wanting to build a house by the beach and live there—is a dream that I've always had. But the way I pictured it was like, "Oh, I have to have a lot of money because I'm going to build a nice mansion [on] the edge of a cliff." Akala ko ganon.
My family has always been aware of that. But as I grew older, I realized that that's not what I really wanted. What I want is to just to be here, to be a part of this life, to live this type of lifestyle—and I don't really need to have a lot of money to achieve that.
When I realized that, I think I gave it about two years. I was still in showbiz. I was still working all the time. I talked about it on set. Most of the people—especially my makeup artist—[knew] that about me, that I wanted to leave. I didn't want to be in the city anymore.
Most of my family members are really supportive about this. They see that they don't really have to meddle with [my] decision. What's important is that my life is good, Ellie is happy and she loves it here, and I'm happy.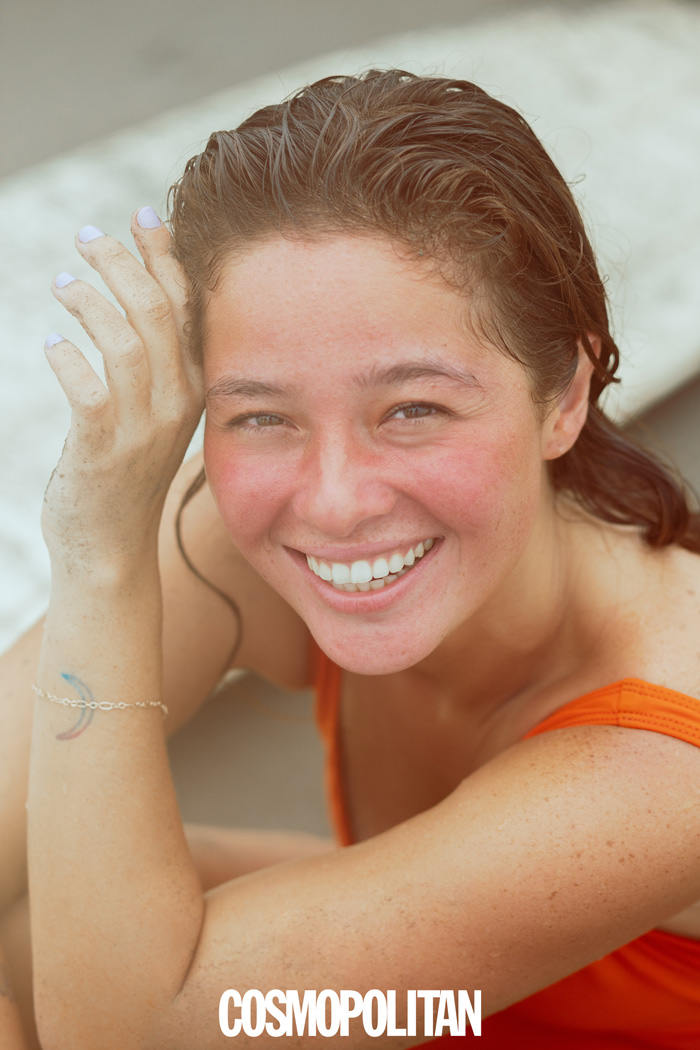 What do you think your dad [Mark Gil] would've thought about your lifestyle right now?
My dad would always tease me: "Andi, you're really a star." But that was because I was young, and it was so easy to just swim with the current. In that environment, I did what everyone else was doing.
I also know, and I'm very sure, if my dad was still alive, and I told him this is the life I want to give myself, he wouldn't really be surprised.
Growing up, most of my memorable summers were spent with him at the beach just trying out different activities—playing frisbee, going kayaking, swimming, snorkeling. So I know he knows how much I love the sea. I feel like I got it from him. Also my dad isn't pakielamero; he'd just make sure that I'm well and that I have everything under control. He'd ask about that. But if I say that I'm fine, he'd be supportive. Maybe he'd be like, "Oh, take me to your beach house or something."
Was it difficult to arrange things with Ellie's dad, Jake Ejercito?
Not really because Jake doesn't really try to interfere with my life or the way that I want to live it or the way that I raise Ellie. After all, I'm the mom.
But I also already knew certain things that would probably not make him happy. For example, if I chose to move to Siargao, it would be so expensive to go back and forth. So, I made a compromise.
How do you and Jake share custody of Ellie?
I have Ellie 20 days a month; Jake has her for 10 days. Jake and I aren't friends, but we're civil. It's easy to schedule. We do everything for our daughter anyway, so when I have requests—like if I have work somewhere far—he understands. I ask for a trade, and he'd be fine with it.
ON NEW BEGINNINGS
Are you dating or in a relationship?
Yeah, I'm dating someone! He's a professional surfer from Siargao. He's been a friend for about a year now. It's a new relationship, so we're taking things really, really slow. But because we were already friends, the foundation is there. There's no pressure. It's really just built around surfing and the island life…eating fish. [laughs]
What's your living situation right now?
For now, I'm technically homeless. I'm just kidding! I still have a house in Manila. I'm never going to let go of my apartment there, although I wish to move to a smaller one 'cause I don't get to maximize the apartment anymore, since I'm barely there. Here in Baler, my house isn't built [yet] but I don't have to have a house for me to call this place my home. This is my and Ellie's happy place. This is where we feel like we're ourselves the most, where we're surrounded by people who know us for who we are and not for what they hear or see on TV.
For now, I rent, depending on how long I'm here for. Or I stay at a friend's house. Lodging is never a problem.
How did you fund your move? What did you have to do financially to move your life to Baler?
When I was still in showbiz, I knew this was what I wanted for myself, so I bought my property in Baler two years ago. I've had it ever since, I just didn't know what to do with it. I had this land, but you know, I still had the money and the luxury to go wherever I wanted to in the world, so I traveled. I love to travel.
Towards the end [of] my last teleserye last year, I told myself [that] I have to prepare because I [was] so drained already. I was so burned out. And then, inisip ko, if I really wanted this life set for me, I shouldn't quit for the next two years. Financially, I didn't foresee that this was going to be my situation.
Immersing myself into this lifestyle and also [not having] as much money as I thought I would made me realize that I don't need that much money after all because I'm good with this. Living simply has made me the happiest person I have ever been. When I spent so many years of my life trying to be successful, trying to earn all that money, because other people said that that was what [I] was supposed to do to become a happy human being when you're an adult.
Wala, I guess it's just safe to say that I don't agree. It wasn't the same for me because I had all of that earlier in my life. While I don't regret it [and] while I was completely happy at the time, now that I'm old enough and I know myself and where I want to place myself, this is more than enough for me. I feel like I'm the richest person I know because I'm surrounded by this every day. And that's something I feel like I'm so blessed [with] 'cause I can pass it on to my daughter.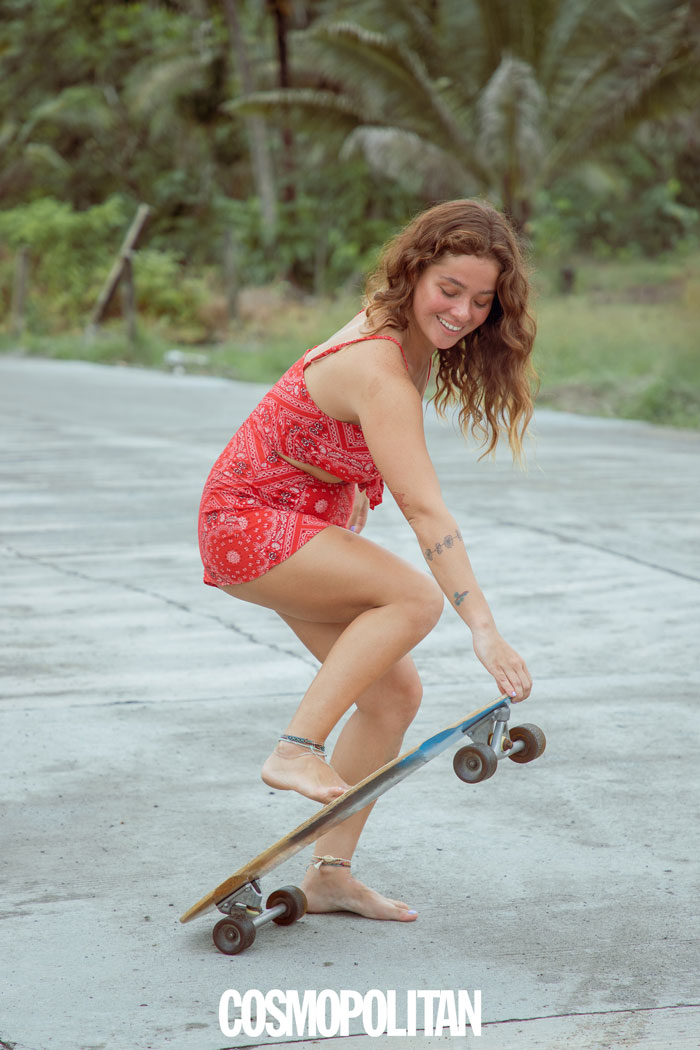 Are there luxuries you wouldn't let go of?
Home. It's the shelter. I can't really get rid of my apartment, but if I can just keep the one I have in Manila, I'd be fine with that. I still have my cell phone, my computer; I still have a good camera and lenses. But those are things that I feel I need. I feel like it's okay not to consider it as [a] luxury. If there are things I didn't let go of, it's the ones with sentimental value—like the pieces of jewelry that my mom gave me. The ones that are timeless. But I don't have cars anymore. I don't have designer heels. I can't work them here. No designer bags. Maybe I kept one or two—the ones that are suitable for this lifestyle.
Apart from acting, do you have other potential sources of income you want to pursue, specifically in Baler?
Something that's more doable is a restaurant—parang "concept" carinderia 'cause I really love to cook. One of the things that I love to do in Baler is cooking and preparing food for everybody—like a boodle fight. It's so fun to go to the market. I'm a suki there. They don't get surprised when they see me there 'cause I buy there all the time. Everything is so fresh. There's a wide selection, and everything is so cheap!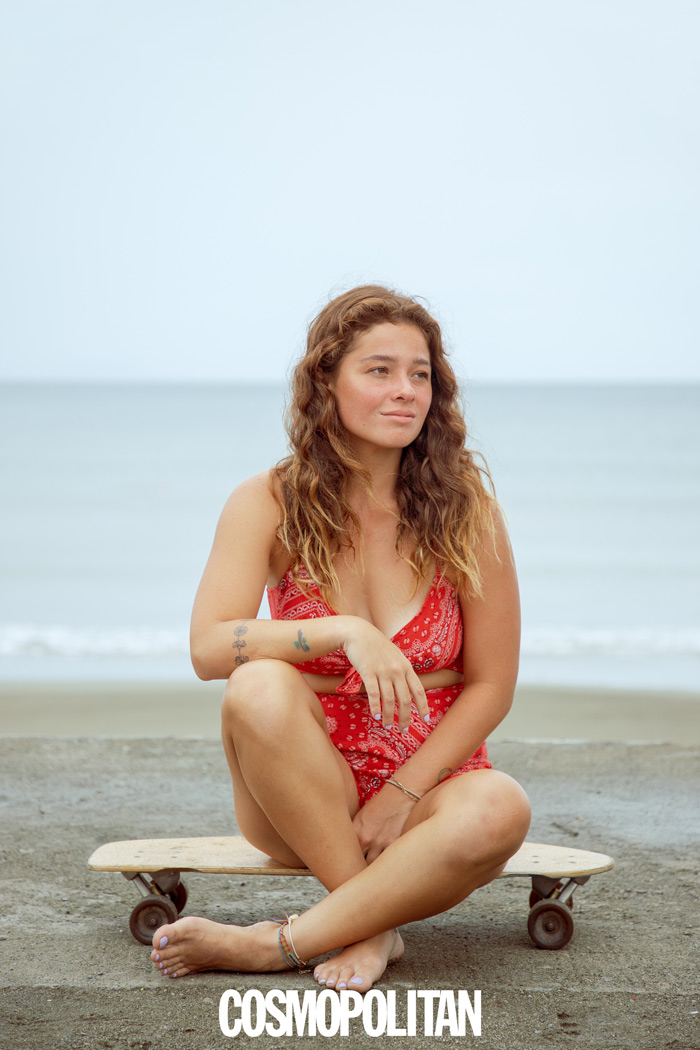 If you were offered an acting job, what would it take for you to say yes?
I'm definitely down to do movies. I tell my manager, I'd gladly [go] to Manila as long as it's a film that actually tells a story of something that I can stand for. Something I'd be proud to be a part of. I told them I don't have to be the lead character. I just want a good role, even if it's just two scenes, as long as it has a good story that would help educate [the] viewers more than just entertain them.
What kind of movie won't you do?
Rom-coms. Unless it's a surf rom-com! [laughs] No, I'm just kidding, hindi talaga.
ON LOVING YOUR BODY
Can you talk about your relationship with your body now compared to when you were younger?
When I started [in the industry], I was still a bit chubby. I was a teenager until eventually, as I turned into a woman, I became thinner. Naging small ako. As much as I miss that—it's nice to look at—I also remember what I was going through at the time.
That was the perfect physical appearance that they were asking of me, but I was going through so much, and I was so unhappy. I'm fine being this way now, looking this way now, as long as my mind is healthy, and I know that deep inside I'm healthy.
There are way more important things in life than how we look. That's the least of my concerns, really. 
With Sandy Cheeks, in the beginning, I told them, "If I'm gonna wear a bikini, can you do your best to make it look like I have abs?" When my friend, Maika [Cruz], the owner of Sandy Cheeks said, "Hey, we're trying to release a campaign about being body positive. Is it okay if we show your stretch marks and just bare it all?" I loved it even more. I'm done pretending. I'm done having to say things just according to what the showbiz industry has taught me. Now I want to say things based on my own values and principles. This is what I believe in.

Is this something you're actively trying to shield Ellie from?
She's too young. She's only six years old. It's not that I'm trying to shield her from it. I'm just going to make sure that I will raise her to become smart enough to know that these things shouldn't matter. She's going to be a teenager eventually. She will have her own set of insecurities, but I'll be there to guide her and support her and make sure that [she knows that] these insecurities are what make her human. While it's normal, it shouldn't overpower who she is and who she wants to be. The number one thing that I always [tell] Ellie is to choose kindness no matter what—to people, to animals, to nature.
Before I lived a life [that made me feel like] this *points to herself* investment was all I needed to get through life and get what I wanted. But that's not the way to go. It's choosing kindness.
***
PRODUCED BY: Jacinda A. Lopez and Ysa Singson
PHOTOGRAPHY AND ART DIRECTION BY: Mixi Ignacio
VIDEO SHOT AND EDITED BY: Coleen Oliva
SPECIAL THANKS TO: Akkaw Baler Hometel