In January, Andi Eigenmann's daughter, Ellie, debuted an androgynous haircut, rocking it like the cool seven-year-old she is. However, it seems like Ellie has been on the receiving end of some tactless remarks from strangers.
Andi posted on IG Story, "What is wrong with all these people saying that my kid looks like a boy or asking if she is lesbian just because she has short hair? Ellie can have her hair any way she wants and it shouldn't make her less of a woman if she has it short. Shame on these other women making my girl feel like she did something wrong all because her hair is now short."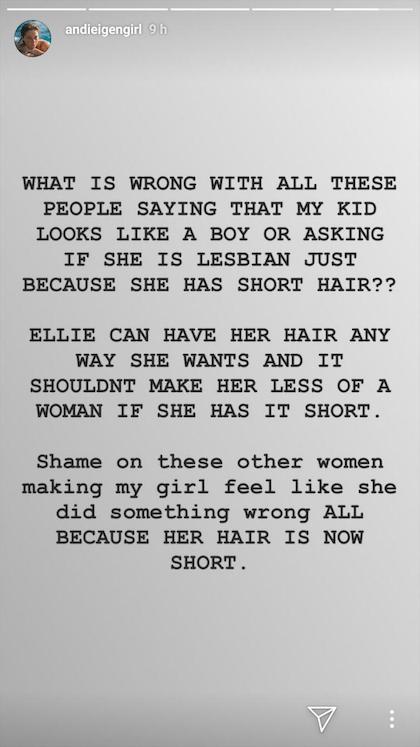 ADVERTISMENT - CONTINUE READING BELOW ↓
The surfer mama, who's pregnant with her second child, also posted on her feed, "My daughter is still beautiful, and no matter how much she will change through time, she always will be. Because it was never her long hair that made her look good."
The comments are all the more problematic and disappointing as it is International Women's Month and some of the comments come from other women. "Everyone is entitled to their own opinion, yes. But it saddens me how people (especially other women) are making me feel like Ellie cannot feel or be beautiful just because of her hair."
"I am trying to raise a child that is comfortable in her own skin. That is confident in being true to who she is, regardless of what others may think. As a mother, though, it gets scary for me to raise my child around people who think this way. Why can't we just learn to support and encourage other women to be confident and strong and to stay true to who they are, rather than bringing them down for being this way? Whoever said that there is a hair length requirement for beauty? They're bonkers."
ADVERTISMENT - CONTINUE READING BELOW ↓
Follow Dyan on Instagram.