Andi Eigenmann is happily pregnant with baby #2, and we couldn't be more excited for her! We know for a fact that her surfer BF Philmar Alipayo and 7-year-old daughter Ellie are ecstatic, too. 
Andi, who recently attended a friend's bachelorette bash in Bali, Indonesia, posted a photo of herself with her visible baby bump. Part of her caption reads, "This time around, I am fully cherishing every moment of my pregnancy. Embracing it as a time of transition and growth as my soul and spirit stretch, along with my body." 
ADVERTISMENT - CONTINUE READING BELOW ↓
In the comments section, one IG user named @heatherzhane said, "Sana Ands [Andi] pakasal ka muna sayang [heart emoji]."
Andi has a history of giving the most ~epic~ responses to comments like these. Remember that time another basher called her "sayang?" Andi replied to this particular comment with, "You are in no place to tell me how I should lead my life. More so, tell me that I am 'sayang' because I am happily pregnant at 28 years old. I don't expect nor intend for everyone to be pleased by how I see life, but your negativity is very unnecessary, and you may feel free to click unfollow."   
The commenter then said, "Girl I'm a fan, galit? Ok thanks."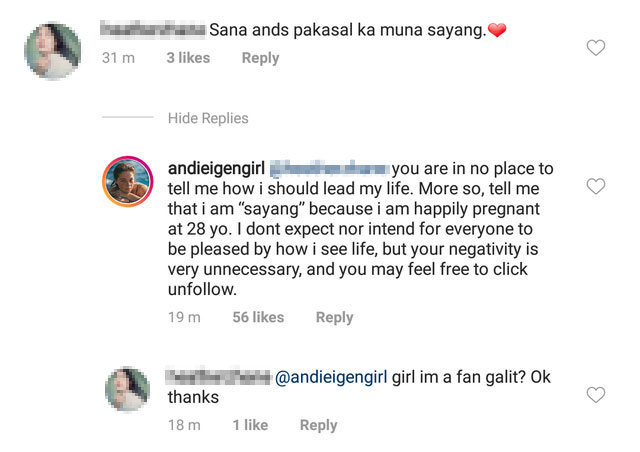 The commenter didn't stop there, though. She continued, "Sana hindi na maghiwalay diba?"
Andi responded, "People having different beliefs as I do does not anger me. Otherwise I wouldn't have taken the time to let you know how your message made me feel. But we should learn to accept that every person is different and we have no right to shove our beliefs on others. I called you out because it's such a shame when women bring other women down. Not because I am angry."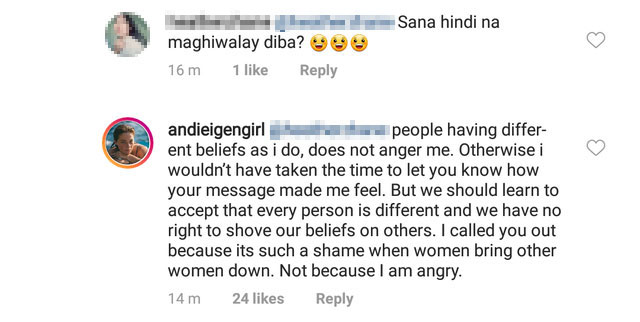 ADVERTISMENT - CONTINUE READING BELOW ↓
The comments section is on fire, with other Instagram users defending Andi and sharing their own stories! Check out some of them below: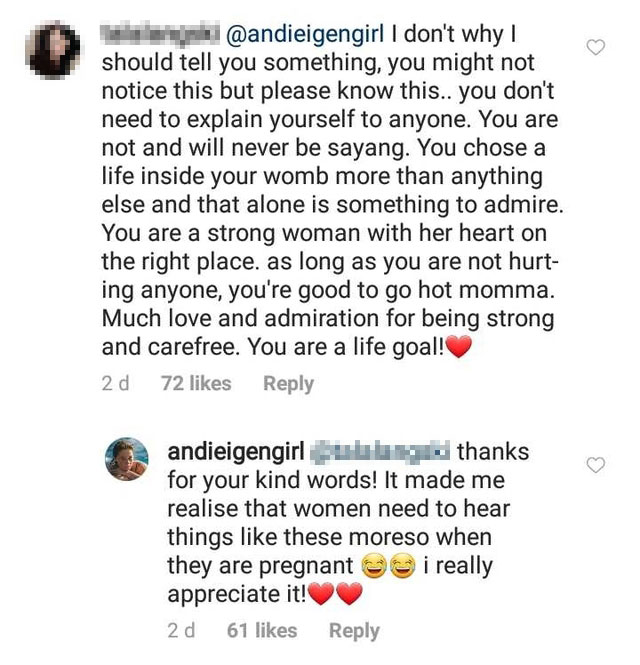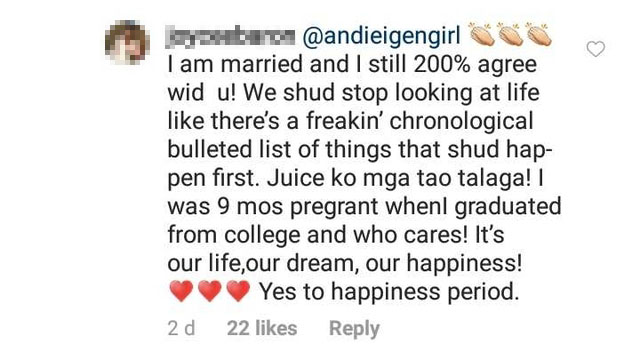 ADVERTISMENT - CONTINUE READING BELOW ↓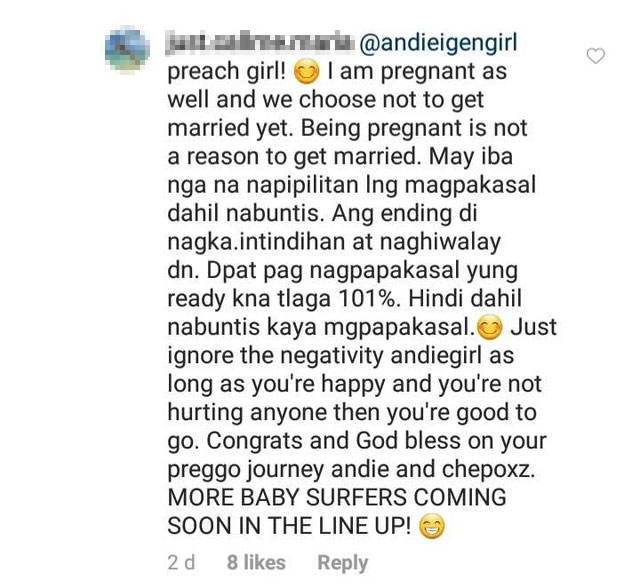 Here's to more baby surfers, indeed. Cheers, Andi! 
Follow Lily on Instagram.
READ MORE STORIES ON ANDI EIGENMANN HERE:
What We Know About Andi Eigenmann's Surfer Boyfriend, Philmar Alipayo
Cosmo.ph Exclusive: Andi Eigenmann Opens Up About Her Pregnancy And Her New Life With Philmar And Ellie
Andi Eigenmann Is Pregnant With Baby No. 2!
ADVERTISMENT - CONTINUE READING BELOW ↓