Andie Eigenmann recently went public about her move to Baler, and she's been living the simple life: surfing, bonding with the locals, and creating special moments with her daughter. On Tuesday, she posted a series of Instagram photos with her six-year-old daughter Ellie. 
While support for the celeb has been overflowing, there are still some who can't be happy for her.
One Instagram user commented, "sayang yung ganda niya," to which Andi responded: "It saddens me how there are people as shallow as you who think that it's a waste to focus on more important things than the way we look—ie. living a fulfilling life of joy and positivity. May you find that somewhere in your personal journey through life."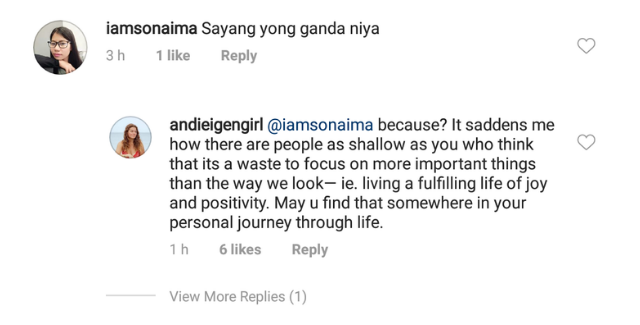 Continue reading below ↓
Recommended Videos
Recently, Andi also addressed rumors about how she acquired a facial wound through Instagram Stories, explaining that it was from a surfing accident and not because someone beat her up.  
Follow Lily on Instagram. 
EXPLORE COSMO