Andre Brouillette is setting the record straight about those *viral photos* with Rabiya Mateo.
In an exclusive interview with Star Magic's Inside News, the former Pinoy Big Brother housemate addressed the rumors linking him and Rabiya and shared the story behind that upload.
"Rabiya is Miss Universe Philippines 2020 and we have the same agency, the same team, that's managing her. I was able to meet her as I came to Miami to do hosting for Miss Universe updates, and which is about, I would say, was three weeks ago."
ADVERTISMENT - CONTINUE READING BELOW ↓
He also says that when he shared that IG Story of him welcoming Rabiya at the Los Angeles International Airport and when they ate out in Rodeo Drive with a friend, that it was just to remember how much he enjoyed that time.
"With that photo, what happened was we picked her up from the airport and we had time and we were all hungry and we went out had a great lunch in Beverly Hills. So with my intentions for uploading that photo, it was a great time with friends and a great lunch and with Miss Universe Philippines 2020, so great photo to upload, right, for the memories?"
What made all of this complicated was when fans noticed that photos of Rabiya had disappeared on the IG of her non-showbiz boyfriend Neil Salvacion. Also, given that Andre had announced in January 2021 that he had broken up with PBB housemate Lou Yanong.
Earlier, Rabiya denied that she and Andre were dating, that they are simply friends, they were together for work, and that there's "no malice" in their photos together.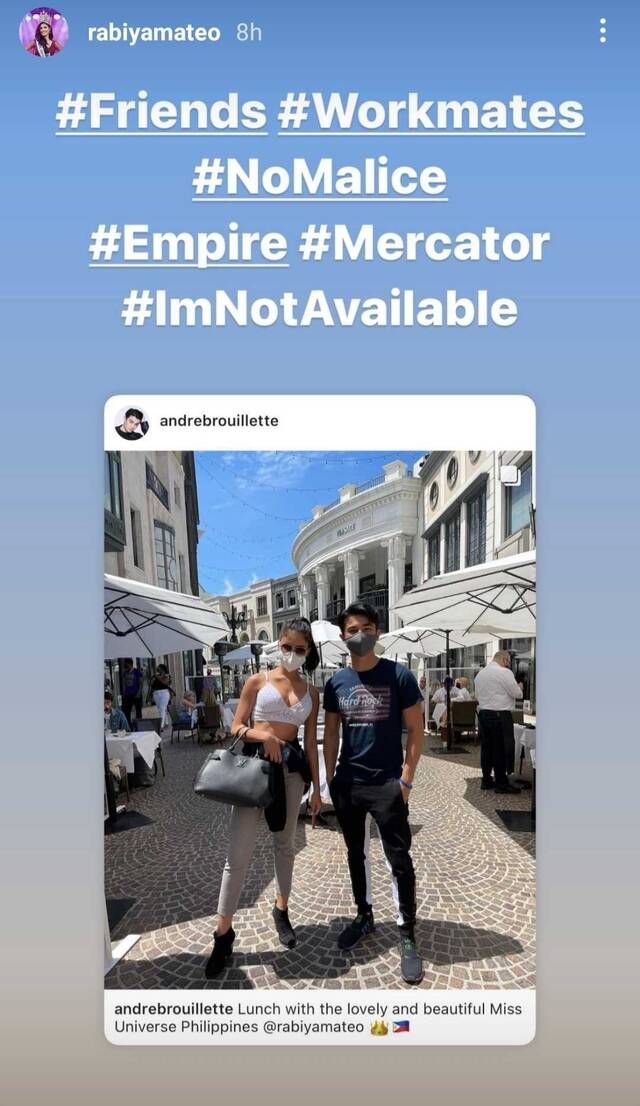 ADVERTISMENT - CONTINUE READING BELOW ↓
On May 27, Thursday, Rabiya even commented on one of Neil's IG photos and the two had a cute IG exchange. Rabiya and Neil have yet to confirm if they have indeed broken up and are just good friends, or if they are still together. 
At the end of the day, Andre tries not to let the rumors get to him. He says he also has a good friendship with Rabiya.
"I can't control the things that people say and also, not everything people say is always true."
"I try not to read into all that stuff because of course, you know, everybody is entitled to their own opinion."
"[Rabiya and I are] great friends and I have the utmost respect for her and she's a great person."
Watch Star Magic's interview with Andre here:
ADVERTISMENT - CONTINUE READING BELOW ↓