Sexbomb Izzy Trazona has gone viral not for her dance moves but for what seems to be a rocky relationship with her daughter, Andrei Trazona.
In a Facebook post, Andrei exposed herself for telling a lie in a recent interview where she said that her mother has been supportive of her decision to be a drag queen.
"I LIED IN AN INTERVIEW that she supports for what I am and for what I do just to protect her from any backlash..." Andrei wrote in her post.
The 21-year-old expressed her love for her mother despite their differences. "I love you so much but this isn't healthy for me anymore. [...] I wanna live my own truth and someday you will be proud of what I will become."
Andrei also wrote about the lack of comfort and compassion from her mother due to their disagreement with her craft as a drag queen and in being gay.
ADVERTISMENT - CONTINUE READING BELOW ↓
"I'm tired of this conversation about me being gay and doing drag. [...] I hope someday you will understand how it feels to be in my shoes. I miss you but you're not bringing me any comfort and compassion I deserve," Andrei divulged in her post.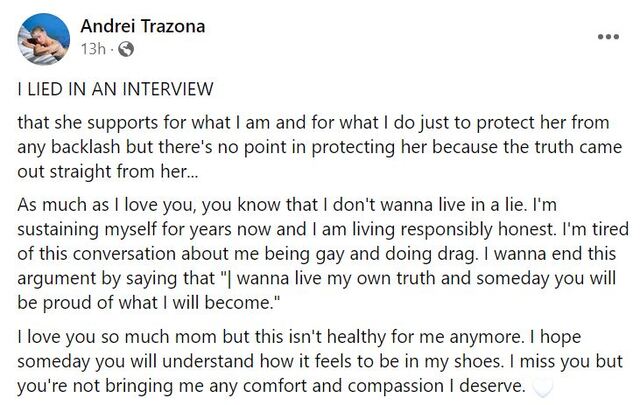 Andrei's statement came after Izzy's viral post expressing her longing for her teenager. It also appeared to be a letter that explained her side as a mother.
"I miss you Drei [...] Sometimes, parents & their children have disagreements and its normal. But I know both sides have that pain in their [hearts]."
Izzy described her disagreement with Andrei as her way of protecting her from harm. She recounted the days when she herself had arguments with her mother. "I thought that mom doesn't want me to be happy, but she is just concern that in the end of it all, I won't get hurt with my decisions."
After all, Izzy continued to defend her thoughts on Andrei wanting to live her own truth.
"Once you told me, "you'll never know what I feel kasi you were never in my shoes." Yes, I agree, but same with me, hindi mo parin naman nararanasan maging magulang. All I want is for your best. I'm holding on with the TRUTH that is written in the bible, the word of God."
ADVERTISMENT - CONTINUE READING BELOW ↓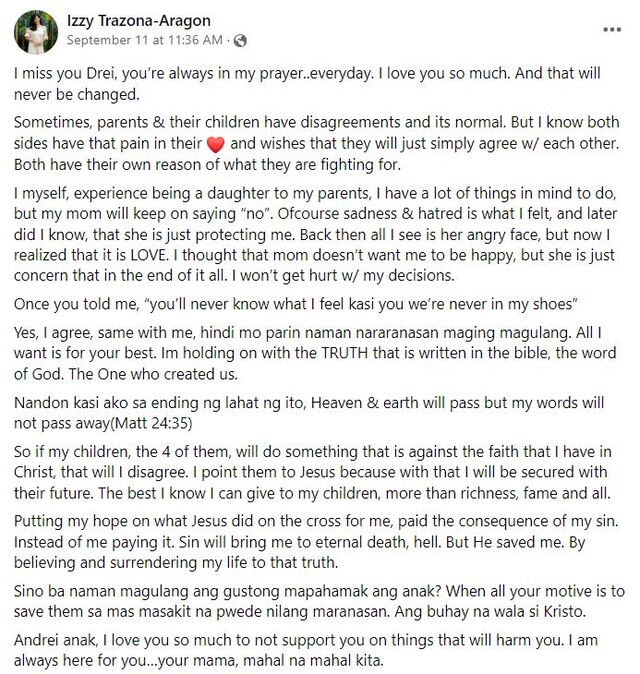 ICYDK, before Andrei's debut as a drag queen, she and Izzy were a mother-son duo often applauded for their wholesome and adorable dance covers on TikTok.
It was in 2020 that the world was introduced to Andrei's incredible dance moves.
And last December 2022, Andrei presented 'sexbomb royalty' Sofia as her drag queen persona. Now, Sofia is living her own truth and loving her art.
ADVERTISMENT - CONTINUE READING BELOW ↓
View this post on Instagram