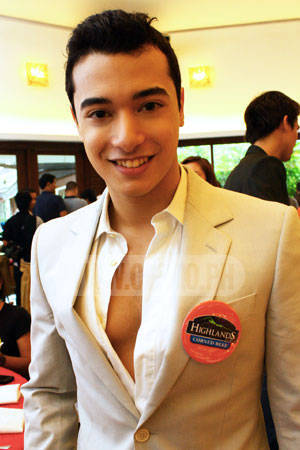 If you've never thought of dancing ballet as a particularly hot male profession, Angelo Cacciatore will definitely change your mind! The incredibly sexy Filipino-Italian hunk studied ballet for eight years at a prestigious school in Italy, where he grew up. Now, he is a professional dancer--not just of ballet, but several other genres of dance. Highlands Corned Beef even got him as an ambassador and named him "a new breed of dancer."

Angelo is not necessarily new to the spotlight. He was one of the finalists in the 2009 Mossimo Bikini Summit, and was a semi-finalist in the 2009 Century Tuna Superbods contest. But it was only at the Highlands Corned Beef event that we got to meet and chat with the hottie for the first time.

He immediately blew us away with his passion for dancing, his thoughts on passion and fashion, and his sexy Italian accent. Read on for the full interview and then launch the gallery to see more photos of Angelo. 

How does it feel to be called "a new breed of dancer"?

It's pretty exciting! I mean, "new breed"--you feel like you're different, but I don't want to feel different. I like to think that people appreciate not just what I am, but what ballet is, what dancing is. I think that's what is great about it. You know, 10 years ago, people were thinking ballet is just for females, but now it's not true.

What got you into dancing?

I started because of passion. I think it's really important to follow the passion. For me, it doesn't matter what it is--maybe you like ballet, maybe something else--but it's a passion, and that's what we transmit to other people, that's what we give other people. Our motion, we give to other people. I think that's what a new breed is.

What do you think makes you succesful in your field?

You need to have a lot of drive for achievement. Never stop, never be satisfied. Maybe I'm that kind of person...I'm very happy with myself, but when I have reached something, I don't even have a moment to [throw] a party or something, because I'm excited right away to achieve something next, you know? It's what makes me feel good--everyday I am busy, I am working on it more.

How would you describe your sense of style?

Well, I'm a Filipino-Italian, and I grew up in Italy. So all Italian brands are my favorite. Also, in the Philippines, I adapt to the different style here. The fashion here [is] more casual.

What kind of fashion do you like seeing on women?

I like it very classy, not actually on the sexy side. I like a good dress that shows the character, not how sexy she is. I'm not single, but when I see you wearing something classy and you can wear it in a way that is stunning--you really catch my attention. That's what I like.

So you've got a girlfriend. What do you love about her?

She's also half-Filipina, so I always like to appreciate her Filipina side, the Filipino mentality. I think it's really strong--for family, for respect, and also to feel free. That's what I like.

Launch the gallery to see pictures of Angelo at the press event! 
Continue reading below ↓
Recommended Videos
1637