*June 2021 Update*
If you're still not a fan of Anya Taylor-Joy by now, I will be judging you. JK! The 24-year-old actress, who started her acting career when she was a teenager, captured everyone's hearts internationally after the release of Netflix's The Queen's Gambit.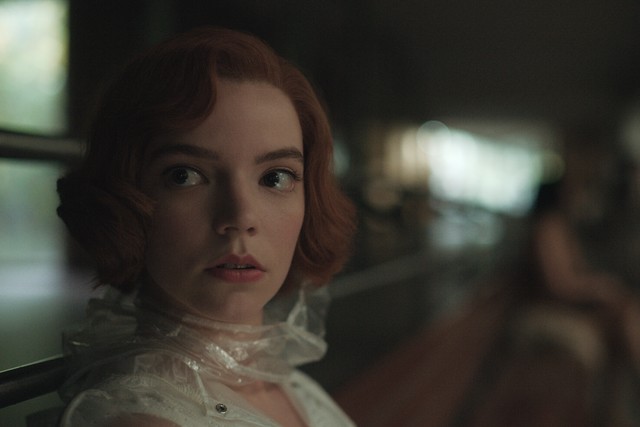 While waiting for the release of her latest film, here's a list of Anya Taylor-Joy movies and series to keep you occupied (my personal fave is Emma!):
Early Projects 
1. The Witch (2015) 
One of Anya's earliest roles was in this horror film where she plays the role of Thomasin. The Witch is set in 1630 and tells the story of a farmer who "leaves his colonial plantation, relocating his wife and five children to a remote plot of land on the edge of an ominous forest—within which lurks an unknown evil."
Where to watch it: Netflix 
2. Split (2016) 
Kevin (James McAvoy) has dissociative identity disorder and has 23 known personalities. However, a 24th personality emerges and Kevin kidnaps three teenagers! One of them is Casey, a role played by Anya. This film was followed by a sequel, Glass (2019), where both James and Anya reprised their roles. 
Where to watch it: Netflix 
3. Morgan (2016) 
Anya plays the titular character Morgan, a man-made "human" who was created by "messing around with synthetic DNA and adding heaps of artificial intelligence." When Morgan triggers a "terrifying accident," Kate Mara's character, Lee, is sent to investigate. 
Continue reading below ↓
Recommended Videos
4. Barry (2016) 
ICYMI, this movie is about a young Barack "Barry" Obama and is set in 1981, during his Columbia University days. Anya plays Barry's (Devon Terrell) college girlfriend Charlotte, a fictional character who "represents three of Barry's actual college girlfriends." In an interview with Teen Vogue, Anya shared that it was her "first on-screen relationship."
Where to watch it: Netflix 
5. The Miniaturist (2017) 
Based on the novel of the same name by Jessie Burton, this mini-series is set in 1686, Amsterdam. The BBC tells us: "Nella Oortman (Anya) marries a rich merchant, hoping for love and prosperity. Instead, she enters a world of tensions, secrets, and mystery which soon threatens her future." 
6. Thoroughbreds (2018) 
Lily (Anya), who feels EVERYTHING, and Amanda (Olivia Cooke), who feels NOTHING, are childhood friends who "bring out one another's most destructive tendencies." According to Focus Features, Lily and Amanda "hire a local hustler and take matters into their own hands to set their lives straight." 
Where to watch it: Netflix 
7. Peaky Blinders (2019) 
Peaky Blinders is a British series that focuses on a crime family called the Shelbys. Anya joined the show in Season 5 as Gina Grey, Michael Gray's wife from America. "She likes money and she doesn't like the Shelbys," executive producer Caryn Mandabach shared in an interview. 
Where to watch it: Netflix 
8. The Dark Crystal: Age of Resistance (2019)
This one features Anya as a voice actress! According to Netflix, "as power-hungry overlords drain life from the planet Thra, a group of brave Gelfling unite on a quest to save their world and fight off the darkness." Anya voices a Gelfing princess named Brea. 
Where to watch it: Netflix
Recent Projects 
9. Emma (2020) 
In this fun, quirky adaptation of Jane Austen's novel of the same name, Anya plays "handsome, clever, rich" and ~sometimes spoiled~ Emma, who has assigned herself the role of matchmaker in her sleepy little English town. 
10. The Queen's Gambit (2020) 
Everyone's new favorite chess series tells the story of Beth Harmon (Anya), an orphan and genius who "conquers the traditional boundaries established in the male-dominated world of competitive chess." When asked about a POSSIBLE Season 2, Anya said: "If I've learned anything from being in this industry, it's never say never. I adore the character...and I would certainly come back if I was asked to, but I do think we leave Beth in a good place."
Where to watch it: Netflix 
11. The New Mutants (2020) 
What you need to know about Marvel's latest thriller: "It's set in an isolated hospital where a group of young mutants is being held for psychiatric monitoring. When strange occurrences begin to take place, both their new mutant abilities and their friendships will be tested as they battle to try and make it out alive." Anya plays Illyana Rasputin aka Magik, a sorceress and teleporter. 
Upcoming Projects 
12. Last Night In Soho (October 2021)
This psychological thriller is about "a young girl, passionate in fashion design, who is mysteriously able to enter the 1960s where she encounters her idol, a dazzling wannabe singer. But 1960s London is not what it appears, and time seems to fall apart with shady consequences." 
13. The Northman (2022) 
According to Indie Wire, this movie is "an epic Viking drama" that is "set in Iceland at the turn of the 10th century." Anya will star alongside Alexander Skarsgard, Willem Dafoe,  Nicole Kidman, Ethan Hawke, Claes Bang, and Bjork. Unfortunately, we don't have a trailer for the movie yet, but stay tuned!
14. Canterbury Glass (TBA)
Anya Taylor Joy is also rumored to star in a period movie directed by David O. Russel, and the cast includes Taylor Swift, Margot Robbie, Christian Bale, John David Washington, Rami Malek, Zoe Saldana, and more. The story will reportedly take place during the Great Depression. 
***
We're officially on Viber! Be part of our growing community and subscribe to Cosmopolitan Philippines now!
Follow Lily on Instagram.