1 Now we're confused. Just days after Kris Aquino admitted on national television that she was dating Quezon City Mayor Herbert Bautista, the TV host clarified that she isn't dating the politician. Kris posted this photo (seen below) on her Instagram account, where she thanked Herbert for bringing her Gatorade.
Kris wrote: "I got home & saw all the Gatorade waiting for me. Thank You HB! (Sorry I broke my rule about not mentioning him in my IG account. ) We're not a "couple" but we are the BEST OF FRIENDS. And in this uncertain world, we're sure to be FRIENDS FOR LIFE. That's actually what we started as, it's where we are most comfortable being, and for whatever tomorrow may still bring, true & lasting friendship is always the best foundation... May I quote my favorite song? "Thanks to you for teaching me how to live, putting things in perspective. Teaching me how to give, and how to take, no mistake..." I grew up a lot this 2014 & he had a big role in what I am today. #noregrets #stillbelieveinlove #someday GOOD NIGHT.
Want to know more about Kris? You might want to grab YES! Magazine's May issue with the host on the cover, out in newsstands now.
Continue reading below ↓
Recommended Videos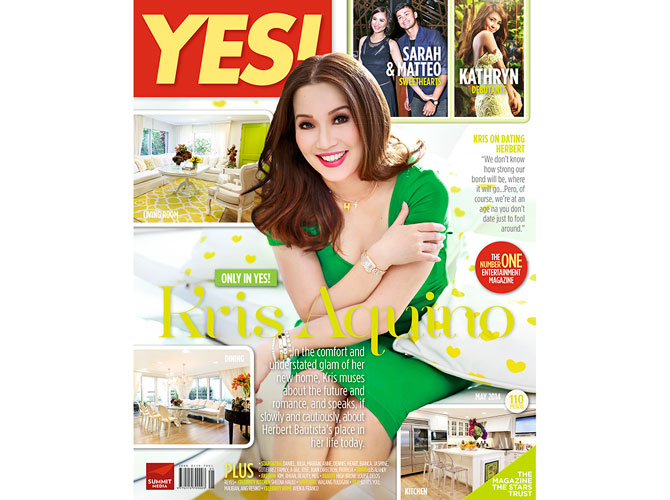 2 Sorry to break it you, CGs, but you still need a Visa to travel to the United States. A satirical website published an article with the headline, "U.S. ANNOUNCES 'NO VISA' POLICY FOR FILIPINOS," which was immediately picked up by netizens and shared on social media. Unfortunately, this is a hoax, so y'all can move on with your lives now. (WhenInManila.com)
3 A Friends reunion isn't hapenning soon. Courteney Cox admits that she's been trying to get the whole cast to get together—even just for dinner. "Let me tell you something: there's six friends and I've been trying to put together a cast dinner for 10 years. It doesn't happen! I can get the girls to come, maybe Matthew Perry. Matt LeBlanc canceled last time right at the last minute, Schwimmer lives in New York City, so it's just not gonna happen." #PAASA (Check here for the full story!)
4 If y'all are looking for a unique way to spend date night, you might want to watch "Stomp" from June 17-22 at the Cultural Center of the Philippines. So what is it exactly? Basically, it's a super high-energy musical where the dancers and musicians use unconventional instruments like garbage can lids, buckets, brooms, and sticks. We know it doesn't sound much, but wait until you watch THIS. (philippineconcerts.com)
5 Congrats, Drew Barrymore! The actress just gave birth to her second child with husband Will Kopelman on on Tuesday, April 22. "Happy to announce that today we are the proud parents of our second daughter, Frankie Barrymore Kopelman," the couple announced. (Check here for the full story!)