I have been a fan of many things in life, but over no fandom do I ever lose my chill as hard as I do for my love of the DC universe. Although I'm a latecomer to DC Comics, I have been obsessed with Gotham's Dark Knight since I was a kid in the '90s watching Batman: The Animated Series (I watched the weeknight show and the weekend rerun, a big deal when household rules only allowed me one TV show a day). By the time the Justice League and Justice League Unlimited series came out, I had given DC my heart, and I have never asked for it back.
My love has stayed strong and true through the recent shows in the Arrowverse and movies of the DCEU, even when some of my friends disagreed heavily and mocked me for it. I cried watching Wonder Woman, gushed over the Justice League live action movie, and have been stoked over the Aquaman movie since it was first announced. So when I heard that the Asia premiere of this year's DCEU blockbuster was going to be in Manila for the first time ever, I let it be known that I would beg, steal, assault, and possibly murder to get a chance to get in smelling distance of Jason Momoa, the Aquaman.
Continue reading below ↓
Recommended Videos
Even though I'm based in Cebu, the moment I got the chance to attend the press conference and the fan event for Aquaman, I jumped at it hard.
What You Need to Know About Aquaman
This superhero origin story focuses on the early life of Arthur Curry (Jason Momoa), dubbed the Aquaman in the press, following the events of the movie Justice League and his ascension to the throne of the underwater kingdom of Atlantis.


In the movie, the half surface dweller and half Atlantean Arthur must stop a war between his two peoples and, in the process, learn how to bridge his two cultures as well as what it means to be not just a king, but a hero. Supporting and challenging him throughout his journey is Mera (Amber Heard), an Atlantean princess who, rather than sitting pretty on the sidelines, kicks butt and takes names in her quest to do the right thing for her people and for the planet.



The film was directed by James Wan, whose past work includes Saw, The Conjuring, Insidious, and Furious 7. The cast is headlined by Jason Momoa and Amber Heard, joined by Oscar nominee Willem Dafoe, Oscar winner Nicole Kidman, Patrick Wilson, Dolph Lundgren, and more.



A Front Row Seat At The Press Conference
Riding high after seeing an advance screening of Aquaman and absolutely loving it the night before, I headed to the press conference at the Grand Hyatt Manila, on the afternoon of December 11, scheduled a few hours before the big fan event.
While the setting may not have been as intimate as I would've liked (it was a big ballroom), I managed to score a front-row seat with the help of fellow writers covering for Summit publications.
Not only did I get to stare at the sheer luminous beauty of Amber Heard and the gorgeousness of Jason Momoa, who was a tall—and I do mean tall—glass of water for all the thirsty fans present, but I got to see and hear their responses to the questions from the press. I even got to ask one myself!
Quotes From Jason Momoa:
On coming to Asia for the premiere: "For me and James, I think, it kind of resonates for us because of our nationality. As far as I'm concerned, the Philippines are like the 10th island of Hawaii. I mean, there are more Filipinos in Hawaii than there are Hawaiians. So we're kind of basically family. So I feel like it's an honor to be here."
On how he relates to Aquaman being from two different worlds: "[It's] pretty dead-on similar. My upbringing was 100 percent two different worlds. You know, one race and another race, not all the culture, except for that culture. So I can identify with it. I love both places very much. I love both my experiences very much… [There are] people that love their home and don't want to leave their home, and I'm just one of the people that wanders. This is something that I can relate to and pass down to children... [that] it's totally cool that they're mixed-race. It's humbling to be the face of that. And it's perfect timing. Maybe it's meant to be. Who knows?"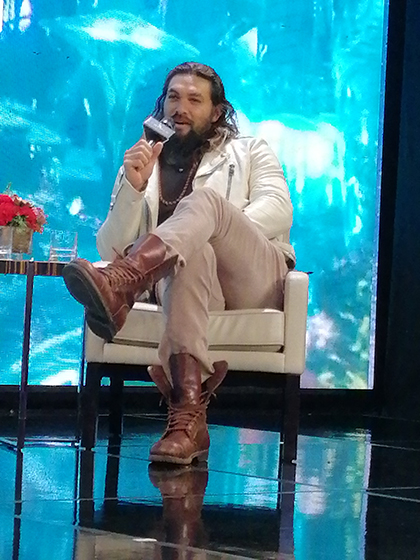 Quotes From Amber Heard:
On her character, Mera: "Mera's a warrior, she's a princess, but it's just a title. She's active, driven, strong, fierce, badass, kickass, tough, intelligent, a warrior—a superhero—in her own right who just so happens to, yes, be a woman. And I love that about her. I love that she's all of those things and truly a kickass superhero on her own."
On the demand for more female superheroes: "I love that I get to speak to a growing demand that we're finally starting to meet in the entertainment industry. One that speaks to the lack of roles that are offered or are that are available to women which paint a fuller, larger, bolder, stronger, more accurate depiction of the female experience. We need more representation in all aspects of the industry, but especially in the comic book/superhero world. It's incredibly thrilling and energizing for me to be able to answer that demand and be a part of the change as we start to see our demands being met. And our demands for increased representation across the board."
On Mera being one of the female superheroes and what sets her character apart: "I wish I could answer you better because the problem is, there's, like, two. [Laughs] And that's the problem. Mera's different only in the sense that, like Wonder Woman, she is empowered, strong, [and] has her own narrative. In our story, Mera's the driving force through the whole story. She is what makes Arthur Aquaman. She not only allows him, empowers him to realize his destiny, but she is really a driving force [for]the whole story. She figures everything out first, and she acts on that, she acts on it with a will, a strong will, [an] excisive force, and she is no damsel in distress. And so we just need a lot more of those types of roles for girls and boys alike [to look up to] when they are growing up…. In DC, there's like Wonder Woman, Queen Atlanna, [and] myself, but we need a lot more, and I'm really happy to be a part of the change."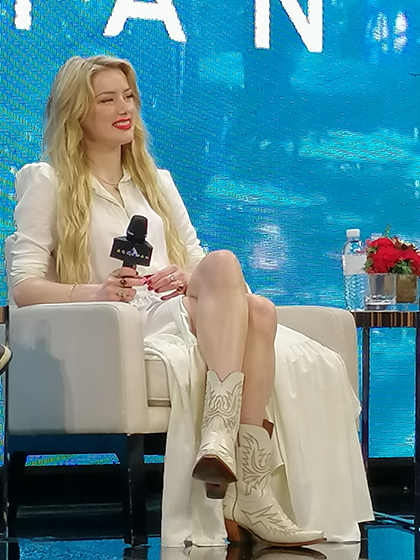 Quotes From James Wan:
On Aquaman as a cross-cultural character: "I was born in Malaysia, grew up in Australia, so culturally I am from two separate worlds…. [That is something] we've worked into the script and the story, which is a hero who is from two separate worlds, and he doesn't quite feel that he belongs to either world. But what he ultimately discovers and realizes is, he is the best of both worlds, and he ends up embracing his identity. And that's something that, I think that as I've grown older, I've definitely learned to embrace more as well."
On what to expect going into Aquaman: "I want them going in feeling, thinking, that they can come in here and to this movie with, you know, with a sense of excitement. I want them to enjoy the movie, [to] go on this crazy, fun ride."
On what he hopes people will leave the theater feeling: "I want them coming out of the movie realizing that the thematic message of the movie is something that is very important. The movie is about a guy who loves his dad, never got to know his mother, and so it's about the completeness of that family unity. And like what we said, the other thing is just embracing one's identity is super important. And then, thirdly, the other message in the movie that I think is important—but it's more in the background—is the message of our environment. I think this is one of the rare superheroes where the environmental aspect of it is at the forefront. I don't think you can make an Aquaman movie and not touch on the environmental message of it all."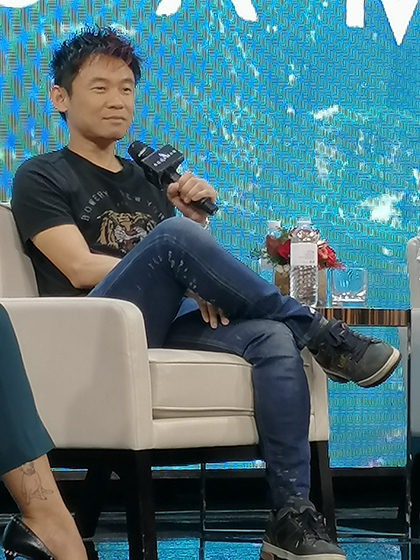 Momoa In MOA: The Fan Event And Blue Carpet Experience
After the press conference, we headed to SM MOA, where a large mosh pit was set up for the fan event ahead of the IMAX premiere. I was told the venue held about 400 people, but I felt like, between those of us who were allowed into the mosh pit and the crowd that had gathered outside, there must have been more people than that.
We waited a couple of hours after securing a spot in the VIP 2 section of the mosh pit, which was right at the center of the blue carpet. The event hosts, Joey Mead King and Gino Quillamor, pumped up the crowd while we waited for our idols, giving out prizes like replica tridents and other Aquaman merchandise to those who correctly answered trivia questions.
One pre-event highlight was when the hosts decided to do a little promotion for the fan artists who had brought their original works to the event. In the midst of super talented sketchers, digital artists, and painters, one enterprising soul decided to draw a stick figure depiction of the king of Atlantis and proudly showed off his work for the camera. Another highlight was an aerial performance by two dancers dressed in Mera costumes.
Shortly after nightfall, Jason Momoa, Amber Heard, and Jason Wan finally arrived at the venue, and the fans went from friendly to frenzied in no time flat. The stars posed in front of a photo wall before coming into the fan area and the footage streamed onto the projector screens had everyone screaming.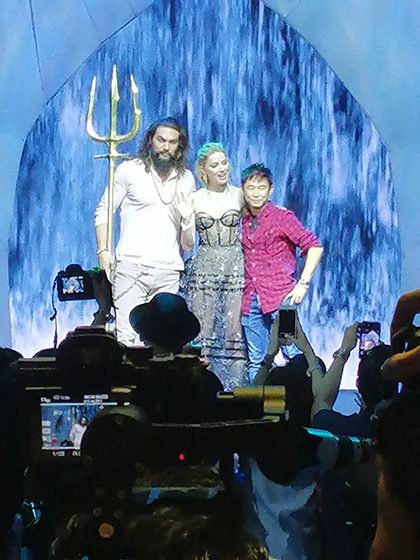 Once the stars and director entered the arena, the roar was deafening! But the celebrities were absolute troopers, doing a couple of rounds up and down the blue carpet signing autographs and taking selfies with fans. I'd brought an Aquaman "Arthur Curry" Funko Pop to the event as well as a Mera Cosbaby, and managed to get both of them signed, which had me squealing a little.
One look at Amber Heard was all it took to explain to me why scientists named her the world's most beautiful woman. She was positively radiant and wore a semi-sheer strapless floor-length dress that shimmered like the reflection of stars on still night waters. She chatted with fans as she made her way down the carpet, telling them she'd be happy to come back to see more of the Philippines someday.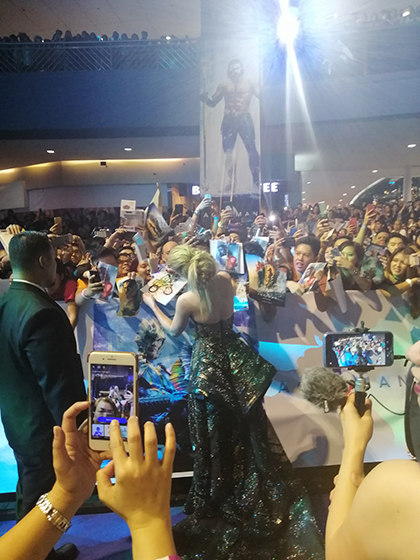 And then I got a selfie with Jason Momoa himself! He took my phone and snapped a photo with me, kindly bending his knees and angling the phone so my short self wouldn't be decapitated in the shot. Then he hung around our area taking more selfies and answering a few questions.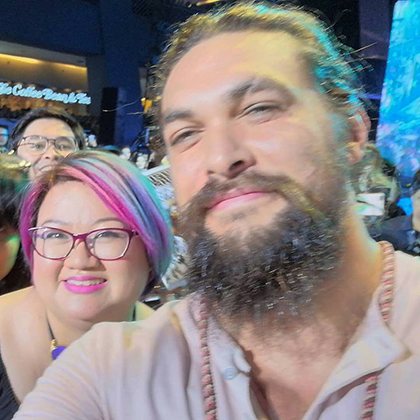 So if you're wondering: Yes, he's that tall; yes, he looks just as good in person as he does on-screen; and yes, he does smell good and had some kind of musky, manly cologne on (seriously, I had several people asking me how he smelled). And when he stopped to tie up his hair, the crowd went nuts!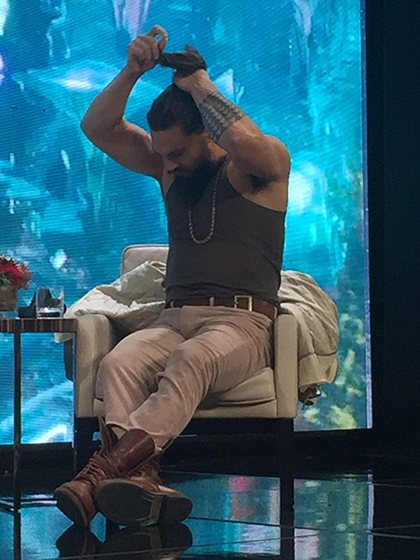 But the night wasn't over. My mosh pit buddy (Summit's Myrza Sison) and I got a selfie with James Wan as he came around our side of the carpet!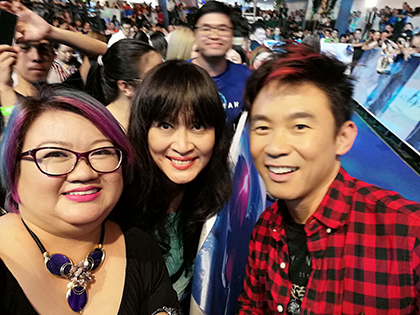 Finally, the stars made their way off the carpet and were presented on stage, where Jason Momoa told the crowd, "I have never received this much love in my life!"
All three answered a few questions about the movie, expressed their love for the fans, and encouraged everyone to see the movie before heading up to the premiere.
The energy didn't die when the event ended; all around me, people were chatting excitedly, taking selfies with friends they'd made waiting in the crowd and just basking in the thrill of having been in the presence of, well, superheroes.
I'd flown to Manila for just this event and ended up not sleeping for almost two days because I had to scramble to make it to a wedding the following day, but the effort, expense, and exhaustion were well worth it. And I'm dragging family and friends with me when I watch the movie again!