Pop star Ariana Grande wants women to express themselves without fear of judgment.
The 22-year-old was recently targeted by a fan, who called her a "w**re" on Facebook for wearing sexy black lingerie in the video (below) for her single "Dangerous Woman."
Here's a screen shot from Ariana's official Facebook page: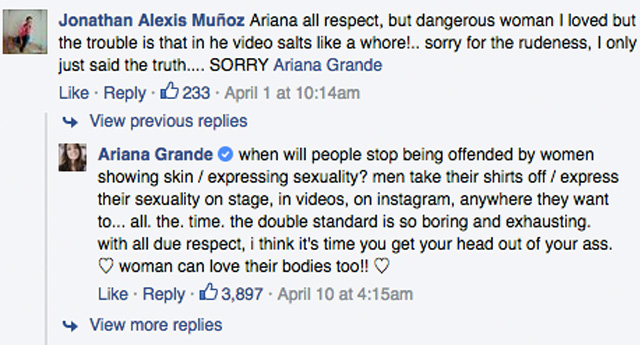 Ariana was quick to defend herself, and in a new interview with Britain's Sunday Times Style magazine, she continued to voice her opinion on female empowerment.
"Women can be anything," she said, before asking herself, "Are you a good girl or a bad girl? No! I'm a good girl, I'm a bad girl, I'm innocent, I'm sexy, I'm smart, I'm funny—I'm everything. Whatever I feel like wearing that day, it doesn't define me. It defines what mood I'm in. That applies to all women."
The "Problem" singer credits her Italian-American upbringing, and her grandmother Marjorie 'Nonna' Grande, for giving her such a strong sense of character and the confidence to face the double standards which exist in the music business and society in general.
"How you're raised plays a huge part in how you survive in this industry," she explained. "Or how long you can survive."
Ariana has certainly done more than survive in the music business—she started out on Broadway at the age of 13 and landed a record deal in Los Angeles at 14.
She has also starred in two hit Nickelodeon series—Victorious and spin-off Sam & Cat.
And she has released two successful solo albums.
Now she's going full throttle with her third album, also titled Dangerous Woman, and Ariana credits her roots for her strong work ethic.
"It's in our blood," she smiled. "I don't know if I'm a workaholic or if it's obsessive, but it's one or the other. Or both." 
Recommended Videos