Hours after a suicide bomber detonated an explosion which killed 22 and injured 59 people at the end of an Ariana Grande concert in Manchester, the star tweeted about how "broken" she is following the tragic event.
Fans lost their lives because they were in the wrong place at the wrong time, and it's natural that this will be weighing on Ariana's mind, despite it being far from any fault of her own.
broken.
from the bottom of my heart, i am so so sorry. i don't have words.

— Ariana Grande (@ArianaGrande) May 23, 2017
She posted: "broken. from the bottom of my heart, i am so so sorry. i don't have words."
Following this statement of her devastation, there has now been speculation that the Florida-based singer, who flew back to her hometown of Boca Raton in the American state shortly after the incident, has offered to pay for the funerals of those who lost their lives in the horrific terror attack.
These claims are currently unconfirmed, and there should by no means be any pressure put upon Ariana to take any course of action following the trauma everyone involved has endured, but the speculation has been shared by a fan account on Twitter.
And if it does turn out to be true, it's a gesture that will no doubt mean a lot to the families involved. Ariana has already canceled several Dangerous Woman tour dates in the foreseeable future out of respect for those involve in Monday night's events.
Continue reading below ↓
Recommended Videos
So far, just a handful of victims have been named as having died in the blast which took 22 lives in total. These include 26-year-old John Atkinson, 18-year-old Ariana super-fan Georgina Callander, and 8-year-old Saffie Rose Roussos, who attended the concert with her mother. Her mom is still being treated for her injuries in the attack and according to reports, doesn't yet know about her daughter's death.
#Breaking Saffie Rose Roussos, 8, from Leyland was killed in the Manchester bomb attack, Lancashire County Council says pic.twitter.com/3SOuaZsSr7

— Press Association (@PA) May 23, 2017
The most recently-named victim of the bomb is 15-year-old Olivia Campbell, whose picture was spread around social media in a desperate attempt to find her during the aftermath of the attack, and whose mother publicly appealed on Good Morning Britain to locate her whereabouts. Her mother confirmed the teenage girl's death with a post on Facebook.
With the lost lives of these fans no doubt being at the front of Ariana Grande's mind at this time, supporters are offering her comfort by sharing the hashtag #NotYourFaultAriana.
Can't stop thinking about this. I am so worried about Ariana & the people who are missing???? #NotYourFaultAriana #PrayForMancester #Manchester pic.twitter.com/XrhzMPTgA2

— Minea (@MineaStewart) May 23, 2017
Not your fault we won't let evil triumph #WeLoveYouAriana #notyourfaultariana #PrayForManchester https://t.co/ZoVDL3vsXN

— Arianasdimple (@arianasangelzz) May 23, 2017
#NotYourFaultAriana What haplened in Manchester was cruel and no one seen it happen but @ArianaGrande this isn't ur fault. u didnt know!!!!!

— LexisDodson01 (@9d90178269f0478) May 23, 2017
#NotYourFaultAriana @ArianaGrande none of this is your fault. we all love you so so much.

— #prayfortheworld (@confessinglrh) May 23, 2017
Ariana is just one of many who has been utterly traumatized by Monday night's events, and we can only continue with the positivity and kindness so far demonstrated.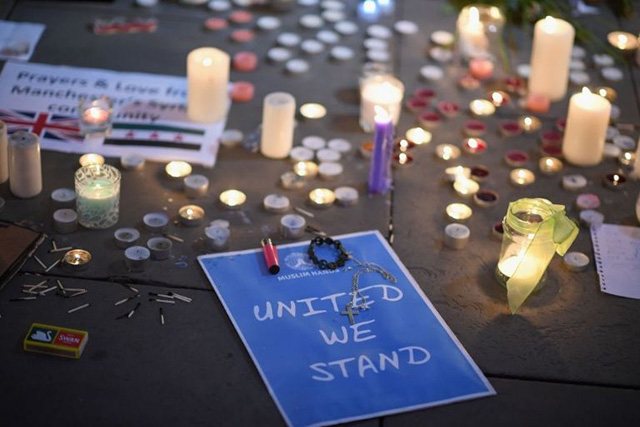 ***
This article originally appeared on Cosmopolitan.com/uk. Minor edits have been made by the Cosmo.ph editors.