Ariana Grande and Pete Davidson, poster children of young love and surprise engagements, have reportedly broken up. Per TMZ, the couple decided this weekend that it wasn't the right time to move forward with their relationship, after dating for a few weeks earlier this year and getting engaged in June.
While Pete and Ari were only engaged for a few months, the breakup news still comes as a shock to anyone who watched their activity on social media, where they openly flirted and constantly declared their love for one another.
There were signs—we just all missed them. Here, six clues right under our noses that they were headed for a breakup:
Pete covered one of his Ariana tattoos.
Pete and Ariana had gotten multiple tattoos together in their relatively brief relationship, and one of them was a set of bunny ears behind Pete's ear, close to his hairline. During a skit that aired on Saturday Night Live last week, someone noticed suspiciously that Pete had covered up the tattoo with a heart, but another tweeter claimed that Pete had also put an "A" next to the design.
Continue reading below ↓
Recommended Videos
Although this did seem like somewhat of a red flag, Ariana was apparently at that SNL taping in support of her fiancé, and posted a cute Instagram Story featuring Pete backstage, which definitely quashed (for the time being, at least) any speculation that they were in trouble. 
Ariana had been tweeting some really emotional stuff.
Since Mac Miller's passing in September, Ariana has been going through a really tough time—understandably, of course. At one point, she tweeted a thread about mental health, writing, "Just wake me up when I'm supposed to sing or whatever," and "I'm so f*cking tired pls."
Ariana concluded her thread with the message below, which left many fans concerned about her mental state.
Ariana and Pete skipped the Emmys.
After making their extremely loved-up red carpet debut at the VMAs, the two opted to skip the Emmys, even though Pete had been nominated as part of the SNL cast. At the time, sources said it was because Ariana was taking time to heal after Mac's passing, but it's possible there was other stuff going on.
"Contrary to reports, Ariana will not be attending the Emmys tonight," her team said. "Pete has also opted to not attend to be with her in New York."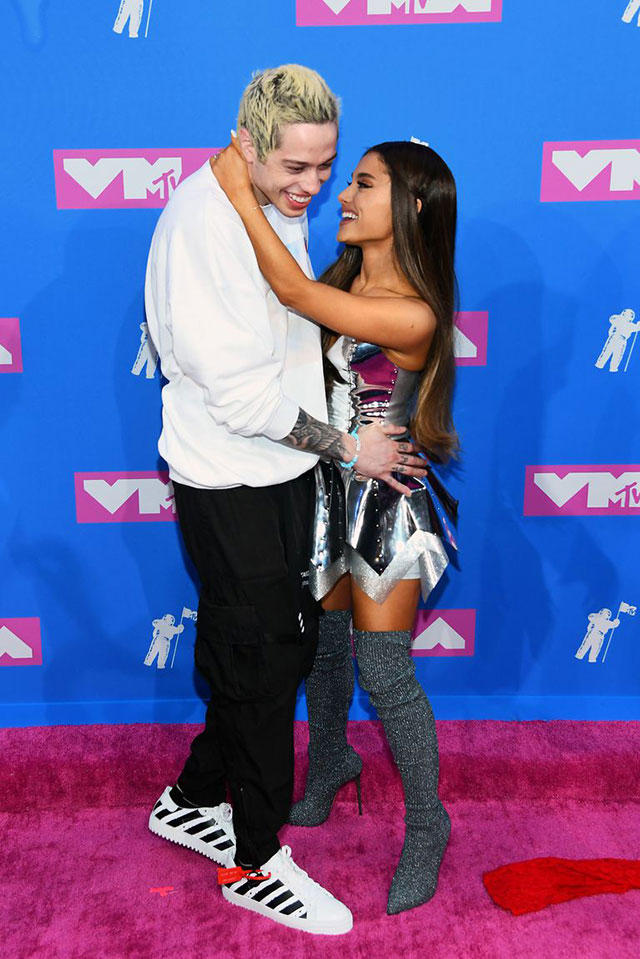 Pete said he'd gotten death threats over his relationship.
In an interview with Howard Stern last month, Pete revealed that he'd received a death threat because of his connection to Ariana. "I got a death threat. Someone wanted to shoot me in the face because she's so hot. Do you know how insane that is? I was like, 'Am I that ugly that people want to shoot me in the face?' They're like, 'No, f*ck this guy,' I'm like, 'What did I do?'"
Obviously, a security threat of that magnitude would add an immense amount of stress to any relationship.
Pete joked about switching Ariana's birth control pills.
During an episode of SNL earlier this season, Pete joked that he had messed with Ariana's birth control. "Last night I switched her birth control with Tic-Tacs...I believe in us and all, but I just want to make sure that she can't go anywhere."
People on Twitter were quick to point up how messed up that was, even if it was just a joke.
They both temporarily quit social media because of harassment from fans.
Earlier this summer, the two announced they were taking a break from social media because of comments from fans.
"They're just tired of being attacked," a source close to Grande told People. "They don't get why there's backlash when it's supposed to be a really happy time for them. Pete especially has been getting a lot of hate from fans. It's been hurtful, and he's actually pretty sensitive."
The decision came after social media interactions like the one below became the norm.
Ariana eventually returned to all platforms, and Pete briefly returned to Instagram, but it looks like his verified account no longer exists.
Follow Emma on Instagram.
***
This article originally appeared on Cosmopolitan.com. Minor edits have been made by the Cosmo.ph editors.