The Barretto family feud has officially gone international.
Hong Kong-based publication The South China Morning Post has written not just one but two articles touching on all the drama surrounding sisters Gretchen Barretto, Marjorie Barretto, and Claudine Barretto following the confirmed scuffle at the wake of their father, Miguel Barretto. 
The first article was published on October 19, which talked about President Rodrigo Duterte's attempt at a handshake between Gretchen and Marjorie, resulting in the much-publicized  "celebrity catfight."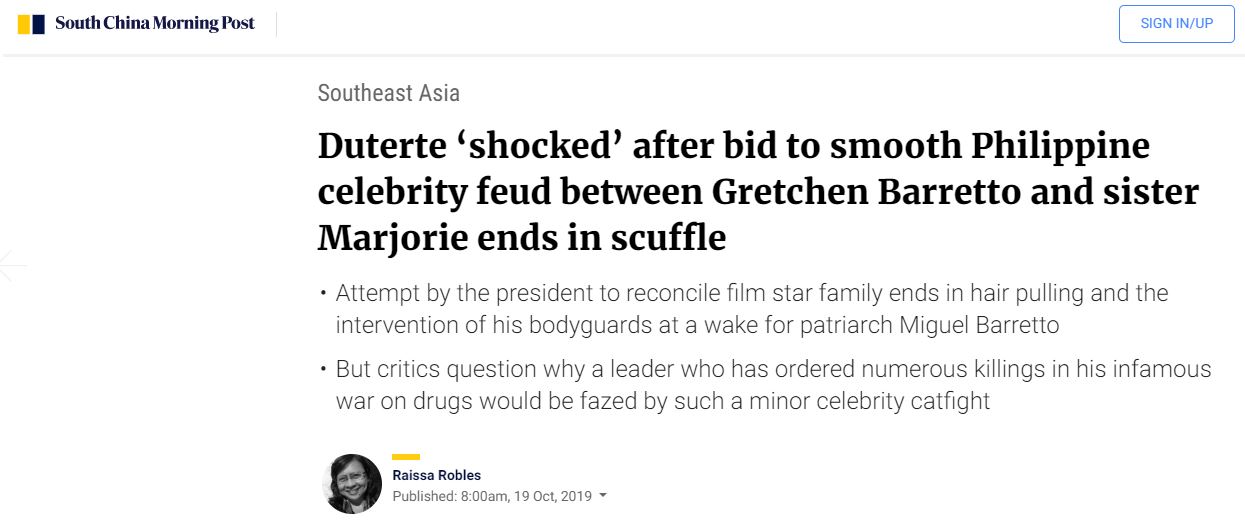 The second article, published on October 27, zooms in on how the incident seemed to have become a matter of public importance, what with the Department of Transportation (DOT) issuing road safety tips for those who might have gotten hooked on the news on their phones while driving, and with news program TV Patrol dedicating a portion of its time for exclusive interviews with Marjorie and with businessman Atong Ang.
Continue reading below ↓
Recommended Videos

What could have been a peaceful family reunion turned sour after Marjorie allegedly refused to shake hands with Gretchen upon the President's request. A brawl ensued that led to Claudine reportedly getting injured because of Marjorie. The sisters have since been embroiled in a heated Instagram exchange about who did what and what led to the controversial fight.