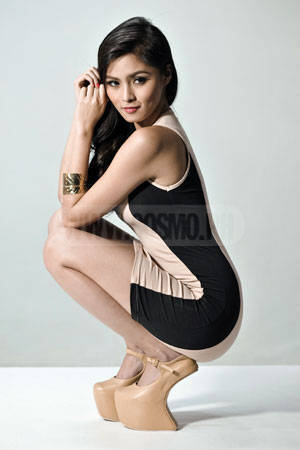 Kim Chiu has been on our screens since she was a teenager, and since then, she has continued to amass hordes of devoted fans who eagerly watch for her every showbiz move. Right now, there's no denying that her popularity has hit an all-time high--just look at our recent poll results for proof!

Editorial director Myrza Sison explains why we chose Kim for our June 2012 cover: "Right now, she's definitely very much of the moment, fresh from the success of My Binondo Girl. She's shooting two more movies: a reunion movie with Gerald [Anderson] and another with Xian Lim. With all these activities lined up for her, she's very much in the limelight so we decided to ride that wave."

Photographer Xander Angeles has worked with Kim in the past, and claims that she looks even better and happier than ever. He describes how she was like on set: "She's very professional and easy to work with. [She's] very silent, but 'pag nasa camera na, super fun."

Kim displayed a quiet confidence on set as she proudly flaunted her womanly curves. Launch the gallery to view exclusive behind-the-scenes photos from the shoot! And be sure to check out the shoot's video footage and wardrobe options, as well as Kim's second What's In My Bag feature!


Grab a copy of Cosmopolitan Philippines' June 2012 issue with KIM CHIU on the cover, in stands NOW! Virtually flip through our online teaser to see what else we have in store for you this month!
Continue reading below ↓
Recommended Videos
2023