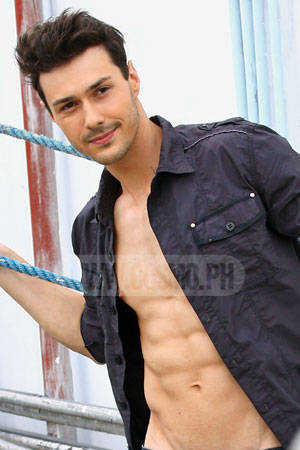 We love our local men, to state the obvious, but we have to admit it's exciting to have someone with a fresh, different look gracing the pages of our magazine once in a while. So for the New Year, we're turning our attention to this particularly hot 27-year-old Slovakian model, Igor Vican, who greets you on p. 54 of the January 2012 issue as Hunk Of The Month!

Igor charmed the Cosmo team with his cute accent, pleasant personality, and swoon-worthy bod! He has been modeling for four years and knows well how to work his best angles--if he even has any bad angles, we certainly did not see it at the shoot.

It's so easy to like Igor because he's not just major eye candy, he's got a fun sense of humor, too, which he demonstrated by making silly faces in between shots and cracking amusing one-liners during his interview.

Read excerpts from our Q&A with him, and discover his romantic side (sorry, ladies, he's taken--lucky girl!).

What three things can't you live without?

Love, love, love!

What's the first thing you found attractive about your girlfriend?

I think her eyes. Her eyes smiling at me. The way she is, that's perfect for me.

Tell us about her.

She likes to spend time with me, I like to spend time with her. [We like] hanging out, discovering new cultures [and] food, walking around, sight-seeing, laughing together, watching TV, chatting, partying...

How can a woman turn you on?

She needs to be confident, smart, and good-looking.

What clothes do you like seeing on women?

I like [seeing them in] high heels, mini skirt, and tank top. The best: without clothes! (Laughs.)


Launch the gallery to see behind-the-scenes photos of Igor's January 2012 Hunk Of The Month shoot, then visit CosmoTV to watch his full video interview and hear his adorable accent!
Continue reading below ↓
Recommended Videos
1786