You guuuys! Actor, devoted father, and musical theater star Jang Seung Jo is starring in Jisoo and Jung Hae In's much-awaited drama Snowdrop! Seung Jo started his acting career through musicals in the early 2000s, and has starred in productions of Miss Saigon, Romeo And Juliet, Trilogy, and King Arthur. He has since transitioned to TV and movies, and his projects are honestly worth adding to your watch list.
Here are five Jang Seung Jo dramas available for streaming:  
1. Familiar Wife (2018) 
Where to watch it: Netflix, iQIYI  
The plot, according to Netflix: "After receiving a bizarre chance to go back in time, a man wakes up to find that his whole life—including the person he married—is different." 
In 2019, the show's stars Jang Seung Jo and Ji Sung shared photos of their *reunion*, and they even brought their children along. HOW CUTE! Seung Jo and his wife Lina welcomed their son in September 2018.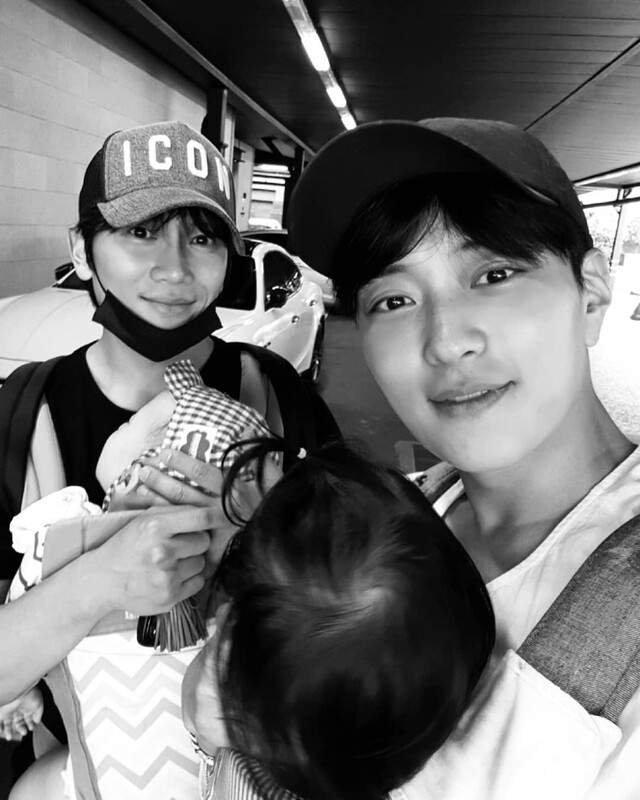 2. Encounter (2018) 
Where to watch it: Netflix, iQIYI 
The plot, according to Netflix: "Following a chance encounter overseas, a woman with much to lose and a man with little to his name meet again as employer and employee."
Seung Jo plays Jung Woo Seok, the ex-husband of Cha Soo Hyun (Song Hye Kyo). Soompi tells us: "He has dated many women who have wanted nothing more than to become a part of his family and their status. Cha Soo Hyun was different for him, and he hoped she would love him back too but when that didn't seem to be in the picture, he told her that he found someone else and asked for a divorce."
Continue reading below ↓
Recommended Videos
3. Chocolate (2019) 
Where to watch it: Netflix 
The plot, according to Netflix: "Brought together by meaningful meals in the past and present, a doctor and a chef are reacquainted when they begin working at a hospice ward." Seung Jo plays Lee Joon, "a cocky neurosurgeon who can't stand to lose."
4. The Good Detective (2020) 
Where to watch it: Netflix, Viu 
The plot, according to Netflix: "When doubts rise about a five-year-old murder conviction, a veteran detective partners with a young hotshot to hunt down the case's hidden truths."The Good Detective is actually returning for a second season, as reported by Soompi in April 2021. 
5. Snowdrop (2021) 
Where to watch it: Disney+ (As of this writing, Disney+ is not yet available in the PH but we're crossing our fingers!) 
The plot: When Su Ho (Jung Hae In) rushes into an exclusive women's dorm covered in blood, Young Ro (Jisoo) hides him even if it means risking her own life. The much-awaited drama is set for a December 18 release in Korea. According to Soompi, Jang Seung Jo will play a character named Lee Kang Moo. He's the "relentless head of the National Security Planning Agency's investigation team." 
Bonus: 1% Friendship (2018) 
Where to watch it: YouTube 
Yup, Seung Jo appeared in the reality show! If you read the YouTube comments, Seung Jo is super sweet and has a bubbly personality. Watch him below: 
And if you're wondering if we'll ever see Seung Jo and his fam in variety shows, he shared in 2018: "I was offered a chance to appear on a family variety show, but I don't want to reveal my private life. I'm going to quietly do my work and quietly raise my child. My wife agrees with me, and in fact she was even more against the idea of doing a show like that." 
***
We're officially on Viber! Be part of our growing community and subscribe to Cosmopolitan Philippines now!
K-UPDATES