One of the photographs featured in "Preserve Celebrations: Falling For Family." (Via Preserve.us)
Blake couldn't have been sneakier in announcing her pregnancy, but we gotta admit—it was a fantastic move to get readers to visit her new lifestyle website!
The actress shared the baby news through a photo on Preserve.us, in a post entitled "Preserve Celebrations: Falling For Family." Shot by Blake's brother, Eric Lively, the image shows the blooming mom-to-be basking in the sun while cradling her baby bump. The photo was part of a baby shower-themed editorial that paid tribute to expectant mothers.
To quote, "Family is the single word our founder, Blake built this home on.
"With family on our mind, we looked to the origin of it all—to the women in our lives who are right there, at that special moment; at the creation of family.
"Preserve at its core is about family."
The editorial includes snapshots of expectant moms eating, laughing, and celebrating, with the last image showing the Gossip Girl actress with her pregnant belly.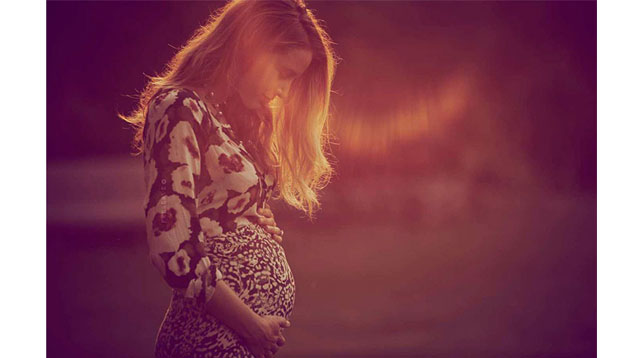 Continue reading below ↓
Recommended Videos
Photo by Eric Lively/Preserve.us (BANG Showbiz)
Blake and Ryan co-starred in Green Lantern and officially became a couple in late 2011, after The Proposal actor's divorce with Scarlett Johansson was finalized. They got married a year later (September 9, 2012) in an intimate ceremony in South Carolina.
The two have been quite open about their plans to have kids of their own, so this baby news has been much anticipated. Ryan previously told Details magazine, "We both come from big families—my parents did four, Blake's did five. A lot of people say it's crazy, but we'll only know when we're there, you know? We'll walk through that fire pretty happily, I think."
In Marie Claire's September 2014 issue, Blake shared that Ryan is her best friend and they've "never gone a week without seeing each other." She added, "If I could spit out a litter of kids, I would."
We don't know about you, but we cannot wait to check out Blake's maternity style and Ryan's DILF pics! Congrats to the happy parents-to-be! 
RELATED:
Blake Lively: "I Want Beyonce to Have My Kids"
Blake Lively Says She Wants To Work With This Guy In A Movie