Chinese actress Liu Yifei, who plays Mulan in the upcoming live-action remake of the classic Disney film, sparked outrage when she supported the Hong Kong Police Force on social media. On the Chinese social media platform Weibo, she posted an image with Chinese characters that read, "I support the Hong Kong police. You may beat me up now." Liu Yifei, a naturalized US citizen, then wrote in English, "What a shame for Hong Kong."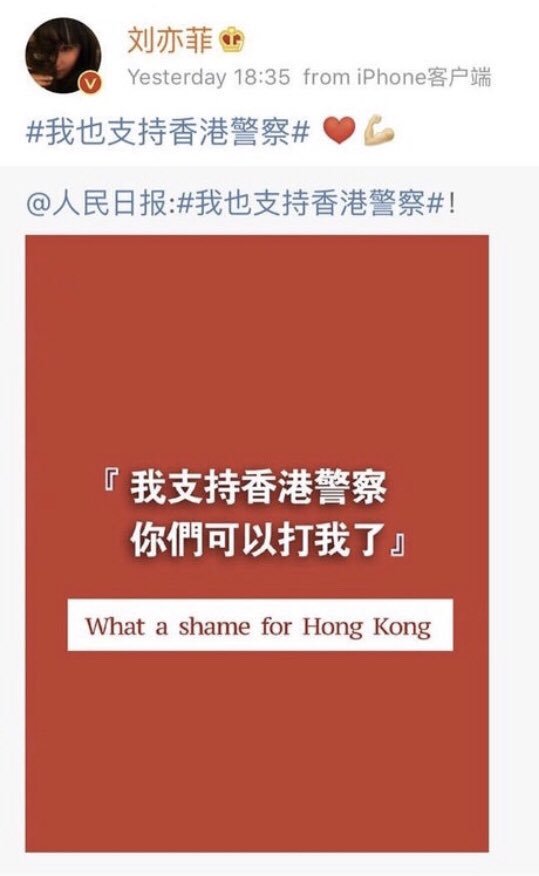 Twitter users couldn't help speaking up about it.
Continue reading below ↓
Recommended Videos
The Hong Kong Police Force has been accused of brutality for throwing tear gas at protesters and beating them with batons. 
Since March 2019, Hong Kong has been facing unrest and turmoil due to anti-China and pro-democracy protests. It began with the Hong Kong government proposing an extradition bill, which, if implemented, would let local authorities deliver and detain a person accused or convicted of a crime to another jurisdiction, like mainland China. The person would then be subjected to the other jurisdiction's law enforcement. For Hong Kong residents, this meant any of them could be sent to China and answer to China's "notoriously opaque" criminal justice system.
While the extradition bill was suspended in June, protesters are clamoring for its complete and formal withdrawal, the chief of state's resignation, and other democratic reforms.
Hong Kong has been an administrative region of China since 1997. China is supposed to give Hong Kong autonomy and let it preserve its economic and social systems for the next 50 years, following '97. But according to BBC.com, Beijing can make changes.