Yes, the Screen Actors Guild Awards were two days ago, but the internet has lost all chill when it comes to Brad Pitt and Jennifer Aniston because of those photos. You know, the ones of Brad resting his hand on Jen's wrist and forcing the world to reconsider the merits of getting back together with an ex.
The pics came sometime after Brad won his award for Once Upon a Time in Hollywood and while Jennifer was backstage before winning her award for The Morning Show, and body-language expert Blanca Cobb is here to reveal if there's any hope these two will ever get back together.
FIRST, LET'S TAKE A LOOK AT HOW JEN SLIPPED HER INDEX FINGER UNDER BRAD'S LAPEL...
I mean, this is one of those no-explanation-necessary moments, but let's indulge. Cobb pointed out to Cosmopolitan that "you touch somebody that you feel a connection to" and "you normally don't touch something if you don't like it." True that.
ADVERTISMENT - CONTINUE READING BELOW ↓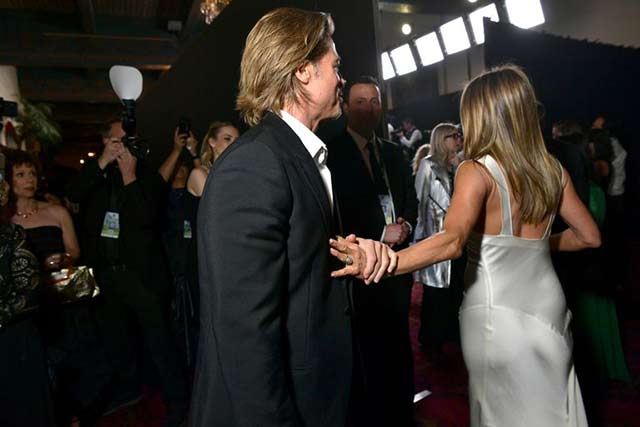 AND HOW BRAD HAD HIS HAND WRAPPED AROUND HER WRIST...
Some might think this looks possessive or controlling, but Cobb implored everyone to notice how his fingers aren't even wrapped around Jen's wrist and how it's a very loose grip. So don't ruin this for the Brad-Jen shippers out there, mmkay?!
ADVERTISMENT - CONTINUE READING BELOW ↓
Recommended Videos
To Cobb, this gesture could mean it's a "celebratory" and "proud moment" or, even more excitingly, "maybe he doesn't want this moment to end...maybe there's another thing he might want to say to her."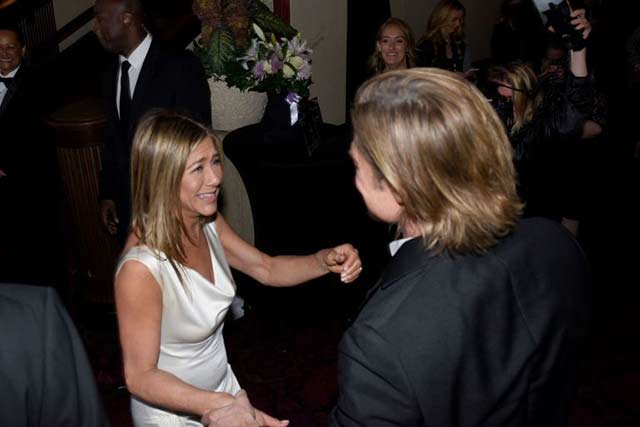 Blanca did not hint that Brad wanted to profess his undying love for Jen at that moment, but I'm already writing the fan fic in my mind and I'm not even sorry about it.
ADVERTISMENT - CONTINUE READING BELOW ↓
LOOK AT THEIR SMILES!
Whether we're talking about everyday life or the SAGs, Brad and Jen's smiles are everything. Look at how their eyes crinkle when they see each other and just try to tell Blanca that it's not a genuine grin and the definition of "true happiness," as she put it.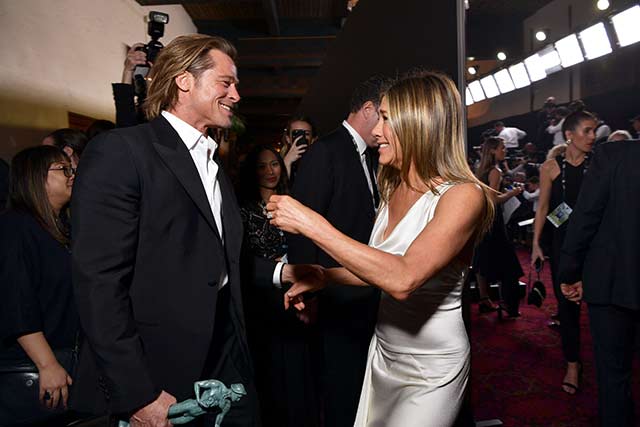 ADVERTISMENT - CONTINUE READING BELOW ↓
Cobb theorized all the things that could be running through their minds, like how they may have once talked about the possibility of them both winning in the same year. "She's happy she won, he's happy he won, but I really think that they're happy for each other. This is like an 'oh my gosh' moment."
BUT WHAT'S WITH THE DISTANCE?
As exciting as these pictures may be, we must address how Brad and Jen are leaving so much room for Jesus, as some school dance chaperones would say. If you recall Brad's Golden Globes speech in which he mentioned the public's tendency to romantically link him to every woman he's seen with—including his mother—you'd understand why he and Jen didn't fully embrace each other.
"He's very sensitive about being with other women," Cobb said. She went on to suggest, "Maybe he's holding her wrist for affection, for friendliness, but also to keep a little bit of physical distance between them because he doesn't want anyone to misread what is happening." And the same goes for Jennifer and how she held his shoulders without fully resting her palms on him.
ADVERTISMENT - CONTINUE READING BELOW ↓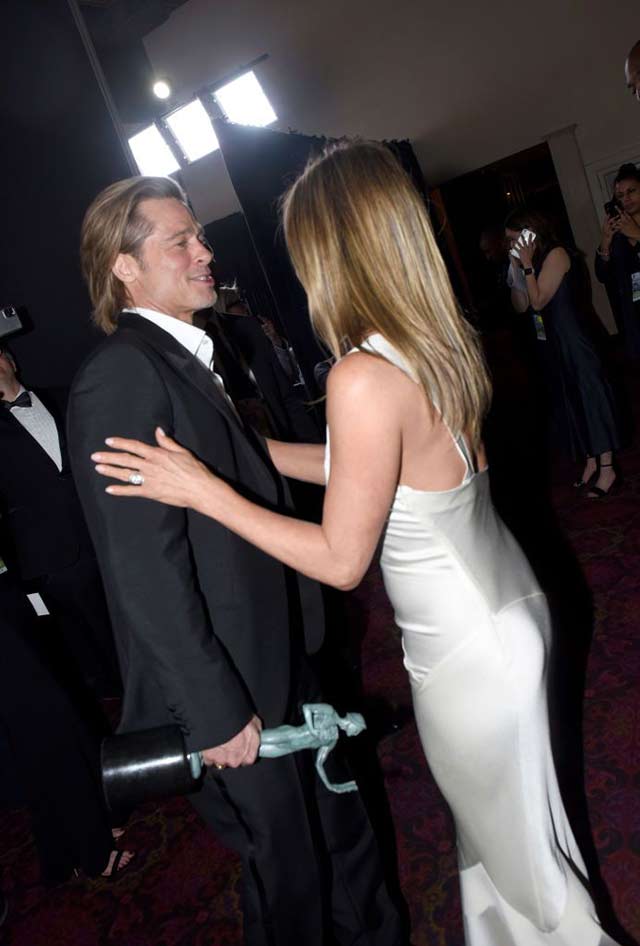 One last bit of hope and tiny dose of reality courtesy of Cobb: "A touch doesn't automatically mean it's a romantic gesture. However, Jennifer and Brad's touches lingered just a bit, which implies that there's a connection. Love can reignite over time. So time will tell what the future holds for Jennifer and Brad."
ADVERTISMENT - CONTINUE READING BELOW ↓
Wow, my Do Not Disturb is officially on because this fan fic will not write itself!
***
This article originally appeared on Cosmopolitan.com. Minor edits have been made by the Cosmo.ph editors.
EXPLORE COSMO