You know, I was starting to think that my 2019 was going to end on a low note before the new decade, but luckily my pessimistic self is wrong today! Suddenly, I am full of the holiday spirit because former Hollywood exes—single Brad Pitt and single Jennifer Aniston—are officially hanging out again. This leaves me no choice but to believe I have been transported back to the early 2000s somehow!
According to Entertainment Tonight, Jennifer hosted a holiday party for the AGES this weekend, and she was kind enough to extend an invitation to Brad. "Brad Pitt arrived at Jennifer Aniston's holiday party a little after 7 p.m. on Saturday," a very time-conscious source told the outlet. "He was among the first to arrive and the second to last guest to leave around 11 p.m." Now IDK about you, but I never arrive to anyone's party right on time, so the fact that Brad showed up early and stayed extra late says a lot IMO!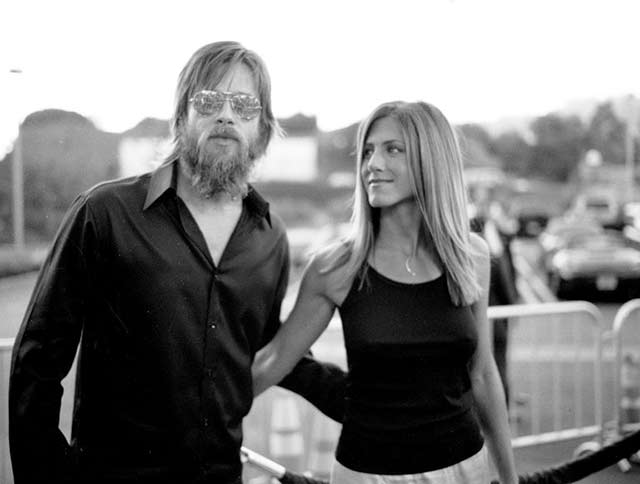 Continue reading below ↓
Recommended Videos
The source also said that the party was very intimate and only a select few people made Jennifer's exclusive list. "It was very festive. It was a pretty low-key, casual affair," the source added. "Just a gathering of close friends to celebrate the holidays." Do you hear that? "Close friends???" Please give me a sec—I am spiraling.
Pretty much every time I hear that Brad and Jen are doing friend things together, it hits deep because I used to ship them so hard. But as it turns out, they've been close friends for ages now, meaning that Jen's holiday party invitation didn't just come out of the blue.
"Jen and Brad have remained friends and have spoken with each other quite a few times since they both became single," a separate source told Entertainment Tonight back in February. "They are friends and have supported each other through some tough times. They've come so far since their marriage and plan to stay friends for life. There are truly no hard feelings between them...They both realize that anytime they cross paths people talk about a reunion." Welp, at least they're aware of their impact!
Now if you'll excuse me, I'll be casually praying to all of the New Years' gods for the chance that Brad and Jen get back together in the decade of our Lord, 2020. Be honest, we'd all love to see it!
***
This article originally appeared on Cosmopolitan.com. Minor edits have been made by the Cosmo.ph editors.