The highly anticipated second season of Bridgerton came out in March and everyone and their mothers collectively took a sigh of relief as this was pretty much a signal for brighter days to come. If you're like me, you definitely binged the entire season in one weekend and did little to no adulting and regretted absolutely none of it. Once you finally came up for air though, you were, again like me, probs wondering, 'Hmm, when does season 3 come out?' Well, we've got the answers right here.
Is there going to be a Bridgerton season 3?
Yes, there will be a season 3 to this ~*brilliant*~ piece of Regency-era-inspired art. Netflix made the announcement back in April 2021 that it had greenlit two more seasons of the series, so that would be seasons 3 and 4. So expect a lot more romance and hot goss coming our way. (And maybe this time we can, like, do our budgets or something semi-productive while watching these seasons.)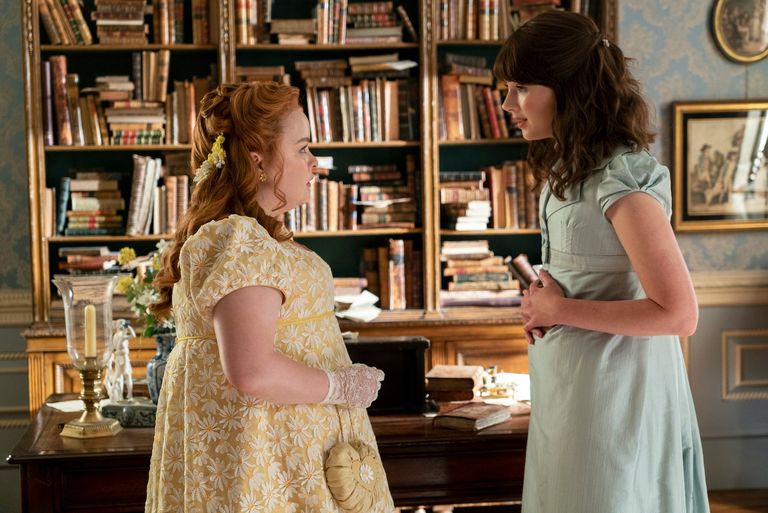 What's it going to be about?
It's official: Season 3 is going to be about *pause for dramatic effect* Colin Bridgerton and Penelope Featherington's love story! Oh yeah, that means the Netflix series is now going to be diverging from the original book series. Exciting!
"Like Lady Whistledown, I have been keeping a secret for quite some time and I can confirm to you all that season 3 is Colin and Penelope's love story," said Nicola Coughlan per Deadline during a Netflix panel. "I have kept that secret since two weeks into season 2. This is the first time I am saying it here."
Continue reading below ↓
Recommended Videos
Up until now, the show has been following the original Julia Quinn books in terms of what storylines they follow. If Shondaland continued down this path instead, then the next love story viewers would be following would be that of gorgeous playboy Benedict Bridgerton's.
This shift from the book order isn't necessarily surprising though. In an interview with Entertainment Tonight, Bridgerton executive producers Shonda Rhimes and Chris Van Dusen hinted that the series might start deviating from the books more in the next season.
"There [are] eight Bridgerton siblings, so we're planning on following each one of the siblings' romantic stories," Rhimes confirmed. "We're not necessarily going in order but we are going to be seeing each of the siblings and their stories."
Van Dusen also confirmed that each Bridgerton sib is going to get a turn in the spotlight—assuming audiences (and Netflix, ofc) keep coming back for more, at least.
"I can't mention or talk about anything after this season, [but] it was always my goal to focus on a different Bridgerton sibling every season and it's no secret there are eight Bridgerton siblings," Van Dusen explained. "In success, we will be on as long as Netflix will have us, but I would love to focus on every single one of those eight Bridgerton siblings and tell romance stories for all of them."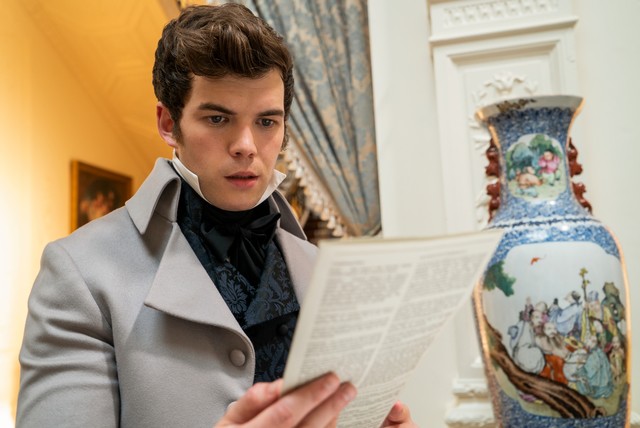 Who's going to be back on the cast list?
Obviously, if we're focusing on Penelope and Colin's story, those actors, Nicola Coughlan and Luke Newton are bound to return. Colin's siblings are also likely going to make appearances, especially the younger ones who have yet to find their matches. Like Phoebe Dynevor's Daphne, Jonathan Bailey's Anthony will likely take a step back and not make as many appearances as he did during his season.
Of course, we're always hoping, wishing, praying, manifesting—all the things!—that Regé-Jean Page reprises his role as the dashing Duke of Hastings. But alas, that is unlikely. Nothing is set in stone just yet though, so a girl can still dream. BRB, creating an altar with my crystals to will this into existence while also figuring out how to retroactively be cast as this spoon:
But Simone Ashley is confirmed to also be returning.
There was some speculation that because Regé-Jean Page played the love interest in season 1 and then dipped that Simone Ashley would do the same and not reprise her role as Kate Sharma for the third season. But Simone shared with Deadline that she will be back and that Kate and Anthony are "just getting started." OoOoOoOo!
"In season 2, there was a lot of push and pull between Kate and Anthony, there were complications with the family, and then they find each other toward the end," she said. "I think everything is just starting. I'd like to see Kate just let go a bit more and play more in season 3 and kind of swim in that circle of love together. I think they both deserve it."
Cute!!!
When is season 3 coming out?
Filming for the third season won't begin for a few months, so don't expect anything sooner than 2023. And if we're going by the same schedule as the first and second seasons, then it should be sometime in the winter.
We'll keep you posted as soon as we hear anything else! In the meantime, brb, we're gonna rewatch the first two seasons! *wink*
Related Story
***
This article originally appeared on Cosmopolitan.com. Minor edits have been made by the Cosmo.ph editors.