Queen Elizabeth II is the longest-reigning monarch in British history, and she has seen. some. things. Like, so many things that The Crown had to add on an entire extra season just to cover all the drama. And while we're all pretty familiar with Her Majesty's direct heirs to the British throne (hi, Prince Charles, Prince William, and Prince George), the royal line of succession stretches back at least 28 people deep. And yes, Princess Charlotte is high up on the list thanks to a shake-up in 2013 that got rid of male primogeniture—a rule that stated male heirs took precedence over their female siblings, even if they were not born first. But keep in mind that any royal children born before 2013 are fresh out of luck (like Princess Anne and her family), so the line of succession can be a littttttle confusing. Which is where we come in! Here are all the family members following in Queen Elizabeth's well-heeled shoes, just in case you're wondering what kind of chance your personal faves (hi, Prince Harry and Prince Louis) have at being King/Queen one day.
ADVERTISMENT - CONTINUE READING BELOW ↓
1. Prince Charles, Prince Of Wales
Charles is Queen Elizabeth's firstborn son and thus literally born to be king. Prince Charles was previously married to the late Princess Diana and is now married to Camilla Parker Bowles. When Prince Charles inherits the throne following his mother's passing, he'll be the oldest person crowned in the United Kingdom's history.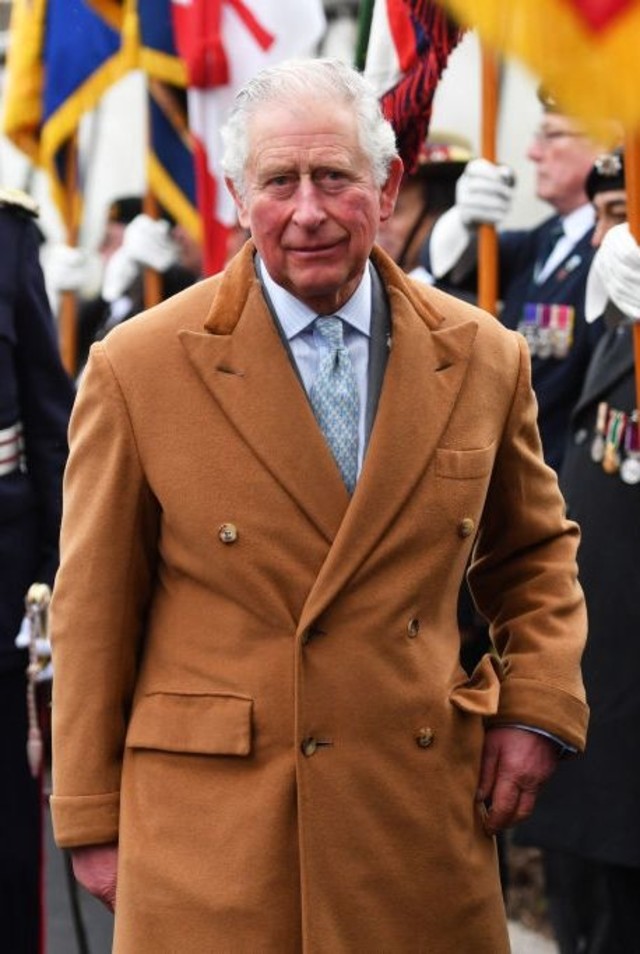 ADVERTISMENT - CONTINUE READING BELOW ↓
Recommended Videos
2. Prince William, Duke Of Cambridge
Like his father before him, Prince William was born to be king. He's the first son of Prince Charles and Princess Diana and has served as a helicopter pilot in the Royal Air Force and as a pilot for the East Anglian Air Ambulance—a job he left in 2017 so he could take on more royal duties. He's almost sure to become king in his lifetime (there's even some speculation that Prince Charles will abdicate the throne in order to pass down the crown to a younger, more popular royal), and duh, he's married to Kate Middleton.
3. Prince George Of Cambridge 
Like his father and grandfather before him, Prince George was (yep!) also born to be king. When he takes the throne, he'll be King George VII—and will hopefully continue his tradition of meeting important politicians and world leaders in his bathrobe like he did when he met former President Barack Obama. Because you do you, George!
ADVERTISMENT - CONTINUE READING BELOW ↓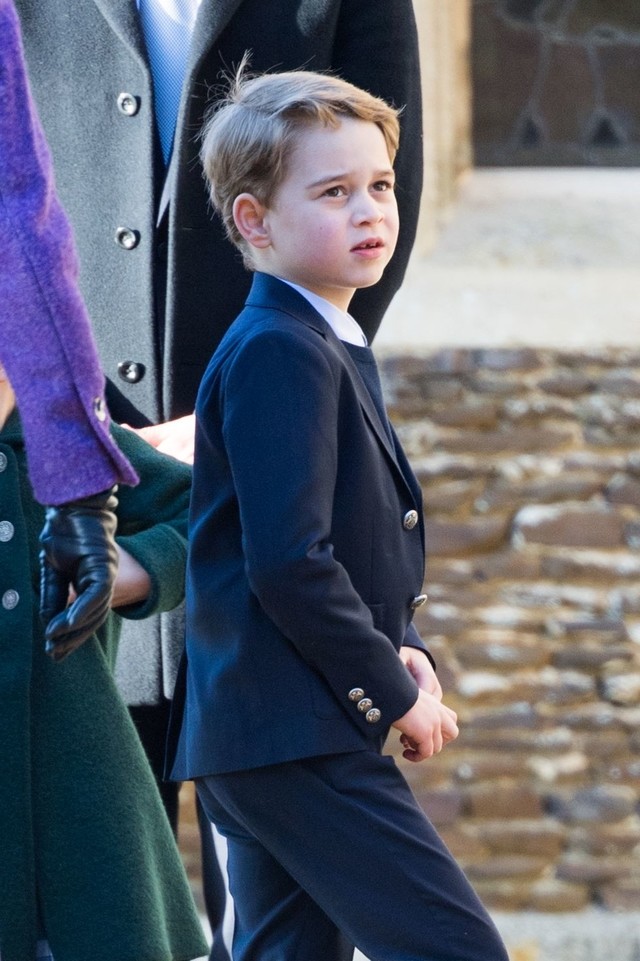 4. Princess Charlotte Of Cambridge 
Princess Charlotte of Cambridge is the first and youngest female in line for the throne—and she retains the fourth spot over her younger brother Louis thanks to 2013's Succession to the Crown Act. But still, it's highly unlikely anyone who's alive today will see another queen on the throne. As the "spare to the heir," Charlotte will enjoy a life similar to Prince William's younger brother, Prince Harry, who had all the perks of royalty but wasn't as constrained before he and Meghan Markle chose to step back from royal duties. Charlotte has the best of both worlds! In conclusion, watch her play with balloons.
ADVERTISMENT - CONTINUE READING BELOW ↓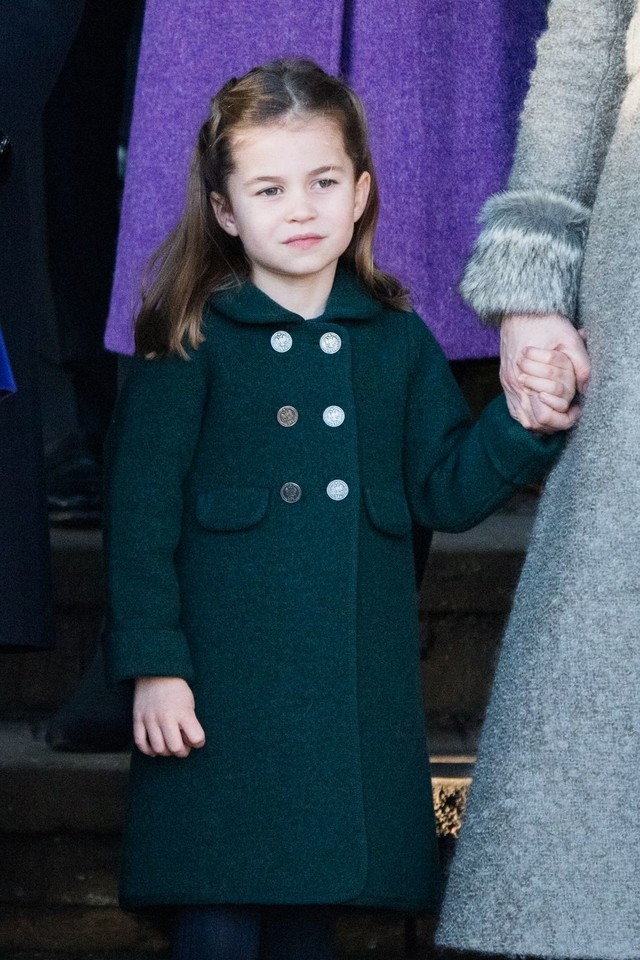 5. Prince Louis Of Cambridge 
It's baby Louis! Just two years old and already in a great spot on the line of succession. That's the royal life for you.
6. Prince Harry, Duke Of Sussex
Unlike William, Prince Harry wasn't exactly born to be king—but he seems perfectly cool with that. To the point where he and his wife, Meghan Markle, decided to step back from senior royal duties and move to America. But FYI, despite stepping back, Harry still remains sixth in line to the throne.
ADVERTISMENT - CONTINUE READING BELOW ↓
7. Master Archie Harrison 
BB Archie Harrison controversially doesn't have an official royal title despite his parents' wishes and instead goes by "master," which means "a youth or boy too young to be called mister—used as a title," according to Merriam-Webster.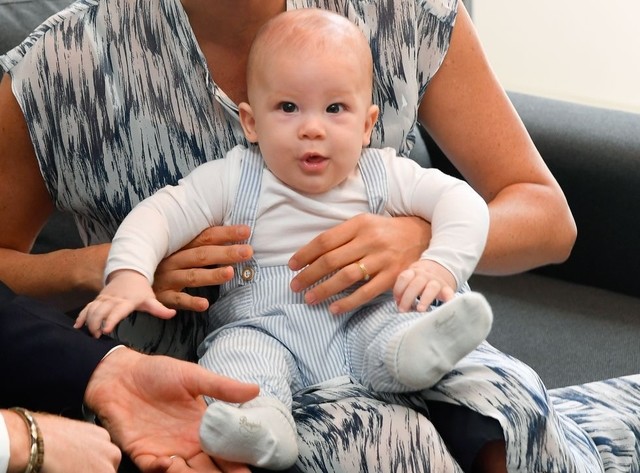 8. Baby Girl Sussex
During a bombshell interview with Oprah, Meghan Markle and Prince Harry revealed that Meghan is pregnant with a baby girl! Once she arrives in summer 2021, Baby Sussex will be eighth in line to the British throne. Not bad for a literal newborn!
ADVERTISMENT - CONTINUE READING BELOW ↓
9. Prince Andrew, Duke Of York 
Of the queen's children, Prince Andrew is the one who's been caught up in the most controversies over time—seriously, that section of his Wikipedia page is long (and messy). There have been allegations of corruption, sexual misconduct, arms sales, and cash for access scandals. But despite all that and being relieved of his royal duties, he still seems to be in line for the throne.
10. Princess Beatrice Of York 
Following the birth of Prince William and Kate Middleton's children, Prince Andrew's daughter Beatrice and her younger sister Eugenie have been bumped so sufficiently down the list that they can't use the official police bodyguards anymore (and their father Andrew was reportedly a bit annoyed about that).
11. Princess Eugenie Of York 
In 2018, Princess Eugenie married Jack Brooksbank at St. George's Chapel in Windsor Castle, the same spot where Prince Harry and Meghan Markle got hitched. They recently welcomed their first child together, who comes right after Eugenie herself in the line of succession.
ADVERTISMENT - CONTINUE READING BELOW ↓
12. August Philip Hawke Brooksbank
Eugenie and Jack's son is officially 12th in line to the British throne after they welcomed him in early 2021.
13. Prince Edward, Earl Of Wessex
Prince Edward is Queen Elizabeth's youngest son. He's married to Sophie, the Countess of Wessex, who is apparently one of the queen's favorite family members. Prince Edward and Sophie have two children together—and they're next up in line, so get ready!
14. James, Viscount Severn 
Viscount James is technically a prince, but his parents wanted to give him a (slightly) less ostentatious title "to avoid some of the burdens of royal titles." Still, though, he has a lake in Canada named after him and that's kind of a big deal?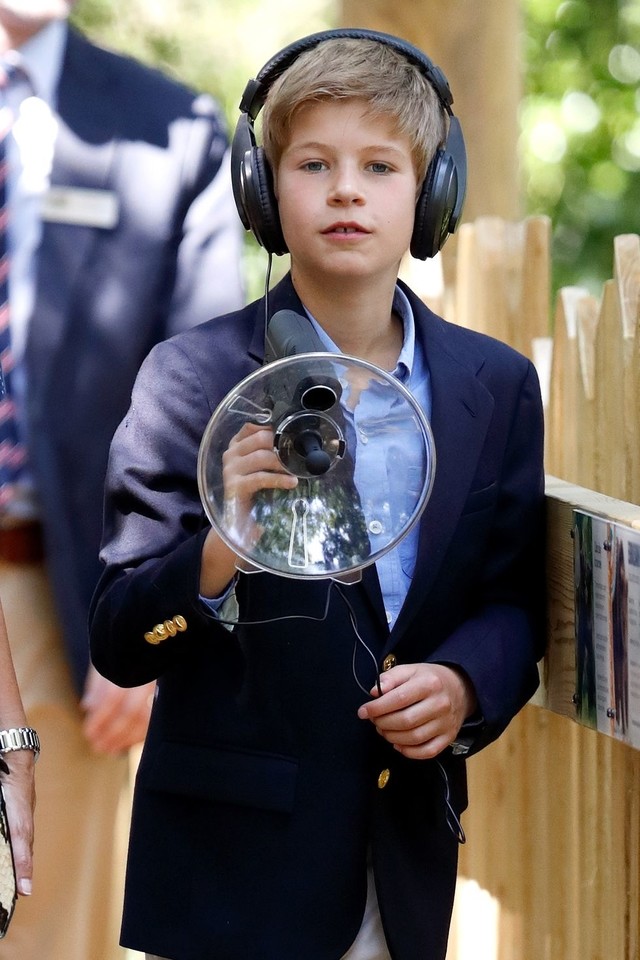 ADVERTISMENT - CONTINUE READING BELOW ↓
15. Lady Louise Windsor 
Lady Louise Windsor is James's sister—and, yes, she's below her brother on the line of succession despite being older than him because the 2013 Succession of the Crown Act does not apply to those born before it was enacted. Womp, womp. Like the Queen and her late sister, Princess Margaret, Lady Louise is a talented carriage driver—she even competed in the British Driving Society Championship for Young Drivers in 2017.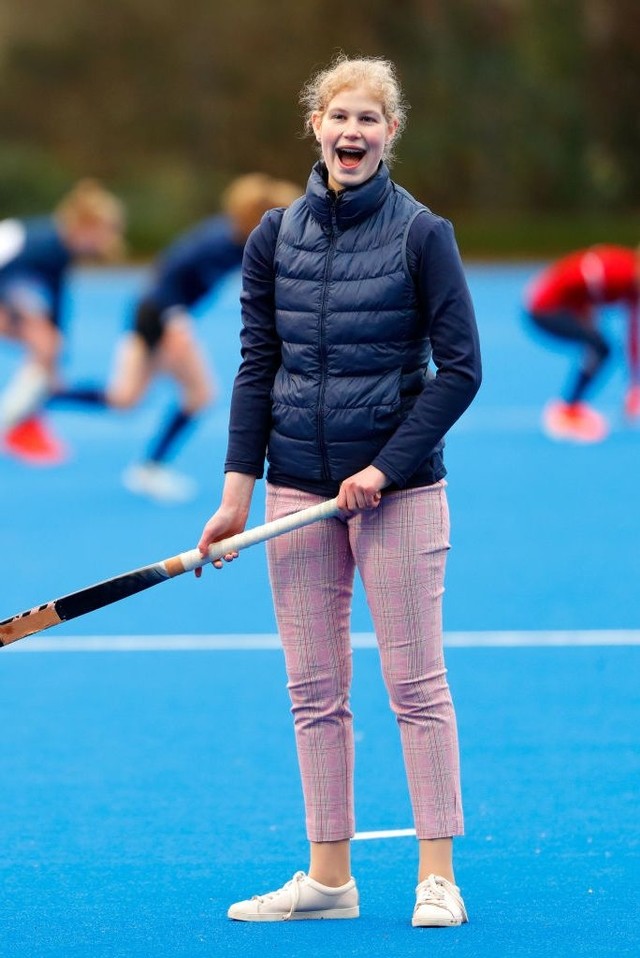 ADVERTISMENT - CONTINUE READING BELOW ↓
16. Princess Anne 
Princess Anne is Queen Elizabeth's second-born child, but she's below her two younger brothers in the line of succession because, as with Lady Louise above her, the 2013 Succession of the Crown Act doesn't apply retroactively. Lame. Princess Anne competed at the 1976 Montreal Olympic Games, riding her mother's horse, and she is a member of the International Olympic Committee. Oh, and she went viral for shrugging at President Trump.
17. Peter Phillips
Peter Phillips is Princess Anne's son and Queen Elizabeth's oldest grandchild. He and his younger sister Zara were not given royal titles by their parents in an attempt to allow them to lead more "normal" lives. Lol.
18. Savannah Phillips
Savannah is Peter and his ex-wife Autumn's daughter. Because Princess Anne chose not to give Peter a title, Savannah doesn't have one either—but she does have an ice cream cone, so it's not all bad.
ADVERTISMENT - CONTINUE READING BELOW ↓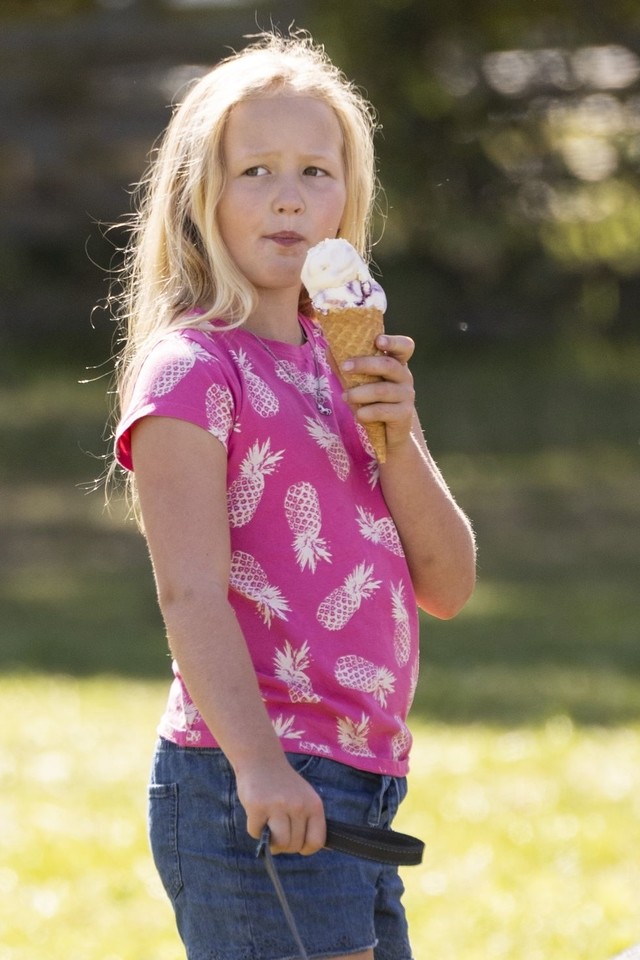 19. Isla Phillips
Isla Phillips is Savannah's younger sister, and also a fan of dairy desserts.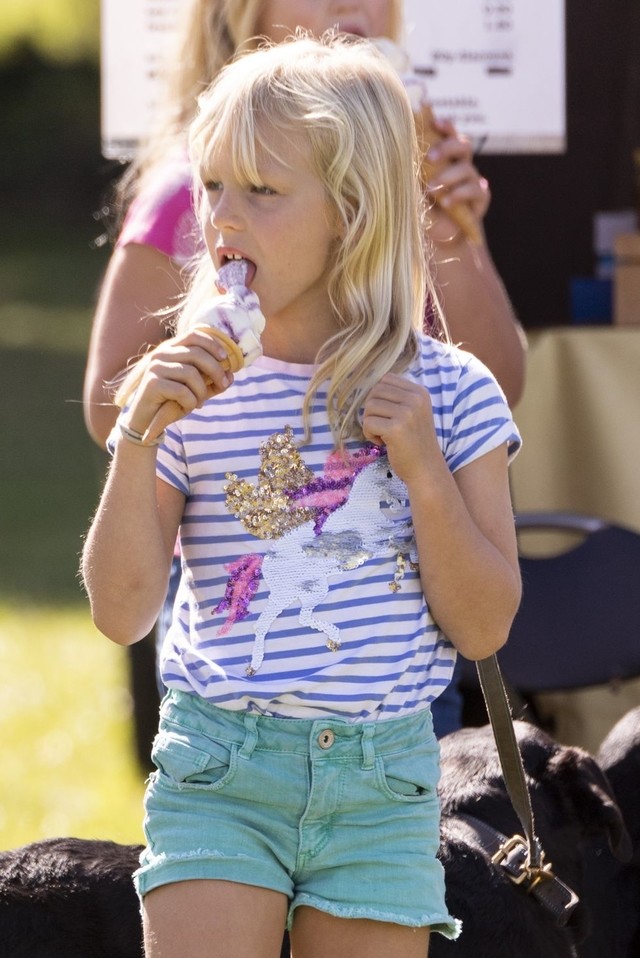 ADVERTISMENT - CONTINUE READING BELOW ↓
20. Zara Tindall 
Zara Tindall is Princess Anne's second child and, like her brother, doesn't have an official royal title. A talented horse rider since childhood, Zara won an Olympic silver medal in equestrian at the 2012 Games in London—and her mom presented her with the medal.
21. Mia Tindall 
Mia is Zara's first child with her husband, former England rugby player Mike Tindall. Her mom has described her as a "quite laid-back" kid. (But she's also a total scene-stealer. Case in point: that moment she had with her great-grandmother's handbag during a royal portrait.)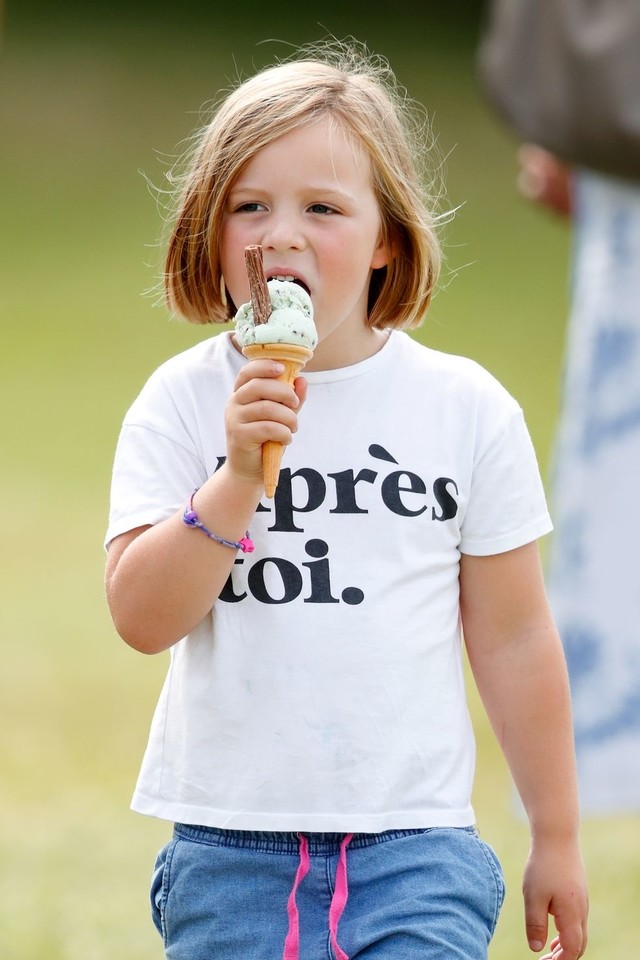 ADVERTISMENT - CONTINUE READING BELOW ↓
22. Lena Elizabeth Tindall 
2018 was an eventful year for the royal family because Zara also gave birth to her daughter Lena Elizabeth, who was named after the queen, on June 19. Baby Louis and Lena Elizabeth are definitely playdate buddies.
23. David Armstrong-Jones, Earl Of Snowdon 
David Armstrong-Jones is the first royal in line for the throne who isn't a descendant of Queen Elizabeth II. He's the son of her younger sister, Princess Margaret, and he inherited the title Earl of Snowdon after his father. Armstrong-Jones is a furniture designer and the former chair of auction house Christie's. In 2007, he was caught up in a "sex and drugs" blackmail plot after two men threatened to release allegedly compromising videos to the media unless he paid them off. British police arrested the men and reportedly determined that Armstrong-Jones was not even involved in the footage in question.
24. Charles Armstrong-Jones, Viscount Linley 
Charles is David's firstborn. When he was 12 years old, the queen appointed him to be her Page of Honor—a ceremonial role that sometimes involves holding the train on the queen's long dress.
ADVERTISMENT - CONTINUE READING BELOW ↓
25. Lady Margarita Armstrong-Jones 
Lady Margarita (pictured left, with her mother Serena) is David's second child and Princess Margaret's only granddaughter. Lady Margarita was one of Kate Middleton's bridesmaids and sat next to Kate's sister, Pippa Middleton, in the carriage after the wedding ceremony.
26. Lady Sarah Chatto 
Lady Sarah is Princess Margaret's daughter and David Armstrong-Jones's younger sister. An accomplished painter herself, she is married to the artist Daniel Chatto and they have two sons, who are coming right up. Sarah is said to be close with her cousin Prince Charles and was a bridesmaid at his and Princess Diana's wedding. She's also Prince Harry and Lady Louise Spencer's godmother.
27. Samuel Chatto 
Samuel is Lady Sarah's firstborn and happens to have a very inspirational Instagram account—he calls his followers "lovers." Cool!
28. Arthur Chatto 
Arthur is Lady Sarah's youngest child and the last heir related to the queen's sister but henceforth should be known as the #ThirstTrap royal because he's shared some shirtless selfies on social. Go follow him on Instagram and never look back.
ADVERTISMENT - CONTINUE READING BELOW ↓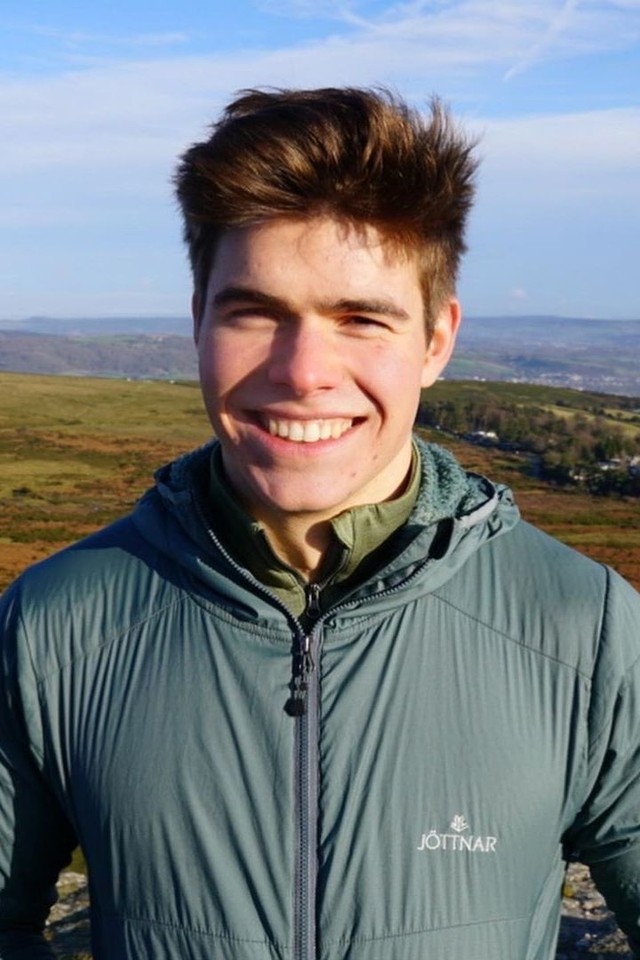 ***
This article originally appeared on Cosmopolitan.com. Minor edits have been made by the Cosmo.ph editors.
EXPLORE COSMO