I've been on Bumble on and off for the past few years or so. I use the app in between relationships and if there's one thing that I've noticed, it's that meeting people on Bumble can be a hit or miss. I've met really good people on the app, but I've also encountered matches who have ghosted me after the first date. I used to believe that there is a one-to-one (1:1) ratio of good and not-so-good matches on the app. However, I'm not sure if that's still the case.
See, I've been single for over a year and a half. My last relationship ended in July of last year, and since then, I haven't gone on any *real* dates or interacted with anyone remotely interesting enough to be a fling. Needless to say, my dating game hasn't been that strong lately.
Now, I'm not sure who's to blame for my single-ness. All of this has made me contemplate about my current dating atmosphere: Have the people on Bumble become uninteresting? Am I not looking hard enough? Or is Bumble not for me? Is it time to find new ways to meet my next SO?
ADVERTISMENT - CONTINUE READING BELOW ↓
I mean, check out this convo that I had with one of my recent matches….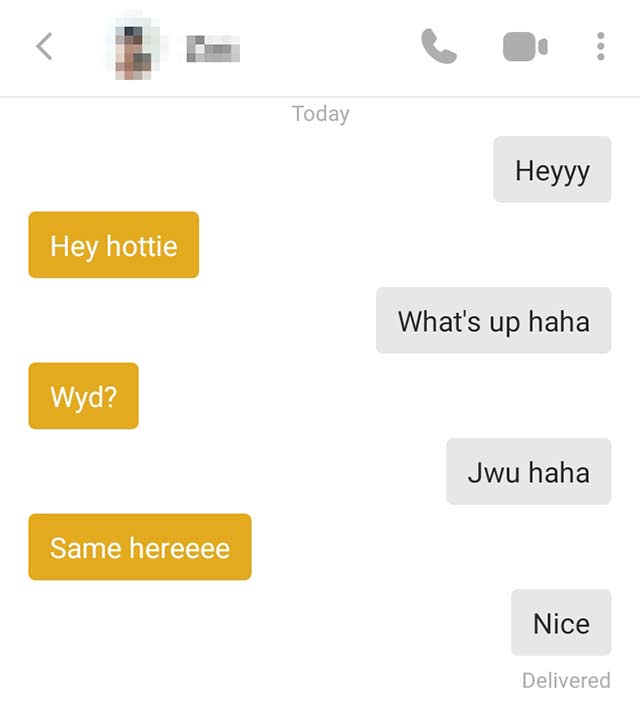 Doesn't this just make you want to quit Bumble?
Which brings us to the experiment at hand—I've decided to up my Bumble game by conversing with my matches using quotes from members of the Barretto family. I mean, the Barrettos' lives are faaaaar more interesting than mine—with all the drama that makes their lives seem like a real-life teleserye—so maybe this challenge will attract matches that are more interesting than the ones that I've talked to recently. It goes without saying that there is a *need* for me to do this, because if I don't, I might just completely give up on online dating. Once I do, then how am I going to meet new people, right? If I don't do this, I might wind up single for the rest of my life. Okay, that's a bit of an exaggeration, but you get my point.
Curious to see how this all panned out? Continue reading to find out what happened when I talked to my Bumble matches using ~*iconic Barretto quotes*~:
Before anything else, I knew that I had to change my bio. Years of being on dating apps have taught me that your bio can make or break the interactions you have on the app.
Of course, what better quote to use than Marjorie Barretto's iconic line about her karupokan when it comes to love: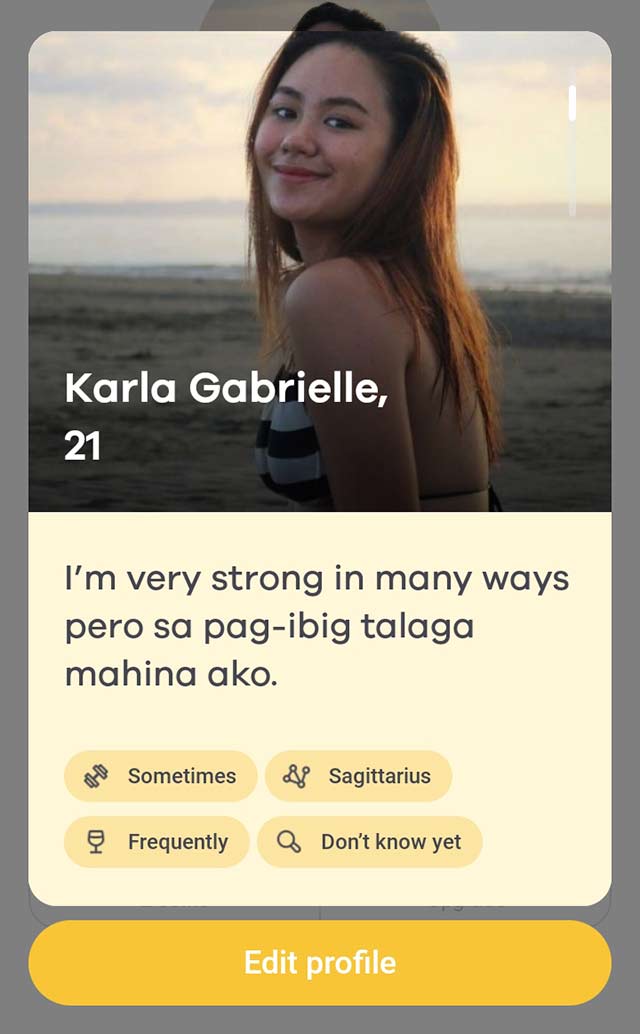 ADVERTISMENT - CONTINUE READING BELOW ↓
I can relate to this quote on ~*a spiritual level*~ and I know you also do. Whether you want to admit it or not, we're all fools when it comes to love—even one of my matches said so.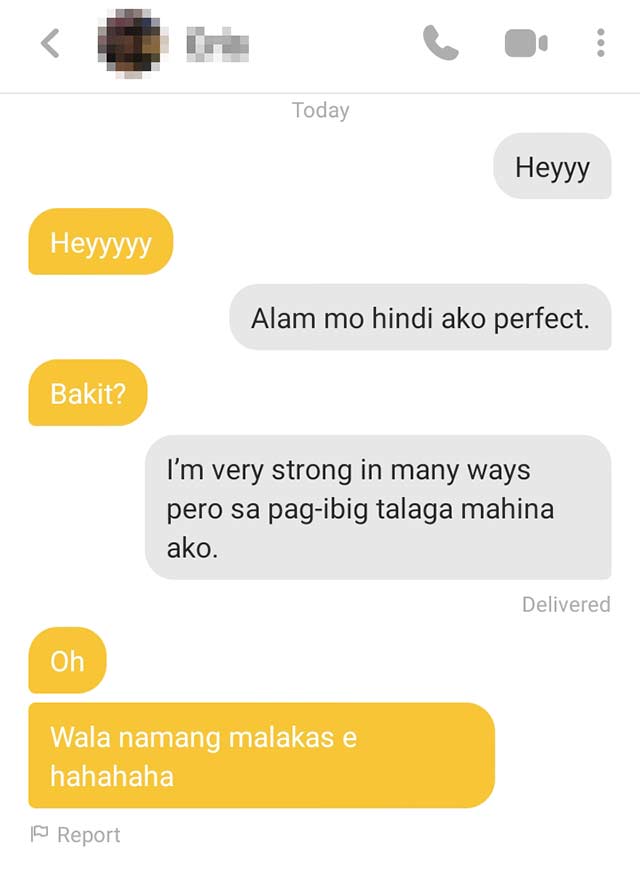 "Wala namang malakas e." Same, kuya, same.
ADVERTISMENT - CONTINUE READING BELOW ↓
When I started this experiment, I was scared that I would get unmatched by everyone. But to my surprise, most of them actually replied. Huge props to this guy who still replied even though he had no idea what to say: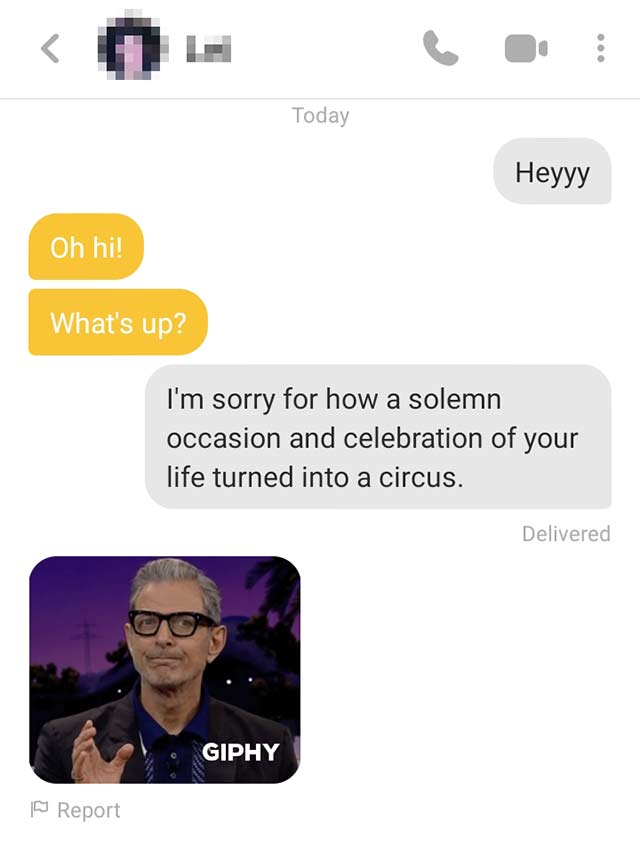 Speechless si kuya so he simply sent a GIF to express his confusion. No problem, pictures are worth a thousand words naman.
ADVERTISMENT - CONTINUE READING BELOW ↓
To make things more fun, I didn't limit this experiment to my new matches. The first guy that I messaged was actually a guy that I've talked to before. We stopped communicating for some unknown reason and I thought that the best way to revive our conversation was by NOT telling him why I was on this dating app.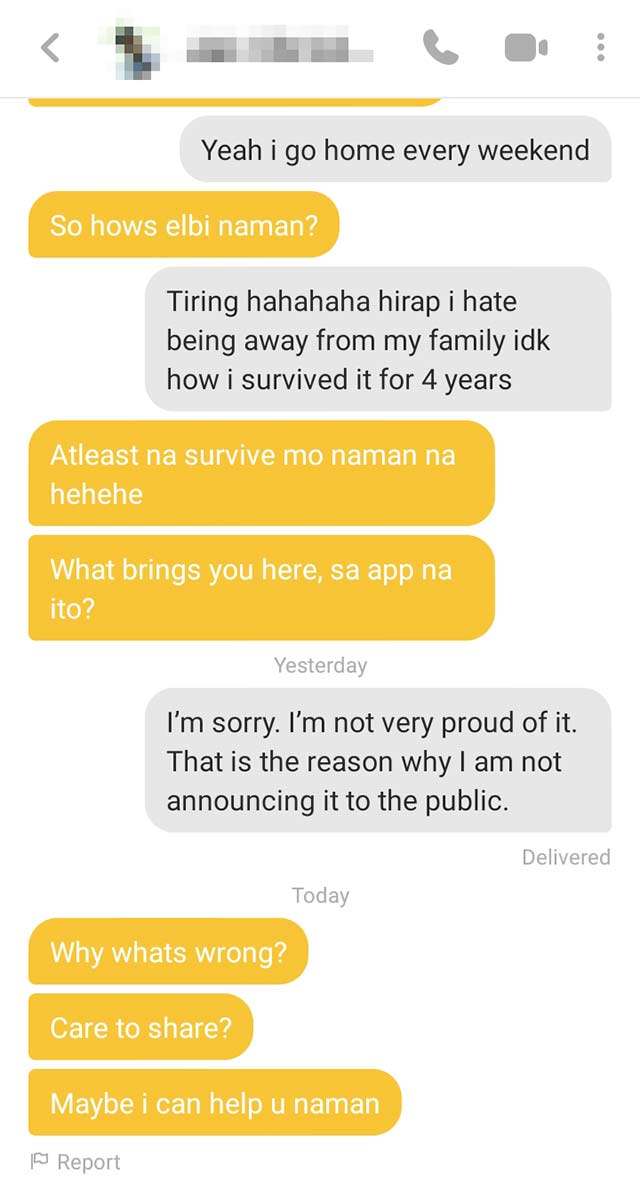 ADVERTISMENT - CONTINUE READING BELOW ↓
P.S. To my Bumble match, if you're reading this, I just want to say sorry for causing you to worry and thank you for caring enough to ask if I was okay.
And speaking of unnecessary worry, this quote from Claudia Barretto led this girl to an ~existential crisis ~: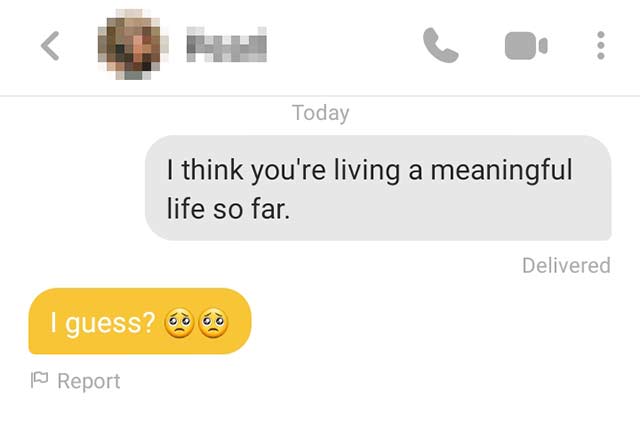 ADVERTISMENT - CONTINUE READING BELOW ↓
I used the same quote with a different person and it led to a completely different conversation: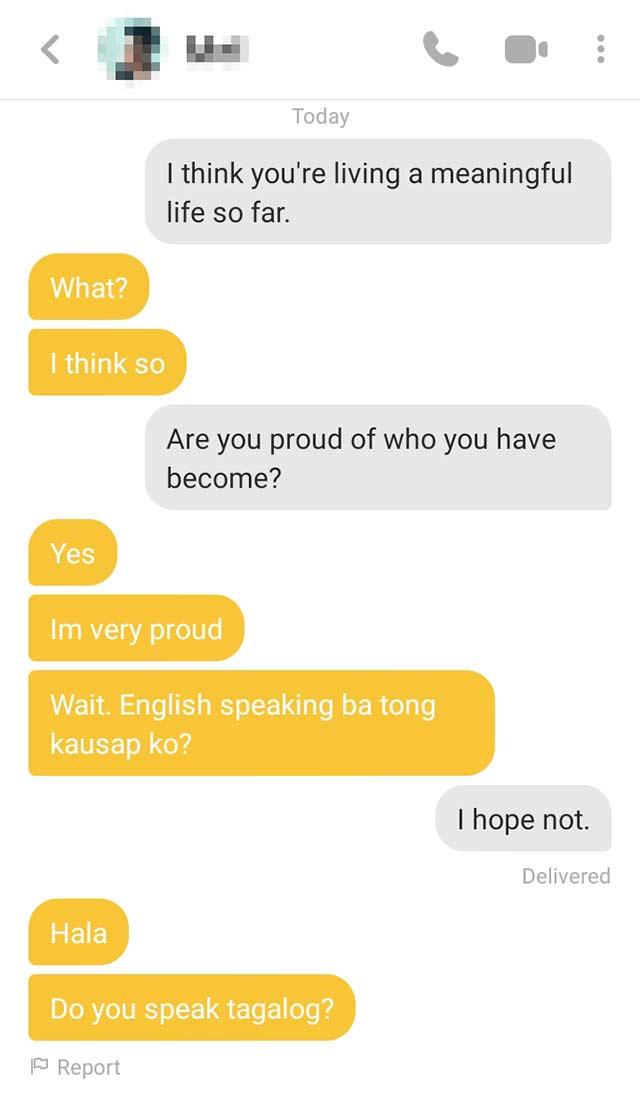 TBH, our banter was medyo malabo but I guess it was not enough to make him unmatch me. He even sent multiple messages after I stopped replying.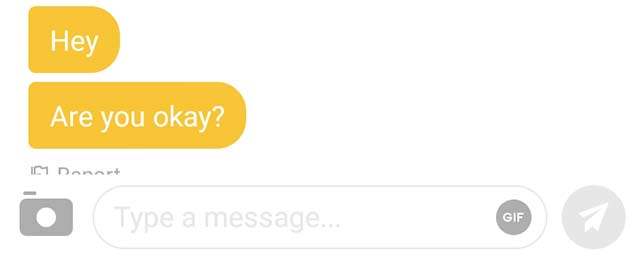 ADVERTISMENT - CONTINUE READING BELOW ↓
As I said earlier, my Bumble game hasn't been exciting recently. Most matches simply ask me if I've eaten or if I'm DTF, so this deeper-than-usual convo was rather refreshing—I mean, the guy offered some profound advice!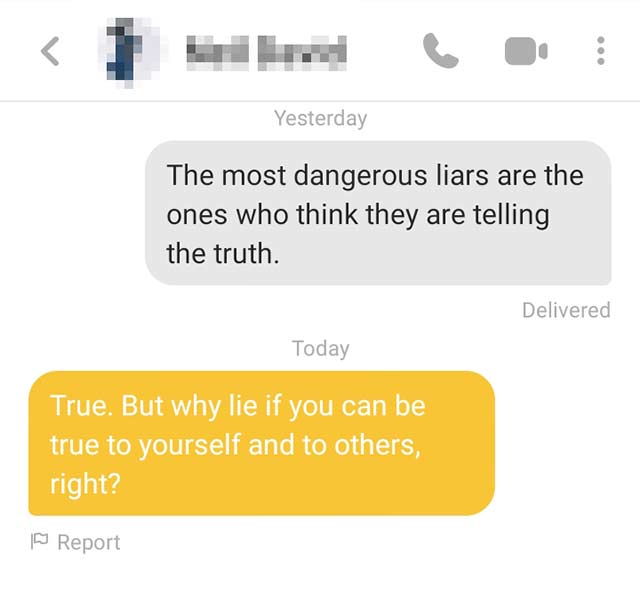 Metro Manila is relatively small and everyone is probably connected one way or another. My match thinks so, too—he was persistent in telling me that I looked familiar, despite my unusual replies. This time, I quoted Julia Barretto: 
ADVERTISMENT - CONTINUE READING BELOW ↓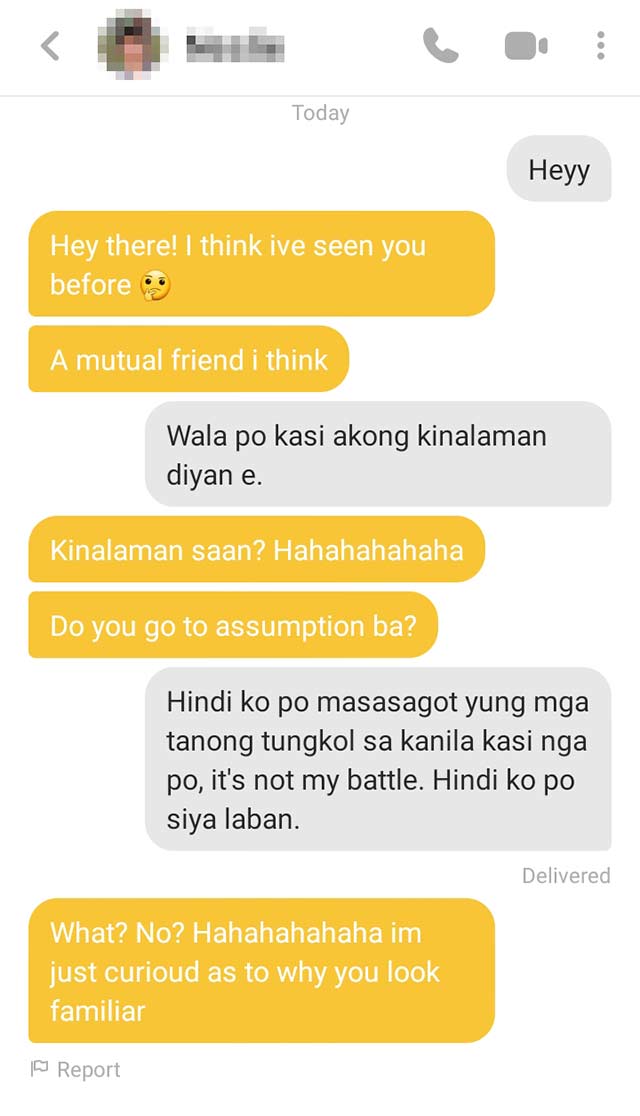 And here we are, down to my last Barretto-themed Bumble convo. TBH, I think I scared this guy off with these mixed quotes from Gretchen, Marjorie, and Claudine: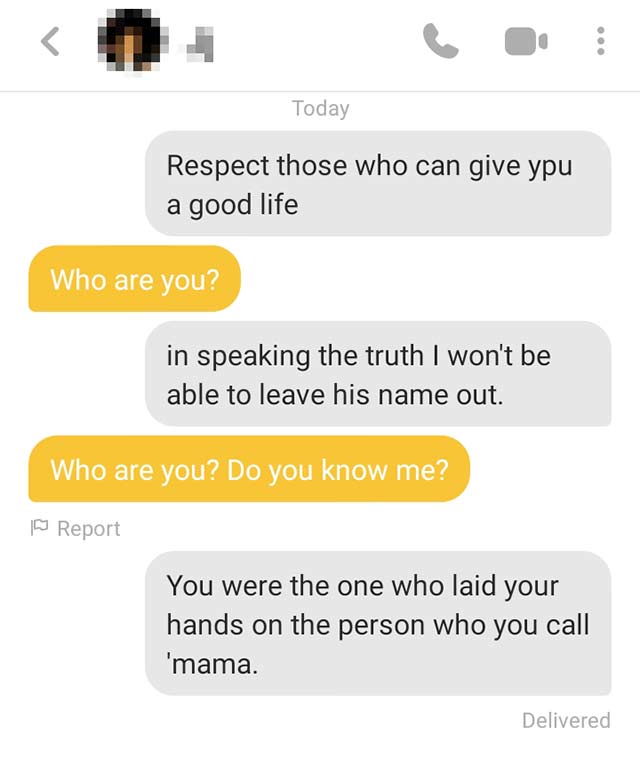 ADVERTISMENT - CONTINUE READING BELOW ↓
It's either I scared him off or he's hiding something. Although based on how he reacted, I think it's the latter.
***
P.S. No Bumble matches were harmed in the creation of this article. If any of my matches see this...this is quite awkward, but hi, sorry you had to witness all of this. This was done in the name of fun, so I hope we're all good.
Follow Karla on Instagram.